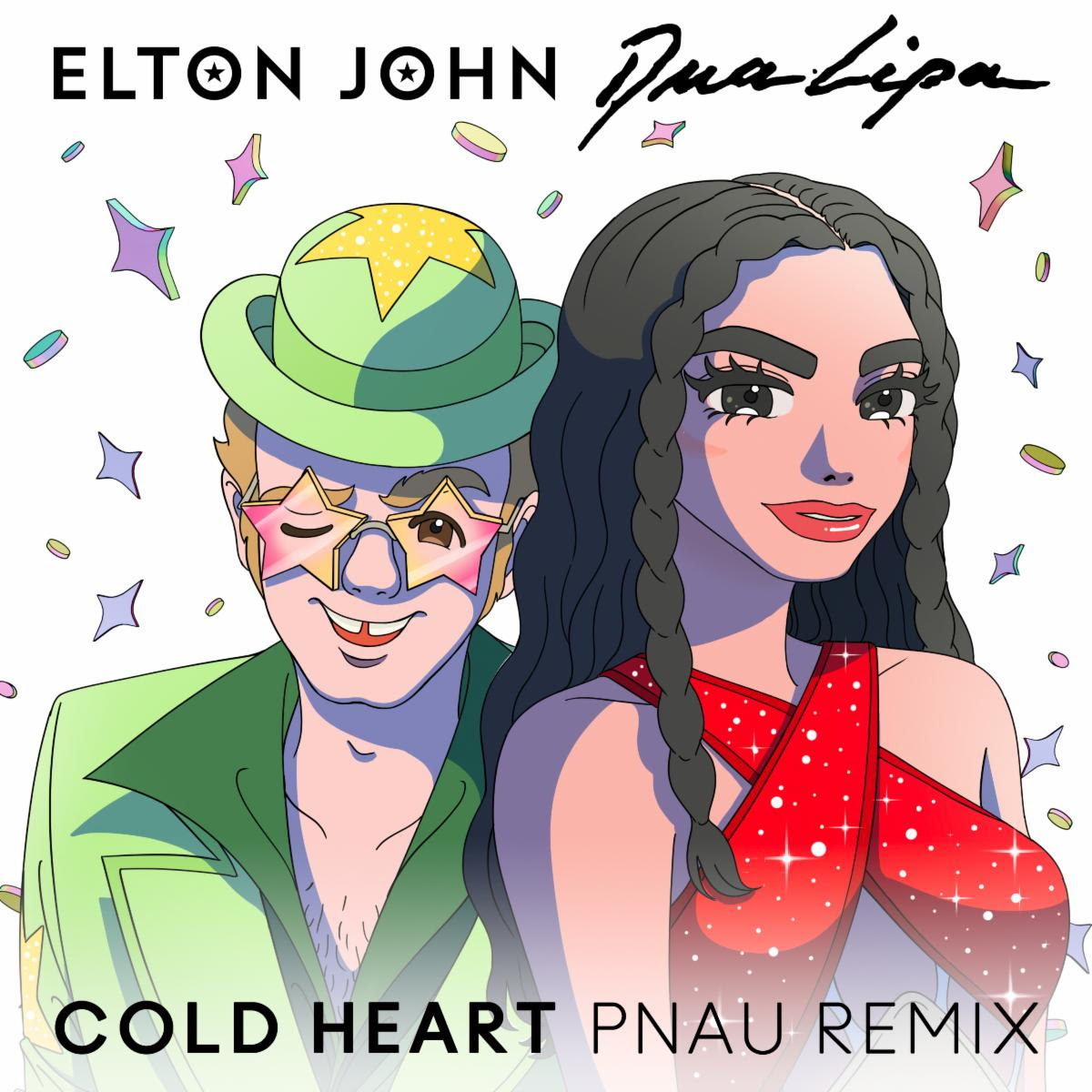 Who doesn't enjoy a good remix?
Mega icon superstar diva Elton John has teamed up with another megawat star, Dua Lipa for "Cold Heart (PNAU Remix)"
How on earth did these collosal wattage supernovas get together for a collab? OH, and PNAU, too!
It's a threeway!
Find out below!
Elton John with Dua Lipa "Cold Heart (PNAU Remix)" Unveiled Listen Here
Watch The 'Cold Heart (PNAU Remix)' Video HERE
A joyous and blissful dance cut, "Cold Heart" sees two of the world's most celebrated artists come together on record for the first time. The seed of the collaboration was planted after Dua invited Elton for an Instagram live discussing his experiences with Studio 54 ahead of her remix album Club Future Nostalgia. A shared respect and subsequent friendship blossomed which saw Elton appear as a guest on Dua's record breaking Studio 2054 live stream. Dua subsequently performed at The Elton John AIDS Foundation Academy Awards Viewing Party, which raised over $3 million for the Foundation. Driven by the restrictions of lockdown and a renewed passion for collaboration, Elton reached out to Dua to work on new music together remotely.

The results of those sessions certainly live up to the billing. "Cold Heart" is at once instantly recognizable and yet thoroughly contemporary – a modern dance floor filler based on four of Elton's classic tracks expertly spliced together by Australian electronic band and producers PNAU – "Kiss The Bride" (originally from 1983 album Too Low For Zero), "Rocketman" (from 1972's Honky Chateau), "Where's the Shoorah?" (from 1976 double album Blue Moves) and "Sacrifice" (from 1989's Healing Hands). PNAU previously achieved an acclaimed UK number 1 in 2012 with the Elton Versus PNAU album Good Morning to the Night.
PNAU say: "Setting a stage for the two greatest performers in the world today Sir Elton John and Dua Lipa, we knew we had to go in deep, take them into our world, the psychedelic lazer black lit club. Where all of us can meet on the dance floor, forget the outside and lose ourselves in the healing waters of music and love eternal."
The single will be accompanied by a stunning video created by Hamburg based animator and director Raman Djafari. Watch the video HERE. The video sees animated versions of Elton and Dua stepping into a dynamic and euphoric world before separating as their planets drift apart. A beautifully drawn, wistful and, at times, trippy parallel to the last year and a half in lockdown, the video reaches its moving and joyous climax as the characters are reunited.
After 18 months when many artists have battened down the hatches and waited for the covid clouds to lift, Elton and Dua have continued to push boundaries and defy any expectations. And with the release of "Cold Heart (PNAU Remix)" the world has the perfect optimistic and joyous summer anthem to usher back the good times.
Cold Heart (PNAU Remix) is available now https://EltonJohnDuaLipa.lnk.to/ColdHeart_PNAURemixPR
(Visited 1 times, 1 visits today)