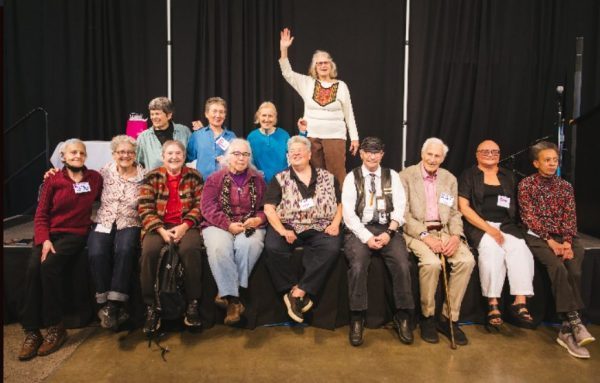 The Pillars of Pride event held on Saturday, May 7th at Fischer Pavilion not only honored five area LGBTQ elders but also raised over $50,000 for GenPride's new center at the soon to be completed Pride Place, Seattle's first low income housing for LGBTQ+ seniors.
Honored at the event were:
Dr. Henry Kuharic, Pioneering HIV physician Dr. Henry Kuharic was at the forefront of the race to understand HIV and care for patients from the mid-1980s to the early 1990s.

Emil Sparrowhawk Brandon, also known as "Hawk", has been a member of the Seattle area leather community and Sex Positive Community and a volunteer advocate for over a decade. Hawk has been out and proud as Queer since the late 70's, and has been actively engaging with the Queer and Leather communities for decades.

Dyke Community Activists was a group of lesbian social justice activists who worked together in Seattle for around 21 years, hosting numerous community events to bring lesbians together to learn about and support progressive political movements, both locally around the globe.

George Dicks has been devoted throughout his life to expanding health literacy in the African American and LGBTQIA+ communities. He currently works as a Lead Geriatric Mental Health Specialist at HarborView.

Norma Timbang is known for supporting skill building towards effective working relationships among community activists, organizers, and policy makers. Norma has been instrumental in community campaigns that focus on human rights, LGBTQ+, and immigrant issues, including a current campaign: "Mandatory Reporting is Not Neutral" (MRNN).
The event was attended by over 200 guests and was hosted by Aleksa Manila with entertainment from Kim Archer and CheerSeattle.
The program is available for viewing on GenPride's YouTube Channel: Pillars of Pride 2023 
A message from GenPride:
A special thank you to our honorees that were nominated by GenPride and the community, and all of our attendees, volunteers, speakers, and community leaders who joined us on Sunday. You can read more about our amazing honorees at: https://genprideseattle.org/pop-honorees/ Together, we were able to raise over $50,000 for Pride Place! We are humbled by the generous support. Help bring us home and make Pride Place a reality by donating today at genprideseattle.org/pillars-of-pride-donate/ or by using the button below.
(Visited 24 times, 1 visits today)