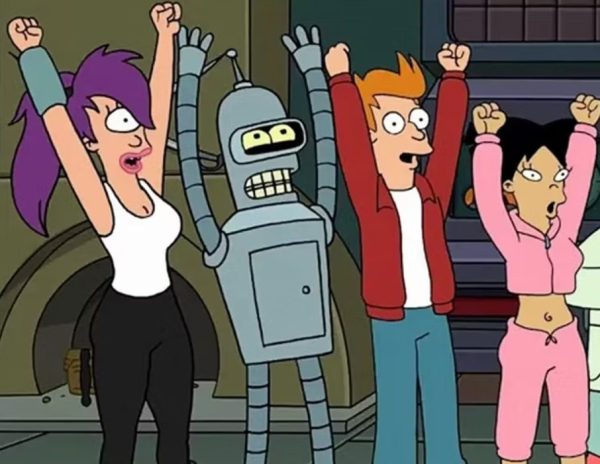 Our favorite tv series EVER has had more comebacks than Cher…FUTURAMA, the devilishly funny futuristic animated series from Matt Groening, who also created some other dumb show called "The Simpsons", originally debuted way back in 1999 on FOX and only lasted four seasons despite being much beloved by its legions of fans. It was those legions of fans who helped the show return on Adult Swim in 2008 in a series of 4 movies. That proved successful enough for the show to be rebooted yet again in 2010 with two more full seasons, with the final episode airing in 2013.
Still, fans clamored for more adventures involving Phillip J. Fry, the goofy New York City delivery boy who time traveled from 1999 to the year 3000 and a brand new life as an interplanetary delivery boy and coping with a Brave New World that was both very different as well as quite similar to our own. Thus, Hulu announced last year that the show would return yet again for 20 more episodes (spread out over two seasons) with everyone from the original show returning except the voice behind the beloved rogue robot character of Bender, Fry's best friend/roommate. Actor John DiMaggio announced he would not return due to the financial terms offered which terrified fans of the show who had been counting on the return of Bender, arguably the most popular character on the show.
Happily, a deal was worked out and DiMaggio returns along with Billy West who voices Fry along with his cranky elderly nephew/boss, Professor Farnsworth and other charactors; along with Katey Sagal as Fry's love interest, the one eyed mutant Leela.
Hulu released a trailer today for the new season and some info on the new episodes as well as a premiere date: July 24th with a new episode released weekly (in other words, they're not dropping the entire 10 episode season all at once). The skinny on new episodes from the press release and via Variety:
Here's the trailer:
(Visited 73 times, 1 visits today)