It was a big success last year so GenPride will once again host the PILLARS OF PRIDE event on Sunday, May 7th at Fisher Pavilion at Seattle Center. Pillars of Pride honors LGBTQIA+ community elders who have been leaders and advocates for the community. It's also a terrific opportunity to raise money for the under construction PRIDE PLACE, the senior affordable housing and community center on Capitol Hill scheduled to open this fall.
Go here for more info and tickets: https://genprideseattle.org/pop23/
AND, if you can't attend Pillars of Pride but you still would like to help support GenPride and Pride Place, then consider a donation to them during the Give Big event coming up! They'd be VERY happy to accept any donation!
Go here to donate: https://www.wagives.org/donate/genpride
AND, more info down below about Pillars of Pride and Pride Place:
GenPride is proud to host Pillars of Pride again this year, as an event to honor elders from our community and a fundraiser for GenPride and Pride Place. Pillars of Pride (PoP) is GenPride's annual event, timed to coincide with the 2023 National Honor our LGBTQ Elders Day. Read more about our Pillars of Pride and the 2022 Honorees here: genprideseattle.org/pop
This event recognizes our LGBTQIA+ elders who have worked hard to lift our community. This generation of elders fought for and won a tremendous amount of the rights we enjoy today. Without their courage in the face of hatred, discrimination and violence, our community would be very different. We are committed to this being a truly inclusive day that represents the many diverse segments of our community.
This is an exciting time for GenPride, as we prepare for the opening of Pride Place, a new LGBTQIA+ affirming senior affordable housing and community center on Capitol Hill, scheduled to open in the fall of 2023.
GenPride is partnering with Community Roots Housing on the development of this project – the first of its kind in the Pacific Northwest – which will include a senior community and health services center on the ground floor.
We are engaged in a campaign to secure $5M in funding to build out the community center at Pride Place; funds raised at Pillars of Pride will support this effort.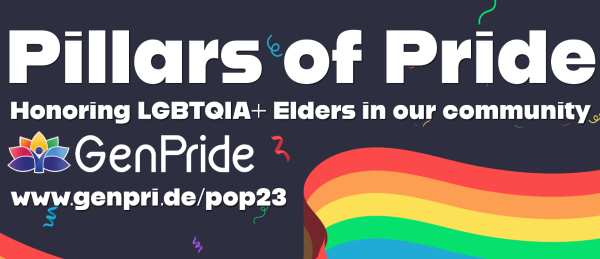 Event: Pillars of Pride: Honoring our 2SLGBTQIA+ Elders
Date: May 7th
Time: 11 am – 1 pm (with doors opening at 10:30 am)
Location: Seattle Center Fisher Pavilion
Program: brunch buffet, awards for our 2023 honorees, and live entertainment
(Visited 58 times, 1 visits today)