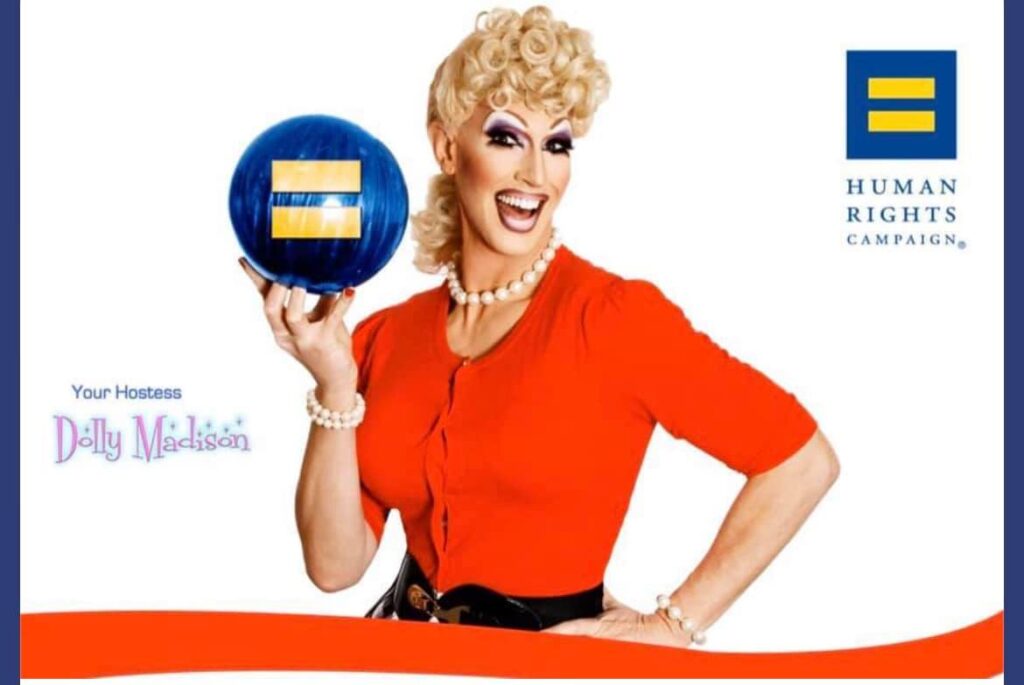 Like everything else on the planet, the popular annual BOWLING FOR EQUALITY event, a fundraiser for the Human Rights Campaign of Seattle, had to take a long break due to Covid. It returns…with "no time to spare" (ha ha! get it? 'spare') on Saturday, May 21st at its usual location at West Seattle Bowl over in…West Seattle.
It's the 18th running of this fun fundraiser complete with the return of West Seattle Drag Diva, DOLLY MADISON as hostess. You also have two time slots to choose from on May 21st….a 3pm to 5pm slot they're advertising as "family friendly" and then a 6pm to 8pm slot.
Note: Dolly will be around for the evening slot only.
In other words, no swear words or drag queens PLUS kids in the afternoon and lots of swear words AND drag queens but no kids in the evening!
Of course it seems silly since most kids swear like drunk sailors on shore leave but…appearances must be kept!
Mo' poo on this year's event including an opportunity to RSVP and let'em know you and your potty mouthed kids will be coming!
I've been told you should RSVP because this is likely to sell out, especially the later slot! Go to : https://act.hrc.org/page/103085/event/1?ea.tracking.id=ot_loc_WA_052122&ea.url.id=5890618
Join HRC Seattle's 18th Annual Bowling for Equality: No Time to Spare
Saturday, May 21, 2022
West Seattle Bowl
4505 39th Avenue SW
Seattle, WA 98116
Two waves to choose from
​3pm – 5pm Families, Friends and Supporters
6pm – 8pm Friends, Supporters and Sponsors
 RSVP Today 
After two years, the HRC Seattle annual bowling event is excited to be back and returning to West Seattle Bowl! This fundraiser couldn't return at a more urgent time. With relentless attacks in State Legislatures across the country on LGBTQ youth and their families, we have "No Time to Spare" in the fight for equality. Our 3:00 – 5:00 p.m. session is a great option for families and kids. Our 6:00 – 8:00 p.m. session will feature West Seattle's very own Dolly Madison and is the perfect activity before a late dinner or hitting the town.Tickets are $40 per person ($20 for 18 & under) or $300 for a lane of 8.
Included in your ticket price are 2 hours of bowling, shoe rental, appetizers and an annual HRC membership or membership renewal! Additionally, a portion of each ticket sale will be donated to our local community partner organizations The Gender Cool Project and Entre Hermanos.SIGN UP TO BE A LANE CAPTAIN!
For even more fun, register as a lane captain and invite friends to select your lane when they purchase their own tickets. You'll be prompted to join as a lane captain on the next page.
We will add your name to the drop down list of lane captains within 72 hours of registering.
The Human Rights Campaign and Human Rights Campaign Foundation require all guests attending in-person indoor events produced by the organization to be fully vaccinated in order to attend. The CDC defines fully vaccinated as:● 2 weeks after their second dose in a 2-dose series, such as the Pfizer or Moderna vaccines, or● 2 weeks after a single-dose vaccine, such as Johnson & Johnson's Janssen vaccineProof of full vaccination, by showing a vaccine card, clear photo of the card or vaccine passport app will be accepted, and will be required for entrance to any HRC event, along with a picture ID. Those who are not fully vaccinated will not be admitted to HRC events.Additionally, HRC encourages attendees to wear masks when not eating or drinking or when six feet of social distance cannot be maintained.
(Visited 2 times, 1 visits today)