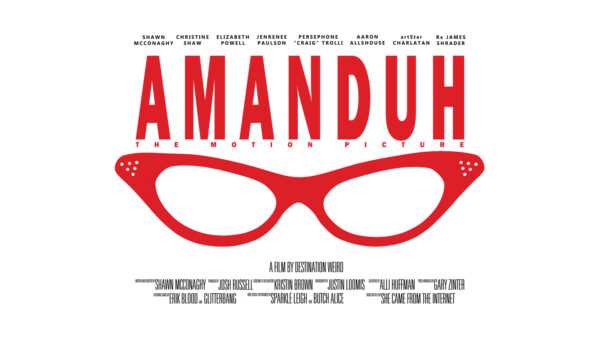 Here's something unique to check out this Wednesday, May 18th…it's the WORLD PREMIERE OF A LOCALLY MADE AND VERY QUEER MOVIE AT THE EGYPTIAN CINEMA on Capitol Hill! Yes, it's the debut of AMANDUH: THE MOTION PICTURE!!!!
Local queer filmmaker Shawn McConaghy has been working on this film for YEARS. It's centered on the bizarro character AMANDUH Shawn created several years ago who frequently appeared at various shows mostly at Re-bar.
It's really hard to describe Amanduh…she's a little girl with a lisp but she also seems to be a thirtysomething masculine figure with a luxurious beard. She's a gender/genre blending enigma…and, now she has her own movie made with local talent.
Go here for tickets: https://www.siff.net/siff-cinema/in-theaters/amanduh-the-motion-picture
Here's the synopsis, though I'm not if it helps:
When a young girl is accidentally locked in the closet by her mother she finds unexpected friendships with a pink stuffed elephant, a sassy computer, and the puppet of a mysteriously handsome bartender man. With the help of her friends she becomes a big, gassy internet star in the hopes of gaining the confidence to finally come out of the closet.
It's a one night only film event with doors open at 6:15pm with a pre-show screening of some short films by Destination Weird. There'll be a director led introduction at 7pm followed by the 95 minute film.
No word on where the after party will be.
Re-bar would have been the obvious choice….
Sniff.
(Visited 14 times, 1 visits today)