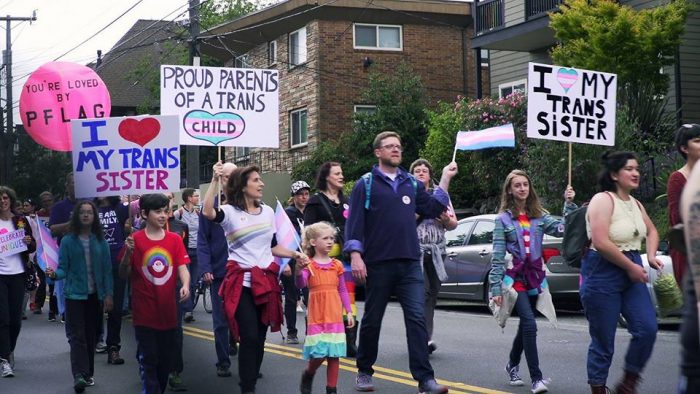 A Washington State made film examines attacks on transgender Americans. THE MOST DANGEROUS YEAR focuses on 2016, the year The Human Rights Campaign published a report identifying that year as a dark time for transgender people as a wave of "Bathroom Bills" swept legislatures and city councils across the country all targeting at keeping transgender people from using the facilities that match their identity.  Washington was one such state that had to deal with bills of that kind and local filmmaker Vlada Knowlton, herself the parent of a transgender child, decided to take action by making this film. 
Northwest Film Forum will be screening the film beginning Friday, May 17th through Tuesday, May 21st with 7 screenings over those five days. Director, crew members and subjects will be on hand this Friday for the opening. More info below including links to tickets. 
As a dark wave of anti-transgender "bathroom bills" began sweeping across the nation, The Human Rights Campaign called 2016 the most dangerous year for transgender Americans. Filmmaker Vlada Knowlton captured the ensuing civil rights battle from the perspective of a group of embattled parents – including herself and her husband, parents of a young trans girl– fighting to protect their children from discriminatory laws in their home state. While Knowlton passionately follows the story of anti-transgender legislation, the heart of the film lies in the stories of the families who accept and support their kids for exactly who they are.
The story begins in January, when six discriminatory anti-transgender bills are introduced into the Washington State Legislature. This launches a year-long struggle in which the central group of parents, who had never been political activists in the past, along with a state-wide coalition of lawmakers and civil rights organizations, attempt to fight a dark movement of fear, hate, and ignorance.

From the tension-filled Senate hearings to the passionate Olympia protest rallies; from the "Washington Won't Discriminate" celebrations of diversity to the "Just Want Privacy" press events heralding the intent of the anti-transgender (I-1515) ballot initiative…Knowlton takes us on the journey of Washington State's modern-day civil rights battle, as well as her own struggle to protect her 5-year-old transgender daughter from laws inspired by bigotry and fear. The Most Dangerous Year is Knowlton's second feature documentary.

If you are a filmmaker and would like to meet Vlada for a casual cup of joe, we'll be hosting a free-for-NWFF-members Communal Coffee event with her at the Forum at 3pm on May 17th. RSVP at —> northwestfilmforum.wufoo.com/forms/klxj9ki1dy3ht6 General admission for non-members is $15.
NWFF welcomes the cast and crew of The Most Dangerous Year for their opening night, May 17:

Vlada Knowlton – Director
Dawn Norton – animator
Tiffany Kelly – cast member
Huddle Blakefield – cast member
Meghan Hebert-Trainer – cast member
Ryan Trainer – cast member
Lulu Gargiulo – Director of Photography
Drew Griffin – PFLAG Regional Director, Pacific Northwest & PFLAG Washington State Council Vice President

Join all of us for a panel discussion moderated by Elayne Wylie, Co-Executive Director of the Gender Justice League!

 

$12 General Admission
$9 Student/Senior
$7 Member

 
(Visited 1 times, 1 visits today)