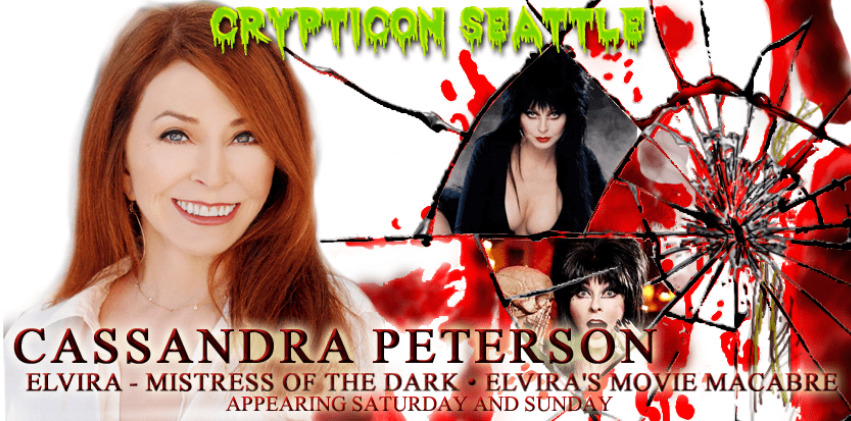 Back for a weekend of live, in-person events…it's SEATTLE CRYPTICON!!! The Pacific Northwest's biggest, baddest, and spookiest fan convention for all things horror related managed to survive the deadly bio-plague (aka Covid-19) and returns to haunt your dreams…if your dreams are located at the Doubletree Hotel in Sea-Tac.
(Oddly enough, they ARE!!!)
It's all going down this weekend starting on Friday, May 20th and continuing through Sunday with the usual fan-con line-up of celebrity guests, panels, classes, contests, screenings, parties and merch. From the pr:
MAY 20th-21st-22nd 2022 – Crypticon Seattle is the convention celebrating the Pacific Northwest's Darker Side. Three days of your favorite actors, authors, and artists, along with tons of new people and things you never knew existed. But we are so much more than a tidal wave of blood, guts, and scares. Crypticon welcomes and supports all types of dark art and encourages people from all walks of life to come and enjoy the show. Love zombies? We got ya! Vampires? Yes! Goth, fetish, dark fantasy or sci-fi? Yeah, we've got that, too! And it's not just once a year that we flaunt our freakish best—we sponsor, support, and run many dark-themed events throughout the year, all over western Washington.
And, they do have some fun guests this year including the return of our beloved Elvira, aka actress Cassandra Peterson who made a big splash last fall when she publicly came out as a woman who loves a woman in her fabulous memoir, Yours Cruelly, Elvira: Memoirs of the Mistress of the Dark. Cassandra will NOT be in her Elvira drag for this appearance (she's like RuPaul…don't put on the drag unless you're getting the BIG bucks!) but that's fine since she's both gorgeous AND fabulous without the Elvira schtick!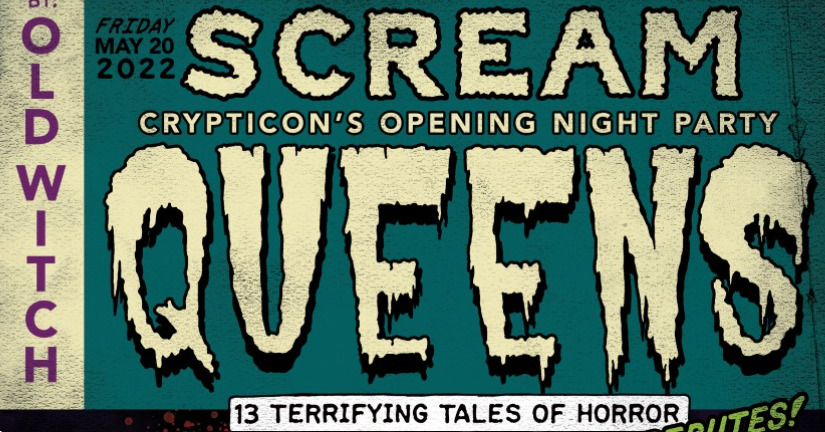 There's tons of other horror and fantasy icons too like William Katt (the first victim in Carrie!) and the adorable former child actors Alex "Child's Play" Vincent and Noah "The Neverending Story" Hathaway. And, Phil "Troll" Fondacaro and John "The Cryptkeeper" Kassir! And….tons more! Check out the guest list here: https://crypticonseattle.com/celebrityguest/
For LGBTQ+ fans, there's even a big opening night drag show/party hosted by The Old Witch and featuring a bevy of local ghoulish entertainers.
Tickets or passes are required to attend any Crypticon event…you can buy single day passes or a three day pass. Also note that Crypticon does require a clean Covid bill of health; you'll have to provide proof fo Covid vaccinations or a recent negative test result to gain entry. Masks aren't required for most events but some of the celebrity guests do require you be masked before enteracting with them for their protection…so, BRING YOUR MASK!
Again, it's all happening at the DOUBLETREE HOTEL18740 International Blvd in Sea-Tac. Snag tickets/passes here:
https://crypticonseattle.fearticket.com/event/orderticket/eventid/940
(Visited 7 times, 1 visits today)