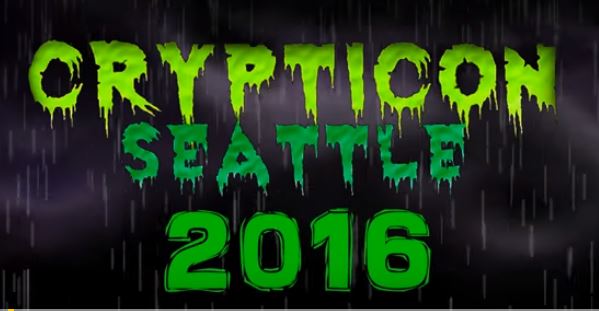 Spooks, Monsters, Killers, Aliens, Chesty Divas both real and not so real…they're ALL coming to Seattle Crypticon starting this Friday, May 27, 2016 through Sunday, May 29th at the Hilton Hotel in beautiful downtown Sea-Tac, Washington! It's the 9th ghoul around for the scariest convention this side of "Kardash-A-Con"! (I keed but I totally see them doing something like that someday…)
There won't be any Kartrashians at this year's Seattle Crypticon but the headliners include "Mistress of the Night" Elvira aka Cassandra Peterson (in costume as Elvira on Saturday only!) plus several stars from the world of James Cameron including Lance Henriksen (Bishop in "Aliens") and Michael Biehn (who survived "Terminator", "Aliens" and "The Abyss"). Plus, a trio of killers: Kane Hodder (Jason from several "Friday the 13th" films), Tony Todd ("Candyman") and Mark Patton (Nightmare on Elm Street 2: Freddy's Revenge") and many more including professionals from the world of make-up, effects and design!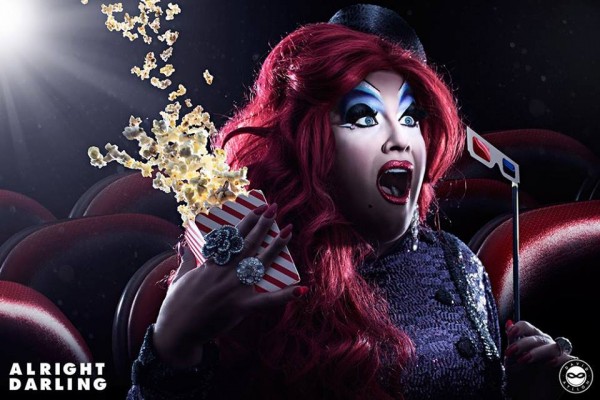 Oh, and heading up Friday's big cabaret show, SINEMA: A Drag & Burlesque Tribute To Cult Horror Films, will be San Francisco's own mega star, Ms Peaches Christ! Peaches is a world renowned aficionado of horror film; as her alter ego Joshua Grannell,  "they" were the writer/director of the cult horror classic "All About Evil".
Peaches will be headliner and co-host of this show in the Crystal Ballroom A at the SeaTac Hilton Event Center, 17620 International Blvd. The doors open at 7 pm with a pre-show from 7:30 to 8:30 pm with the main show starting at 9 pm. It's a 21 + event and you need to buy a day pass to attend (also good for all of Friday's Crypticon events!)
Daily and weekend passes are still available HERE!!
Co-hosting the event: our own Mama Tits! Plus, a fantastic line-up of talent including Cherdonna, Tipsy Rose Lee, Isabella Extynn, Ruby Bouché, Sparkle Leigh, Adé , Jessica Paradisco, The Lady Bob, Vanity White, The Luminous Pariah, Cock Fitzwell, The Miseries in Minor Keys, Scream Martin…plus, DJs Shane Hall and Shitbox. Oh, and many more. And, surprises!
There's also a big party on Saturday night, May 28th…it's "Prom of the Dead IV: Sideshow Masquerade Ball happening in the Crystal A & B Ballrooms at the Hilton from 9 pm to 2 am. This event is All Ages!
More poo on that event which requires a full weekend pass or a Saturday pass to attend  available HERE!!
Crypticon Seattle is proud to present "Prom of the Dead IV: Sideshow Masquerade Ball" co-presented by Seattle's Masters of Haunt – NIGHTMARE AT BEAVER LAKE! All ages welcome. Separate entrance provided for those under 21.

Come dance among the clowns, monsters, and freaks Saturday night during Crypticon 2016 – The team from Scare Productions and Nightmare at Beaver Lake transform the Crystal Ballroom into a twisted Carnival of terror you wont want to miss!!

DJ's Lowkey, JamminPanda, and others will supply basslines from the darkside and our friend Barbarann Kym from Cake Rhapsody will unleash yet another monsterous cake for all to enjoy! 21+ Freaks will have access to the Fear Garden featuring a full bar and Hilliard's Beer!

* 2016 Prom of the Dead access for all Saturday pass holders
* Dark Carnival theme
*Live DJ's spinning EDM, Industrial, and more!
* Prom theme decorations and photobooth by Nightmare at Beaver Lake
* Deliciously savage sweet treat provided by Cake Rhapsody
*All ages entrance
*21+ "Fear Garden" – Full Bar featuring Hilliard's Beer
They anticipate 5000+ attendees for this year's  Crypticon Seattle. Check out their full line-up of panels, screenings, contests, parties and events at their website. It's fun for freaky geeks of ALL persuasions.
(Visited 1 times, 1 visits today)