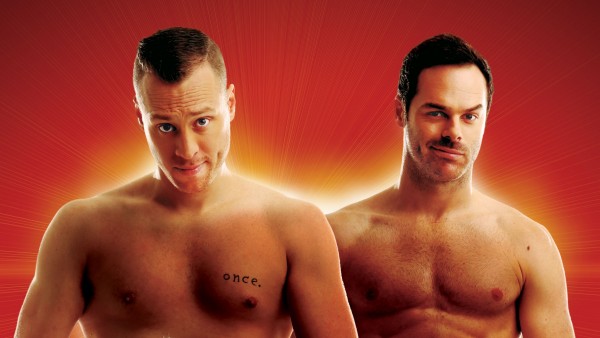 They come from The Land Down Under…
Minus their Underwear.
They're the Naked Magicians Christopher Wayne (the fair one) and Mike Tyler (the dark one), and they're bringing the "magic" to Seattle's intimate Moore Theatre this week for a series of naughty, wand waving shows…completely in the buff.
GLORI-O-SO!!!!!!
The Naked Magic Show is exactly what it sounds like — a NSFW evening of magic, jokes and plenty of skin. Following sold-out shows and rave reviews in this country and around the globe, the world's cheekiest and boldest magic show comes to Seattle's Moore Theatre, where a pair of illusionists will bear it all — everything but the tricks of the trade, that is. The adults-only show features unbelievable illusions, lots of outrageous humor and just a touch of mayhem, taking the art of magic to another level and bringing a whole new meaning to the phrase "now you see it." They say good magicians don't need sleeves; The Naked Magic Show proves that great magicians don't need pants — or any clothing at all, for that matter.
The pair have been performing as "The Naked Magicians" for the last two years. Sadly, for the gay boys lusting after their nude, probably uncut, lusty hotness the pair are of the heterosexual persuasion. (Yay for the ladies, though! Lust away!) However the duo are very gay friendly.
Very.
If you're in the mood for naked tricks that don't involve Grindr and a prescription for Truvada, you can snag cheap tickets for Thurs/Fri/Saturday shows over at Goldstar for only $25. All shows are at 7 pm.
We're recommending this show solely based on the fact it contains male nudity.
We're shallow…and, a sucker for an uncut Australian wand.
(Visited 22 times, 1 visits today)