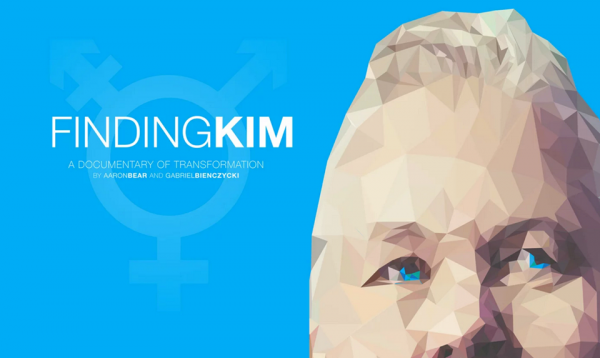 The locally made documentary film, Finding Kim had its world premiere at the Seattle International Film Festival on Monday night, May 23rd at SIFF Cinema at The Uptown. Billed as "a documentary of transformation" the film is an intimate portrait of Seattle resident Kim B. who began his transition at the age of 50 after spending decades struggling with identity issues, self-doubt and addiction.
More info!
When Kim was younger, he never really felt comfortable in his own skin. Being assigned as female at birth and raised a girl, his childhood was full of bullying and traumatic experiences. The other kids would tease him mercilessly about looking and acting "like a boy," sometimes even preventing him from using the restrooms at school. Kim didn't have the words to describe what was happening or how he felt to anyone—he just knew he was different.

Later on in life, he came to the realization that maybe he was gay, but the lesbian community didn't feel right to him either. After diving headfirst into all sorts of queer and transgender reading material, Kim came to the ultimate decision that he was meant to be a man, and began the female-to-male transformation process almost immediately.

Kim's story is entwined with insightful interviews with members and activists in the LGBTQ community: Carmen Carrera ("RuPaul's Drag Race," season 3), Buck Angel (a famous female-to-male adult entertainer), Dr. Tony Mangubat (a surgeon specializing in transgender procedures), and Seattle's own Dan Savage. Finding Kim follows our titular character through his day-to-day life in Seattle to his eventual life-changing surgery as he becomes who he always felt he was under the surface.

Aaron Bear grew up in Dayton Ohio by way of San Francisco and Atlanta. From an early age, Aaron has had a love and passion with film, music and photography.  Aaron's influences run the gamut from John Waters to Paul Thomas Anderson to David Lynch. Primarily focusing on highly produced/high concept content, Aaron's stylistic approach to projects aim to have an end result that look both brilliant and beautiful.  He's produced videos for local Northwest artists such as Watch It Sparkle and most recently a video for Portland artist Logan Lynn.  From 8-5, Aaron is a photo and video producer for a very large coffee company. Aaron currently resides in Seattle with a cat named Vegas and a husband named Allen.
You have one more chance to catch Finding Kim at SIFF 2016…it screens next Tuesday, May 31st at 3:30 pm at SIFF Cinema at The Uptown with the film makers once again scheduled to be in attendance. Grab tickets HERE!!
(Visited 1 times, 1 visits today)