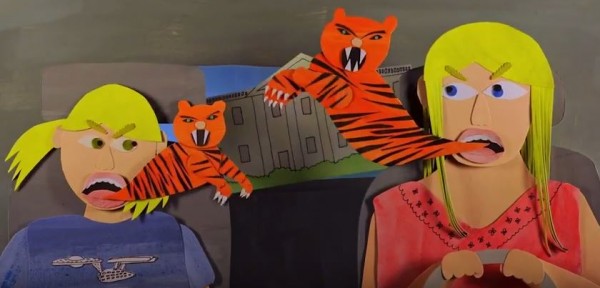 Seattle filmmaker Clyde Petersen sat down with Seattle Gay Scene to discuss his new animated feature film, TORREY PINES which debuts at TWIST: Seattle Queer Film Festival on Thursday, October 13, 2016 before embarking on a 60 day tour of North American screenings that will feature a live accompaniment performed by Petersen and his band. Seattle film maker Basil Shadid produced this video exclusively for Seattle Gay Scene.
You can still grab tickets for the opening gala/live performance screening at the Egyptian HERE, as well as tickets for the Encore soundtrack only screening at AMC Pacific Place on Saturday, October 22, 2016.
For info/tickets on the nationwide tour, go to the Torrey Pines website. For Pacific Northwest fans, the film will have screenings at Washington State University in Pullman on October 18, 2016 as the first stop on their tour and will return to the area in mid December for several screenings including one in Seattle at the Henry Art Gallery.
| | 12/12 | PORTLAND, OR | NW Film Center | WEBSITE |
| --- | --- | --- | --- | --- |
| | 12/13 | TACOMA, WA | Real Art Tacoma with Kimya Dawson | WEBSITE |
| | 12/14 | BELLINGHAM, WA | Pickford Film Center | WEBSITE |
| | 12/15 | SEATTLE, WA | Henry Art Gallery | WEBSITE |
More info:
Seattle's own award-winning, multidisciplinary artist Clyde Petersen presents the world premiere of his first full-length feature, a painstakingly created stop-motion animated film with an astonishing DIY aesthetic that is as emotionally affecting as it is a breathtaking artistic achievement.

An enthralling and visually stunning queer coming-of-age tale, TORREY PINES is based on Petersen's fascinating life story. Set in Southern California in the early 1990s, the film follows Petersen's complicated upbringing by a schizophrenic single mother. Fueled by family dysfunction and hallucinations of political conspiracy, she absconds with her child, and the pair embark on an unforgettable cross-country adventure that will forever alter their lives.

For this one-night-only special event, the live score for TORREY PINES will be performed by members of Your Heart Breaks and special guests, including Clyde Petersen, Zach Burba, Jacob Jaffe, Lori Goldston, Kimya Dawson, Corey J. Brewer, Chris Looney, Art Petersen, and the Beaconettes, with live Foley sound effects and soundscape design by Susie Kozowa.

TORREY PINES was made possible with funding by the New England Foundation for the Arts' National Theater Project, with lead funding from The Andrew W. Mellon Foundation. It was also produced with the support of Three Dollar Bill Cinema's fiscal sponsorship program, providing financial and legal oversight and nonprofit fundraising status to filmmakers in Seattle and around the world. To date, twelve productions have been completed through this vital program supported by Three Dollar Bill Cinema members, sponsors, and donors.
(Visited 1 times, 1 visits today)