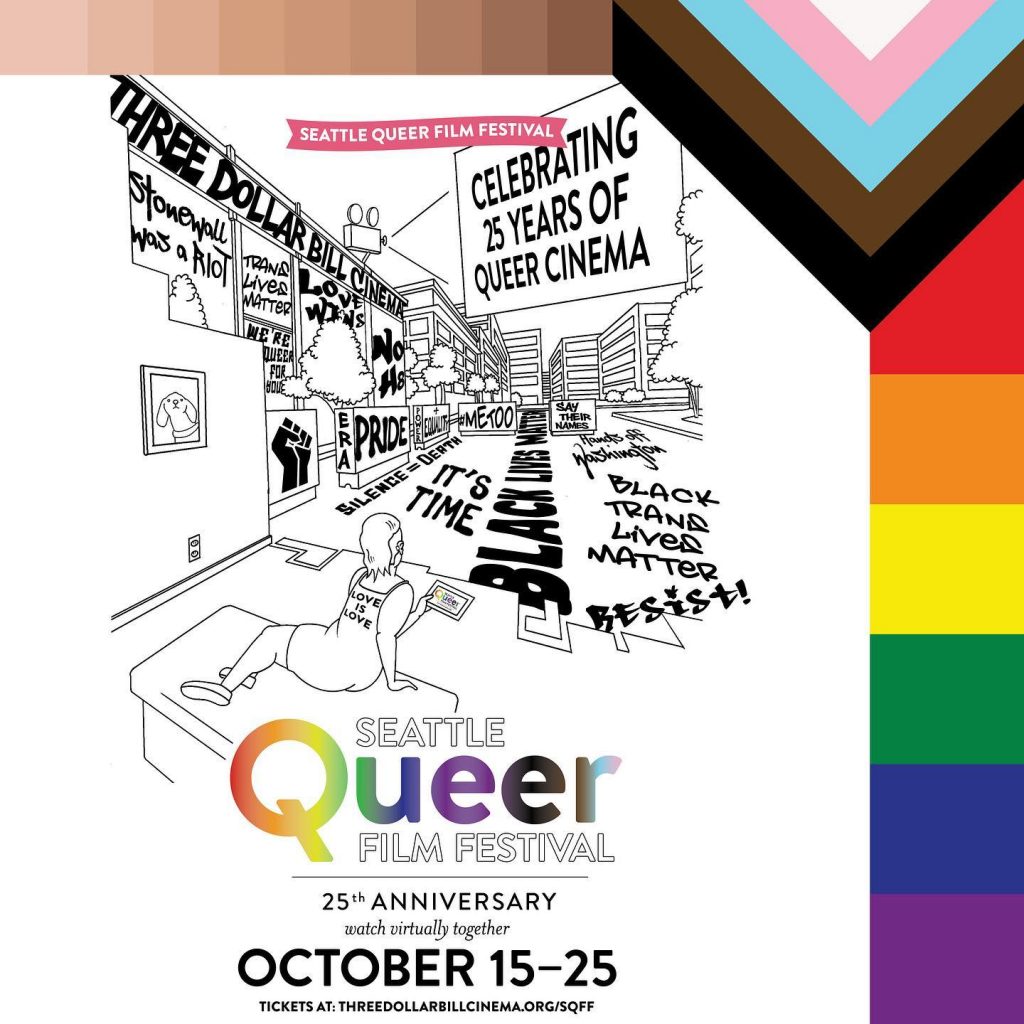 It's a big year for Seattle's Three Dollar Film as it celebrates 25 years of bringing the LGBTQ community film events of all kinds including the Seattle Queer Film Festival which begins this Wednesday, October 15th for an 11 day long run of all kinds of LGBTQ films.
AND, because of Covid-19, it's all online this year, which is kind of a bummer but the good news is, it means you don't have to leave your warm, cozy home and venture out into the chilly, windy, rainy, coronavirus coated night to enjoy cinematic treats.
Because of being online, this means movie lovers from around the Pacific Northwest can watch all the films; fans from Washington State, Oregon and Idaho can purchase passes and tickets to see all the films on offer starting from October 15th and have 72 hours to watch each film or program from the time they begin viewing.
And, there are different options on buying tickets and passes, including a full pass that lets you see EVERYTHING, as well as 6 pack and 10 pack passes. Of course, you can buy individual tickets as well for each film/program you want to see with a different prices for Youth, Students and Seniors.
Even though you can watch the films at any time from October 15th through 25th, you're encouraged to watch certain special events at specific times so you can enjoy special LIVE Zoom events such as parties and Q&As with filmmakers. Some of those events include: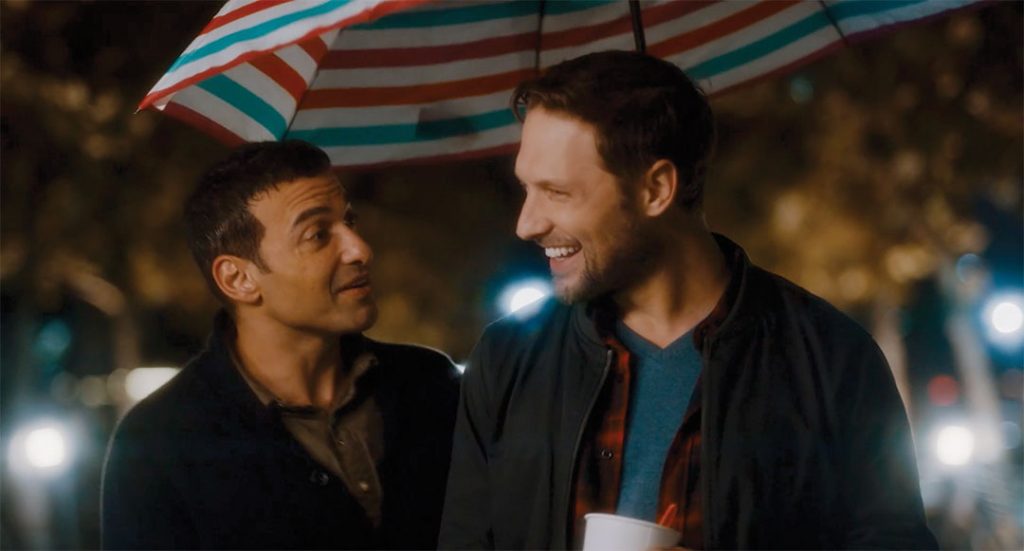 OPENING NIGHT FILM (10/15): BREAKING FAST
Suggested watch time: 10/15 @ 6:30 PM PDT. Live Q&A with director Mike Mosallam and special guests: 10/15 @ 8:00 PM PDT
ZOOM Party after Q&A at 8:30

Mike Mosallam; 2020; USA; 92 min.; in English and Arabic with English subtitles

Mo (Haaz Sleiman, The Visitor, Nurse Jackie), a practicing Muslim living in West Hollywood, has just endured a painful breakup, so he decides to be especially observant during Ramadan this year—and this includes no romantic encounters. Enter Kal (Michael Cassidy), a handsome, charming all-American who surprises Mo by offering to break the daily fast with him. As the monthlong holiday progresses, their nightly ritual feeds a growing bond between them across the cultural divide. But is it just friendship, or something more? 

TIX HERE!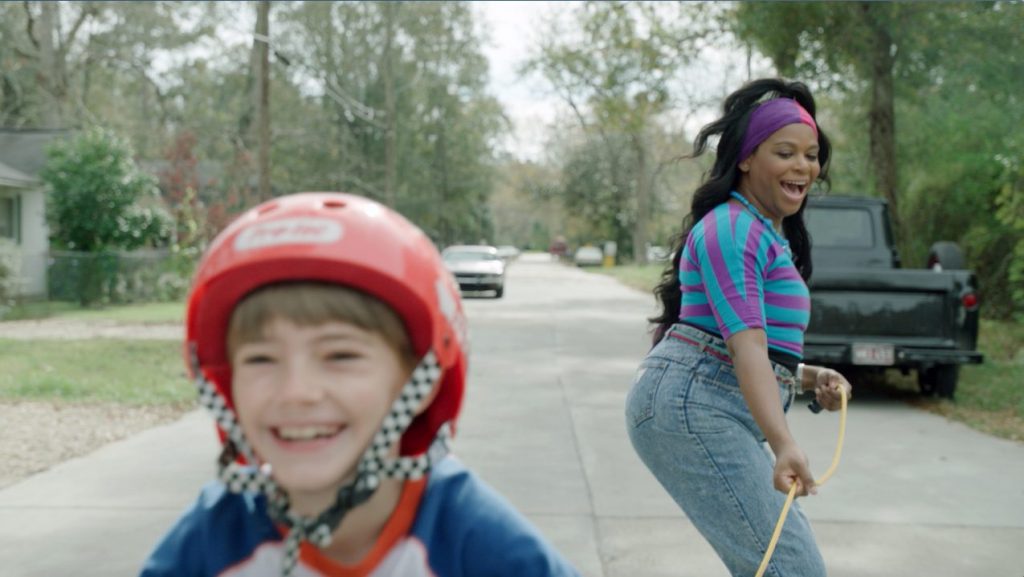 Suggested watch time: 10/22 @ 6:00 PM PDT
Q&A at 8:00 PM with director Lisa Donato, Alexandra Grey, and Yeardley Smith

Lisa Donato; 2019; USA; 95 min. Directed by Lisa Donato (SIGNATURE MOVE, FOXY TROT, SQFF), GOSSAMER FOLDS takes us back to the summer of 1986. The parents of ten-year-old Tate (IT star Jackson Robert Scott) uproot their urban family and move to the suburbs of Missouri. When the parents' (Shane West and Sprague Grayden) marriage breaks down, and tension builds at home, Tate escapes next door. There, he finds solace in his neighbors: a retired college professor and his transgender daughter, Gossamer, played by transgender actress Alexandra Grey (Empire, Transparent, and most recently The Alienist: Angel of Darkness), a seamstress who designs costumes for club performers in the city. Gossamer invites Tate to her sewing room, explaining her plans to save up money and escape to New York and become a fashion designer. GOSSAMER FOLDS features a guest appearance by co-producer Yeardley Smith (known for voicing the role of Lisa Simpson on the animated television series The Simpsons) and an original song written and performed by Sarah McLachlan. GOSSAMER FOLDS is rich with multilayered characters and a heartwarming tribute to the power of friendship. 

TIX HERE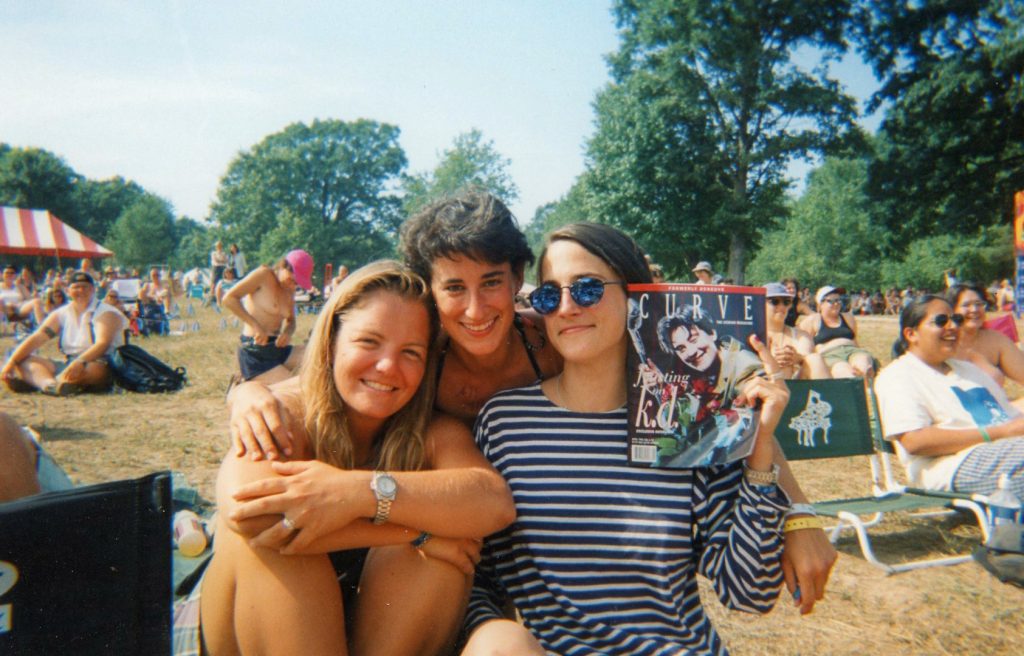 Suggested watch time: OCT 25 at 6:00 PM, Q&A at 8:00 PM, and after Zoom Party with DJ MIXX America!

Jen Rainin; 2020; USA; 95 min. With a fistful of credit cards, a lucky run at the horse track, and chutzpah for days, Franco Stevens launched Curve, the best-selling lesbian magazine. Groundbreaking from its start in 1990, it was a visionary celebration of lesbian life!

In this documentary, with the future of Curve uncertain, Stevens and director Jen Rainin explore lesbian visibility, community, legacy, and the need to evolve, through the use of archival footage and interviews with LGBTQ+ leaders, artists, and "celesbians," including Melissa Etheridge, Jewelle Gomez, Denise Frohman, Kate Kendell, and Lea DeLaria.

Winner of the Audience Award for Best Documentary at aGLIFF 2020.

TIX HERE
There's also FREE events including a 25th anniversary screening of VITO, the acclaimed documentary from Jeffrey Schwarz, known for his other documentaries on Divine, Tab Hunter, Alan Carr and Jack Wrangler. If you watch the film on October 16th, you can also participate in a Live Q&A with Jeffrey and former Three Dollar Bill Executive Director, Jason Plourde.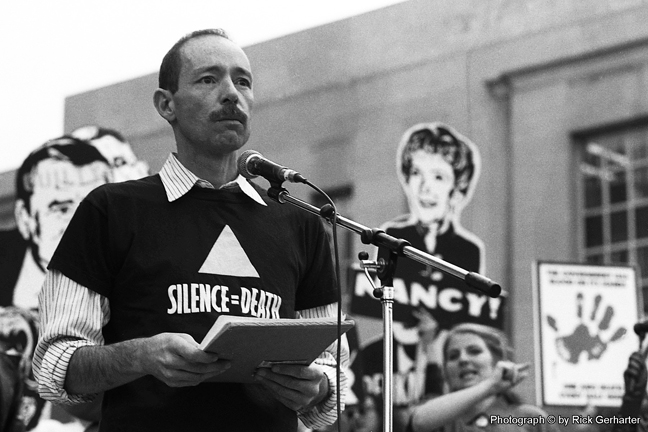 VITO – FREE 25TH ANNIVERSARY SCREENING
Suggested watch time: 10/15 @ 9:00 PM or 10/16 @ 4:30 PM. Live Q&A with director Jeffrey Schwarz and Jason Plourde of AMP: 10/16 @ 6:00 PM

Jeffrey Schwarz; 2011; USA; 93 min. Few films connect to the impetus and ideals that encapsulate Three Dollar Bill Cinema's 25 years more than VITO.

As a young film student, Vito Russo was present at the Stonewall riots, after which he would become one of the most outspoken and inspiring activists for LGBTQ equal rights. He was a pivotal member of three well-known organizations during their formative years: the Gay Activists Alliance, the Gay & Lesbian Alliance Against Defamation, and ACT UP. As director Jeffrey Schwarz recalls, "Vito participated in every significant milestone in the gay liberation movement—and…his story was also the story of our community." He continued writing, lecturing, speaking out, and acting up until just before his death from AIDS in 1990.

Russo is most known for writing The Celluloid Closet, a groundbreaking book that explored the ways in which gays and lesbians were portrayed on film, and how these negative images were at the root of society's homophobia. As an assistant editor on the film version of that book, Schwarz discovered the depth of his future documentary subject. "I learned about the years Vito spent battling AIDS as both a person with the disease and a passionate and angry agent for change. Although he didn't live long enough to see much of the progress he had been hoping for, his work forever changed the landscape for those living with the disease."

This award-winning documentary includes rare archival footage of Vito at gay rallies and celebrations, stories from family and celebrities, and clips from a variety of LGBTQ films. A live conversation with director Jeffrey Schwarz, moderated by former TDBC director Jason Plourde, will be held following the film on Friday, October 16, at 6:00pm.

EVENT IS FREE BUT RESERVE YOUR SPOT HERE!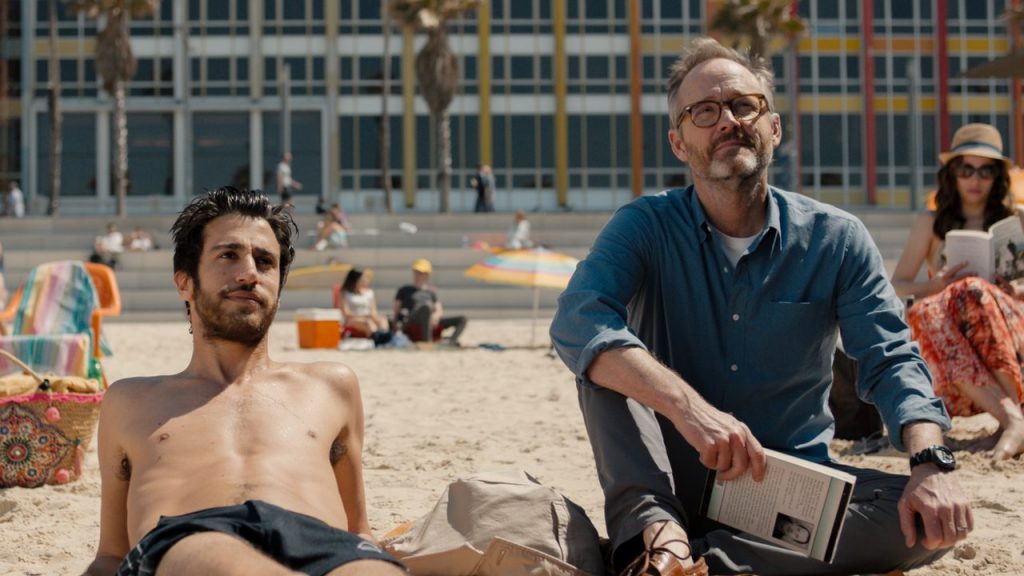 Some other films and programs to look out for:
SUBLET – the new film from Israeli director, Eyton Fox (YOSSI & JAGGER, WALK ON WATER)
BIPOC focus series: Many Rivers to Cross: Diaspora Stories
US Premiere of UFERFRAUEN – LESBIAN LIFE AND LOVE IN THE GDR
THE MILLENIAL EXPERIENCE – a documentary filmed in and around Seattle
MONSOON – starring Henry Golding of CRAZY RICH ASIANS
Finally, here's the link to the film guide for ALL films, programs and events including searchability by types of films: "Gay" or "Lesbian" or "Bi" or "Trans" and films by/for the Queer Trans BIPOC community.
(Visited 1 times, 1 visits today)