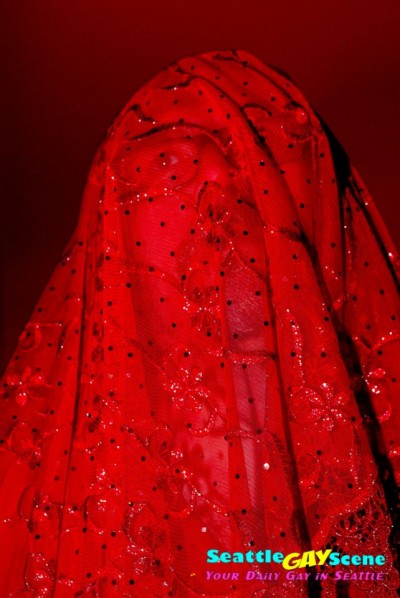 Seattle Red Dress Party is now officially sold out of the deluxe VIP tickets for Friday night's gala party and fundraiser which raises funds for Seattle area HIV/AIDS groups and Seattle PrideFest which is producing this year's event for the second year in a row. We've been told they have only have a few general admission tickets left and if you have a red dress hanging in your closet (or some red curtains and a sewing machine/staple gun!) you should snag those tickets and the opportunity to check out this year's terrific line-up of talent which includes "RuPaul's Drag Race" star Courtney Act, the sexy singer AB Soto and delightful diva Debby Holiday. Go HERE to buy your tickets!
Some more poo:
Talent for Seattle's 2017 Red Dress Party includes:
Hosts: Gaysha Starr, Aleksa Manila and Miss Kitty Baby
Headliners: Courtney Act, AB Soto and Debby Holiday
DJ's: DJ Bret Law, Riz Rollins, Julie Herrera, Tony Burns and Toya B (aka Toya Harris)
Burlesque/Boylesque performances by: Boom Boom L'Roux, Jesus La Pinga, Karmen Sutra and Ernie Von Schmaltz.
Live Jams on tap from: Meanie Jaguar
……and if you can believe it – MORE SURPRISES IN STORE FOR YOU!

Production coordination and Talent Booking by: Kendall's DJ & Event
Remember that this year's Red Dress Party has moved to Capitol Hill's Century Ballroom in Oddfellows Hall at 10th and Pine Street. Red Dress is taking over the entire second floor of the building (yes, there is an elevator!) and it will be a far cozier party than the previous ones in the cavernous environs of Fremont Studios.
Secondly, please note that this is STILL a fundraiser for HIV/AIDS organizations including Lifelong, Gay City, Entre Hermanos, Seattle Counseling Services, BABE Network and End AIDS Washington as well as for Seattle PrideFest who took over the production of the event from the old Seattle Red Dress Party committee. There are rumors that AIDS groups are no longer getting any money from Red Dress Party and…
THAT. IS. NOT. TRUE!!!!
Thirdly, Seattle Red Dress Party is now allowing people to attend in red attire (RED, RED, RED!) that isn't necessarily a dress which is a huge change from previous years. There have been upset people turned away from the door at previous events and in order to support those people who aren't comfortable wearing a dress, they will not turn people away if they show up in something RED that isn't a dress.
That said, they continue to encourage people to follow tradition and wear the Red Dress as a sign of support for people living with HIV/AIDS…the whole purpose of the event.
And…now for my two cents:
WEAR THE DAMN RED DRESS! IT'S CALLED THE RED DRESS PARTY FOR A REASON…IF YOU DON'T LIKE WEARING A DRESS, THEN DON'T GO….DONATE A LARGE SUM OF MONEY AND STAY HOME! (Or, better yet, put on a damn dress for three hours and have fun…)
Whining about being required to wear a Red Dress to an event CALLED the Red Dress Party is like being a Vegan kvetching about all the damn meat at a something called "The Carnivore's All You Can Eat Meat Lover's BBQ Pig Roast!"
Silly.
Now that I've gotten THAT off my chest, go buy a ticket to the Seattle Red Dress Party…and, start assembling your RED DRESS outfit for Friday.
Oh…here are links to Some Lovely Photo galleries of previous Seattle Red Dress Parties:
and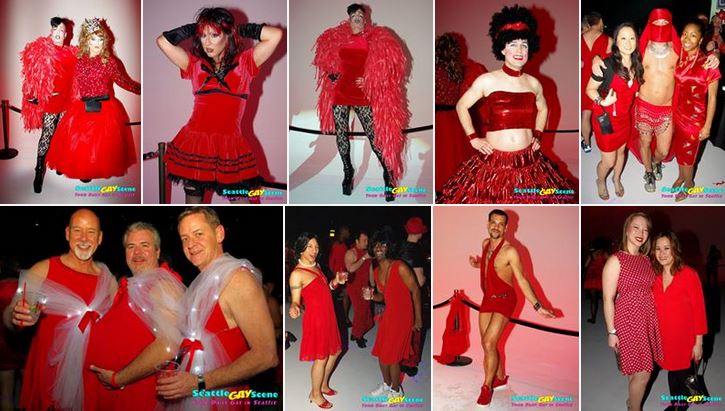 (Visited 1 times, 1 visits today)