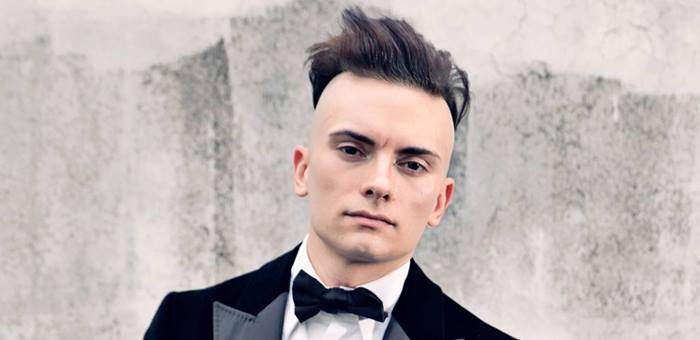 The dashing, daring Wunderkind of classical organ music, CAMERON CARPENTER will take to the stage at Benaroya Hall this Friday, April 25, 2014 for a stop on his world tour. The 33 year old is the first organist to earn a Grammy Award nomination for a solo album. His punky personal style and cheeky demeanor have earned him thousands of fans and brought a younger audience to classical performance halls. The artist identifies as queer and his androgynous aesthetic has endeared himself to LGBTQ audiences as well.
Carpenter was involved in some controversy last month in the UK when he was denied entry at Birmingham airport and held overnight for questioning before being escorted back onto a plane and returned to Berlin, his point of origination for the trip. A furious Carpenter detailed his ordeal on his Facebook page:
BIRMINGHAM BLUES: After flying Berlin-Munich-Birmingham last night, I was detained by HM Immigration at Birmingham Airport where I would remain for about the next 7 hours (with periods of questioning and FINGERPRINTING thrown in) in the detention of HM Border Force – or rather Tascor, the creepy, vague, Orwellian detention subcontractor they use to keep people awake in brightly lit rooms filled with tearstained children's toys and assorted religious texts. I arrived around 10:30PM. At 7:05am I was escorted onto the first flight to Berlin by armed police. I then flew Birmingham-Munich-Tegel, consulting all the way with some of the best management the world has to offer. (What would become of artists not so fortunate as I am to have such representation, I fearfully wonder).

HM Immigration in Birmingham were totally unaware of the laws governing Permitted Paid Engagement – the three words artists entering the UK really need to know (in addition to Only Go Heathrow). Knowing my rights (thanks to the champions at Konzertdirektion Schmid and Atholl Swainston-Harrison at the the International Artist Managers' Association ) I landed in Berlin, took a shower and flew to Heathrow. I was detained AGAIN, but much more briefly – where finally the supervisor realized that I had the right to enter. Which I did, and I'm here in Birmingham, about 26 hours later. I've missed 66% of my practice time, which isn't fair to the audience, but I will appear and NOT CANCEL OR POSTPONE TOMORROW. I got your majesty's service right here, pal.
We're guessing the American born musician shouldn't have any troubles flying into Sea-Tac…
Tickets are still available at the Benaroya website OR for bargain lovers, go to Goldstar and save some dough and get tickets for under $10.
More on Cameron Carpenter from his website:
A virtuoso composer-performer unique among keyboardists, Cameron's approach to the organ is smashing the stereotypes of organists and organ music while generating a level of acclaim, exposure, and controversy unprecedented for an organist. His repertoire – from the complete works of J. S. Bach and Cesar Franck, to his hundreds of transcriptions of non-organ works, his original compositions, and his collaborations with jazz and pop artists – is perhaps the largest and most diverse of any organist.
We're fascinated by this artist and encourage you to check him out.
Tags: Benaroya Hall, Cameron Carpenter, Classical Music, Organ Music, Queer Artists, sgsapp