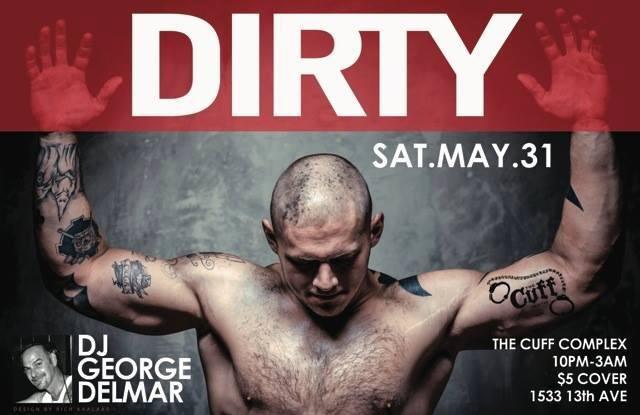 MORE night life options for this BLAZINGLY gorgeous May 31st…
1) Our favorite Daddy Shakin' DJ, DJ GEORGE DELMAR is back at The Cuff for tonight's DIRTY party…it's 10 pm to 3 am (way past George's bedtime….), 21+ w/ID, 13th & Pine St, blah, blah, blah. A night full of manly mens shakin' their groove thangs….and, tryin' to hook up with other manly mens…shakin' THEIR groove thangs.
Rumors: Hmmmmm…..is there a porn star/singer coming to The Cuff's Infamous Pride Block Party this year?
Duh.
Also: A disco diva and a drag queen.
I'M PSYCHIC!!!
2) MEANWHILE, down at Your Place, it's the annual MISS ECSA PAGEANT. And, if you're slow or very non-athletic then you will need to know that ECSA is the "Emerald City Softball Association" which simply means "butch" gay men who love playing with bats and balls. And, spittin'. They also seem to love dressing up in drag once or twice a year and this event will feature :
And now for your 2014 line up of contestants for Miss ECSA 2014! See who is returning to compete! Those gurls want a crown and glitter! Come cheer your fave stage diva and softball team! FUN! FUN! FUN! Doors open 6pm. Show starts 7pm. R Place!

• Dixie Normous of Plastix
• Emily Chartreuse of Knights
• Miss Tylah of SNAP
• Milly Mae Mint Julep DeMure of Muffin Tops
• Carlotta Boom Boom of Rebels
• Juliet Kilo of Seattle Phoenix
• Tori Anus of SIN
• Flo Monthly of Warhawks
Since these aren't real queens, these names are MEANINGLESS to us. But, who doesn't enjoy a "jock's cock in a frock"?
(HINT: You can enjoy MORE jocky frocks on Sunday, June 1 at Juliana's on Broadway for the big annual SQUADRON SHOWGIRLS ALL-STARS fundraiser featuring MORE muscles wearing cheap ass frocks from Ross. More poo on THAT:
Making her SEATTLE DEBUT: KELLY MANTLE!
From RuPaul's Drag Race Season 6. Kelly has also been in Nip/Tuck, Arrested Development, and more! Baseball great, Mickey Mantle's nephew!

Returning as host will be INDIA FERRAH (RPDR3), who will be joined by Seattle's very talented JAXEN BROWN.

We'll have great raffle prizes, and of course, members of the Squadron and other Emerald City Softball Association teams will be performing.

Previous Squadron show guests include, India Ferrah, Jinkx Monsoon, Ben DeLacreme, Lady Chablis, Isaac Scott, Mama Tits, and many more!

Be at the Seattle softball event of the year!
SQUADRON SHOW GIRLS *ALL STARS*
June 1, 2014 at Julia's on Broadway!
No Cover with ECSA Card
Only $5 without
ALL AGES
8PM

Sponsored by Seattle Gay Scene (Yes! US!!!! Art Ruiz is VERY persuasive….)
3) Meanwhile, at the Spielberg Tent at TEATRO ZINZANNI, their fascinating new "nightclub experience" WAKE THE NIGHT has a special guest co-host who joins the already FABULOUS regular line-up that includes:
Billie Wildrick | Kate Jaeger | Tory Tiara | Eric Esteb | LauraRose Flynn
Ian Green | Hans Teuber | Arturo Rodriguez | Steve Moore | 3J Million
Billie Wildrick is very well known to anyone who goes to musicals at the 5th Avenue Theatre, and Kate Jaeger is one of our favorite actor/comedians in town. (I'm guessing the other names on that list are equally talented and gorgy…)
As for their special guest….it's our very own MAMA TITS making her Teatro Zinzanni debut as a guest co-host! In between hosting her own hugely successful Mimosas With Mama at The Unicorn every Sunday, and brokering peace between the drag queen and trans* communities, she's squeezing in time to bring her big pink fuzzy head down to the Spiegeltent for "The dance party of your dreams blending music, dance and cirque"
Wake the Night is on Select Saturdays thru June 28 at the Spiegeltent on Mercer & 3rd Ave N.
$12 General Admission
$25 VIP
(VIP secures booth seating and service at your table)
21+ w/ID.
Lots to do.
Go do it.
(Visited 1 times, 1 visits today)