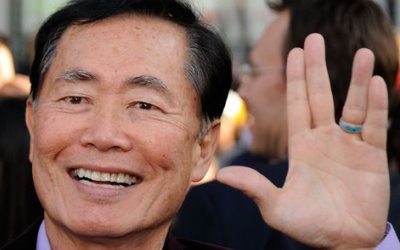 Seattle Pride has a big announcement: celebrity parade marshal/Star Trek icon, actor George Takei will not only be IN this year's Seattle Pride Parade on Sunday, June 29th but he'll also be attending the official Seattle Pride Brunch happening before the parade at Tom Douglas's Palace Ballroom, 2100 5th Ave in downtown Seattle.
EVERYTHING you need to know via Amelia Veneziano's press release:
Live long and drink mimosas.

Or just come to the Seattle Pride Brunch on Sunday, June 29. Seattle Pride Parade Celebrity Marshal George Takei will join Pride supporters and revelers alike at Seattle restaurateur Tom Douglas's Palace Ballroom and Palace Kitchen restaurants, located in downtown Seattle.

One $57.50 ticket includes admission to brunch, a complimentary champagne mimosa, an appearance and speech by George Takei, and reserved VIP bleacher seating at the Pride Parade, taking place later that day.

Tickets are expected to sell fast. Only 250 seats are available at this extraordinary event, with seating times from 8:30-9:30 a.m. at the Palace Kitchen and Palace Ballroom. The brunch will conclude by 11 a.m. for the Pride Parade.

Douglas is serving his inspired Strata Breakfast — wild mushrooms and assorted greens in a casserole (strata)-style dish, served with fresh fruit and Greek yogurt, and a choice of Bavarian meats or bacon. The vegetarian option is golden waffles and fresh fruit. There is also a gluten-free menu available. Coffee, tea, and orange juice will be included with the meal.

The Palace Ballroom is at 2100 5th Ave and The Palace Kitchen is at 2030 5th Ave., both in downtown Seattle and near the Pride Parade route. It promises to be a morning of good food, great wit and good old-fashioned fun before Seattle's most famous parade.

Tickets can be purchased beginning Friday, May 9th at 10 a.m. through Stranger Tickets online at seattlepride.org  and at StrangerTickets.

Seattle Pride is a non-profit organization based in Seattle, WA, focused on informing and educating the community on LGBT issues through community outreach and produced events, including the annual Seattle Pride Parade, Pride Idol, Pride Brunch and the Seattle Pride Picnic.
Ohmigod. Who wouldn't want to eat eggs with Mr. Takei? AND, snag the best seats to the parade?
Winner Winner Chicken…well, not dinner.
BRUNCH!!!
Tags: George Takei, Palace Kitchen, seattle pride, Seattle Pride Brunch, Seattle Pride Parade, sgsapp, Tom Douglas