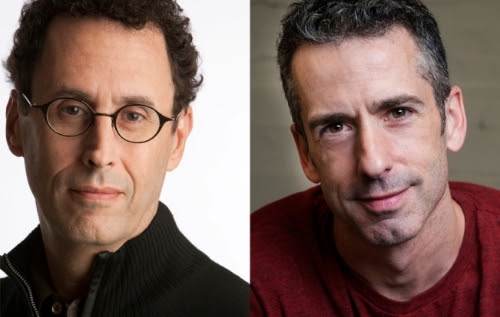 Seattle theater lovers are agog AND atwitter over Intiman Theatre's announced summer season for 2014 which consists solely of a two play opus, Tony Kushner's acclaimed Pulitzer Prize and Tony Award winning ANGELS IN AMERICA which was originally stage by Intiman in 95/96 following the original Broadway run. Their revisit to the iconic play which examines pretty much every hot button issue there is to discuss: religion, sexuality, gender, race, politics, drug addiction, mental illness and AIDS will include a number of opportunities to meet the play's writer, Tony Kushner.
In fact, this weekend, May 9/10 should have been heralded as "Tony Kushner Weekend" by our Big Gay Mayor…he was probably too busy having tea with the Seattle Police Department…
First up: Mr. Kushner will be the guest of honor/featured speaker at a pricey and sold-out dinner/fundraiser for Intiman tonight at Palace Ballroom.
But, the event you CAN still get affordable tickets to is still available, at least for a bit. "A Savage Chat with Tony Kushner" is happening Saturday, May 10 at 2 pm at Town Hall (1119 8th Avenue) where Mr. Kushner will dish the tea with Seattle's own Dan Savage. Grab tickets here and more on the "KushnerFest" down below:
To kick off this year's annual theatre festival, The Angels Project, Intiman Theatre will produce Intiman Presents "A Savage Chat with Tony Kushner," Saturday, May 10, 2pm, at Town Hall Seattle: An interactive community conversation between the Pulitzer Prize, Emmy Award, and Tony Award-winning playwright of Angels in America, Tony Kushner; internationally syndicated advice columnist and The Stranger Editorial Director Dan Savage; and YOU!

Kushner and Savage will begin with a candid dialogue around the many issues raised by Angels in America: sexuality, race, politics, religion, and more. Then these renowned authors will answer your questions, either in real-time, via video submissions emailed to asktony@intiman.org, or tweeted to @intimantheatre using the hashtag#AskTony.

Tickets are now on sale for $10 at intiman.org. Intiman Presents "A Savage Chat with Tony Kushner" is generously supported by The Stranger, Tom Douglas Company, and Elliott Bay Book Company. Kushner's Seattle visit is made possible by a generous gift from Lalie and Carlo Scandiuzzi.

Kushner's visit serves as the official launch of The Angels Project, which will culminate with a repertory production of the seven-hour masterpiece that is Angels in America, August 12 – September 21, 2014, in honor of the 20th anniversary of Intiman's original productions. Casting has been announced on the Intiman Facebook page. Festival passes go on sale in April.

Throughout spring and summer, as part of The Angels Project, Intiman will also present a series of programs and events to encourage deeper community dialogue around the many issues presented by Angels in America, including a studio production of related work produced and performed by Intiman's 2014 festival interns.
While in Seattle, Kushner will also be the featured guest at Intiman Presents "An Evening with Tony Kushner," an exclusive, intimate dinner at Palace Ballroom on Friday, May 9, to raise support for The Angels Project. For more information on this unique opportunity to be up close and personal with Kushner and other special guests, please visit intiman.org.
Kushner will also receive an honorary degree from Cornish College of the Arts during their commencement ceremony, Saturday, May 10, at McCaw Hall.
AND, here's a great promo made for the "Angels Project" made by Alex Berry and starring Marya Sea Kaminski.
"The Great Work Begins…The Messenger has Arrived!"
(Visited 1 times, 1 visits today)