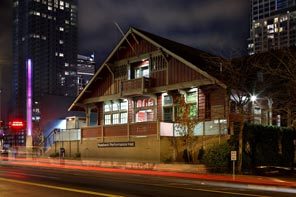 Old timers just gasped.
Gay Seattle's only full-time country western bar, The Timberline bit the dust a few years back and it was deeply mourned and not just by the many fans of c/w music. The  Timberline was just a place to have a great time.
The Timberline's final home at Denny & Stewart eventually became the Orion Youth Center but it's the previous incarnation that was near & dear to Gay Seattle's heart…the old Sons of Norway Hall at 2015 Boren Ave was the beloved locale of the "real" Timberline and it was a sad day for many when Cornish College took it over and turned it into Raisbeck Performance Hall. (And, obviously this space is a Holy Landmark for Twin Peaks' fans…the space was the location used to film the scenes set in the Roadhouse in the TP pilot….)
But, everyone can rejoice because for one night only, Sunday, June 1, 2014 the roof will be raised at Raisbeck with the foot stompin' of a few hundred queer fans as "The Timberline Revisited" takes over for a very special night that will officially kick off Seattle Pride 2014 and the month long celebration of Seattle Pride celebrations turning 40. DJ Dana Dub and DJ Pavone will be spinning and it's only a $10 cover which will partly help the Seattle Men's Chorus and the Seattle Women's Chorus. It's a CASH only bar and the event is 4 pm to 9 pm and 21 +.
We're guessing some more deets will emerge closer to the event…maybe entertainment?
Regardless, count us IN for this special party.
Tags: Raisbeck Hall, seattle pride, Seattle Pride 2014, Seattle Queer History, sgsapp, The Timberline, The Timberline Revisited