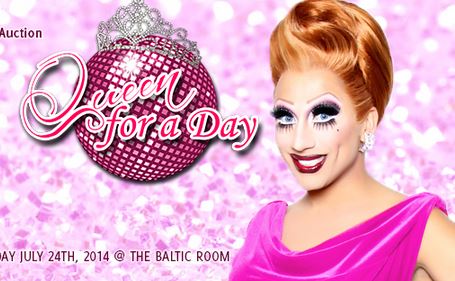 It's the night all you crazy "RuPaul's Drag Race" fans have been waiting for and the must see event for fans of this year's winner of Season Six, BIANCA DEL RIO. Our favorite "Queen of the Clowns" is jetting into Jet City for THREE big shows at The Baltic Room tonight, Thursday, July 24 and all three parts of her appearance are SOLD OUT so if you didn't get tickets, your life is sad.
For those of you who DID snatch tickets to all or part of the event, this is all the "Dish", "Tea" and "Poo" you need to know, courtesy of The Baltic Room:
– Doors Open at 7pm for Queen for a Day Drag Auction & VIP ticket holders

– Auction begins between 8:15-8:30 and will end by 9:30pm when the venue will be cleared of all non-VIP ticket holders.

– VIP private Toast & Roast will begin as VIP pictures with Bianca have completed and no later than 10pm.

– GA Revolution ticket holders will be let into the venue as soon as the VIP toast & roast has ended (around 10:30pm but no later than 11pm).

– Bianca's GA performance will begin around 11:45pm but no later than midnight.

Tickets:

You should have already received or printed your tickets. We will NOT be running a will call list, so if you don't have your tickets yet, I'd suggest calling Brown Paper Tickets to track them down. You can reach them at 1-800-838-3006.

The Show:

From what we've heard, no one is off limits to the reading talents of Bianca. In addition, we aren't a huge venue and the entire night is sold out…thus it'll be a crazy night for everyone (staff, customers, drag queens). Please show up with a good attitude and some patience. We will get all ticket holders in to see the show they have tickets for. Most importantly, be ready to have some fun!

We are excited to be bringing back "Queen for a Day" charity drag queen auction for its second year! This year benefiting Seattle Counseling Service and the amazing work they do in our community!
AND, here's some hyper specific info on the first part of the night, the "Queen For A Day" Fundraising Auction with proceeds going to Seattle Counseling Services.
This year's host and guest auctioneer is RPDR Season 6 winner, Bianca Del Rio. One by one Bianca will call this year's TEN participating queens to the stage to be introduced, perform, and subsequently be bid on by an audience of their friends, family, fans, and community members. The final winning bid will be combined with any community sponsorship dollars the queens have acquired and the full amount raised will be donated to Seattle Counseling Service.

The 20 winning bidders and their queens will get to attend an incredible afternoon and evening together in early October. Much like last year, when they attended an evening at Teatro Zinzanni, this year will be quite the spectacle. Thanks to the generous donations of our experience sponsors, this year's group will win:

– An early dinner reception at Julia's on Broadway.

– A champagne toast at Dr. Jen's House of Beauty complete with Atomic Cosmetics gift bags.

– A professional group photograph at Seattle Center's International Fountain

– Tickets to see Jinkx Monsoon & Major Scales in "The Vaudevillians" at the Seattle Repertory Theatre www.seattlerep.org

– All transportation for the evening will be provided by Amy's Limousine Service.

IN ADDITION to this incredible evening together, the winning bidders will also receive TWO VIP TICKETS to an evening at Le Faux, Seattle's #1 Celebrity Impersonation Show. Generously provided by Julia's on Broadway.

2014 QUEENS ON THE AUCTION BLOCK:

– ALEKSA MANILA 
(www.facebook.com/aleksamanila)

– ALESSANDRA HUNT 
(www.facebook.com/earvinalessandra)

– BROOKE LYNN BRADSHAW
(www.facebook.com/brooke.lynn.bradshaw)

– CHERRY SUR BETE 
(www.facebook.com/cherry.sur.bete)

– DIAMOND ST JAMES BLACK
(www.facebook.com/diamondst.jamesblack)

– DONNATELLA HOWE 
(www.facebook.com/donnatellahowe)

– ISAAC SCOTT
(www.facebook.com/isaac1scott)

– JESSICA PARADISCO 
(www.facebook.com/jessica.paradisco)

– LADIE CHABLIS
(www.facebook.com/ladie.chablis)

– MARK FINLEY 
(www.facebook.com/miss.mark.finley)

Doors @ 7PM – Be sure to arrive early and enjoy some delicious Smirnoff and Kettle One cocktails before the bidding opens!

Following the auction, VIP ticket holders will be able to stay for a special private show as well as the sold-out Revolution dance party. All those who do not have tickets to these events are welcome to join Sinfinite Events along with hostess Isaac Scott and DJ Bret Law up at Neighbours Seattle for HollaBack Thursdays, Seattle's hottest early 2000's dance party featuring $4 Double Cocktails and dancing after hours til 3AM!

Queen For A Day, Bianca's VIP Show, and Revolution Thursdays are 100% SOLD OUT. If you would like to make a donation to Seattle Counseling Service in the name of any of the above queens, please feel free to email Sinfinite Events at: info@sinfiniteevents.com ASAP!
(Visited 1 times, 1 visits today)