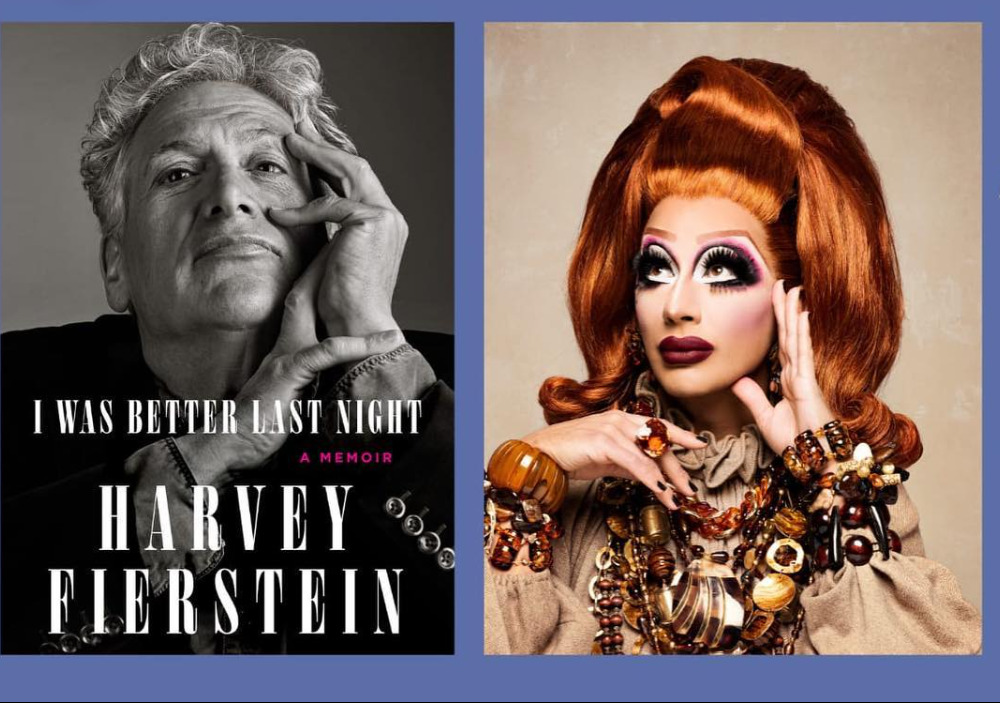 LAST minute news to convey because we JUST heard about it…Tony Award winning actor/playwright HARVEY FIERSTEIN just released his hilarious new memoir, "I Was Better Last Night" and he's out promoting the hell out of it. And, since we live in the Age of Covid and ZOOM, he doesn't need to leave the comfort of his own NYC home to do so…Mr. Fierstein will be having a conversation about his book in a special ZOOM event produced by Seattle's own beloved Elliott Bay Book Company on Wednesday, March 9th at 6pm Pacific/9pm Eastern time.

AND, to make things even MORE of a hoot, the legendary performer/writer who has had some of his biggest career moments while wearing a dress, will be intereviewed by the one and only BIANCA DEL RIO!
You really can't get much gayer than this…
Go HERE to buy your ticket…it's $33 plus tax but it also gets you a copy of the book, mailed to you!
All the poo you need:
Virtually Hosted by the Elliott Bay Book Company on Zoom Webinar.
Please join us as cultural icon, gay rights activist, and four-time Tony Award–winning actor and playwright Harvey Fierstein speaks about his life and his new memoir, I Was Better Last Night (Knopf) with Bianca Del Rio.
Each ticket includes admission to the Zoom event and a copy of I Was Better Last Night, which will be mailed to you via USPS Media after the event. (Books will be shipped to addresses in the U.S. only) Links to join the event will be sent out via Eventbrite 48 hours before the event.
Harvey Fierstein's legendary career has transported him from community theater in Brooklyn, to the lights of Broadway, to the absurd excesses of Hollywood and back. He's received accolades and awards for acting in and/or writing an incredible string of hit plays, films, and TV shows: Hairspray, Fiddler on the Roof, Mrs. Doubtfire, Independence Day, Cheers, La Cage Aux Folles, Torch Song Trilogy, Newsies, and Kinky Boots. While he has never shied away from the spotlight, Mr. Fierstein says that even those closest to him have never heard most of the tales—of personal struggles and conflict, of sex and romance, of his fabled career—revealed in these wildly entertaining pages.
I Was Better Last Night bares the inner life of this eccentric nonconforming child from his roots in 1952 Brooklyn, to the experimental worlds of Andy Warhol and the Theatre of the Ridiculous, to the gay rights movements of the seventies and the tumultuous AIDS crisis of the eighties, through decades of addiction, despair, and ultimate triumph.
"Fierstein… looks back on his show-biz travails and the struggle for gay rights in this raucous debut memoir. He recaps his parts in theater, movies, and TV…as well as lurid episodes from New York's gay demimonde of the 1970s and '80s, and a bout with alcoholism that ended with a suicide attempt. Readers will appreciate his blunt takes on anti-gay discrimination in matters small and large…Defined by a campy yet bittersweet comic sensibility, Fierstein's vivid writing about the pratfalls, exhilaration, and painstaking craft of a life in theater beguiles." –Publishers Weekly
HARVEY FIERSTEIN is the Tony Award-winning author of Torch Song Trilogy and La Cage aux Folles. His other theater writings include Kinky Boots, Newsies, Casa Valentina (all Tony-nominated), A Catered Affair (twelve Drama Desk nominations), and Bella Bella, and his theater performances include, Torch Song Trilogy and Hairspray (Tony Awards for both), Fiddler on the Roof, La Cage aux Folles, Gently Down the Stream, and A Catered Affair. His film and television appearances include Mrs. Doubtfire, The Good Wife, and Cheers (Emmy nominated), and he has voiced characters in the film Mulan, and the shows Big Mouth, The Dark Crystal, BoJack Horseman, and many more. He lives in a small fictional town in Connecticut with whatever animals will have him.
The one and only Bianca Del Rio, sixth season winner of RuPaul's Drag Race – drag queen, actor, comedian, costume designer – will be doing the conversational honors with Harvey Fierstein this evening. A night not to be missed.
(Visited 4 times, 1 visits today)