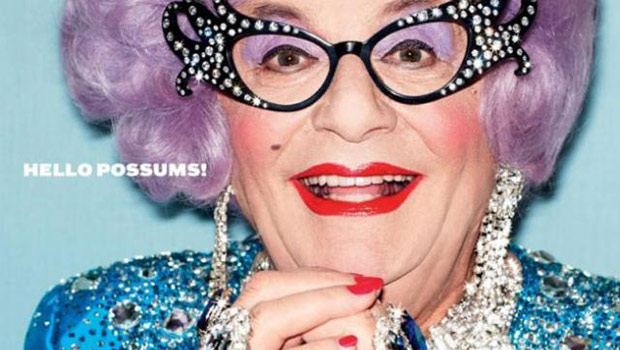 Our Lady and Savior!
Dame Edna will soon bless us with her Visage and other parts!!!
Grab your Gladdies and lift up those bejeweled skirts, all you Dame Edna fans/impersonators/odd ducks who like to play dress up with Mummy's pretty things….
DAME EDNA EVERAGE IS COMING TO SEATTLE FROM JANUARY 15-18, 2015 AS PART OF Dame Edna's Glorious Goodbye – The Farewell Tour!!!!!!!
Individual tickets for the five shows on her Seattle stop (at the INTIMATE little Moore Theatre) are on sale. RIGHT NOW!
Isn't it spooky?
And, our glorious leader has a very special message, just for us!
More from the breathless pen of Dame Edna's press release:
In a side-splitting, historic finale, Dame Edna Everage (Barry Humphries) is capping a spectacular career spanning 50 years of bravura showmanship in this farewell celebratory show at the Moore Theatre, January 15-18, 2015. Dame Edna's Glorious Goodbye – The Farewell Tour will give audiences the chance to bid farewell to the incomparable Dame Edna, arguably Australia's greatest entertainment export. Tickets are on sale now!

Surrounded by spectacular sets and gorgeous, talented dancers, Dame Edna keeps her audience enthralled and 'in stitches' with her sparkling wit, mischievous wisdom and razor-sharp banter. With her take-no-prisoners comedy and hijinks, Dame Edna is not going out with a whimper: No one is safe from the Dame's wicked tongue.

Dame Edna's Glorious Goodbye – The Farewell Tour opened to rave reviews in Australia and moved to adoring crowds in London and throughout the UK, where Neil Norman of the Daily Express said, "I almost asphyxiated myself with laughter;" and Mark Shenton of the Sunday Express said Dame Edna is "a comic, cosmic wonder." John Lahr of The New Yorker paid tribute, "Dame Edna may leave the stage, but she will never leave my heart. I love her. I honor her. I cherish the high times she has made for me and millions of others."

Days and times for the performances are:

Thursday, January 15th @ 7:30PM

Friday, January 16th @ 8PM

Saturday, January 17th @ 5PM and 9PM

Sunday, January 18th @ 3PM

Tickets  are on sale now!
Quick Sticks! Don't just sit there with your mouth agape….
GO BOOK YOUR TICKETS!!! SHE'S ONLY DOING ONE FAREWELL TOUR!!!
SHE IS "Australia's greatest entertainment export" SINCE THAT DAMN DINGO ATE THAT BABY!!!
(Visited 1 times, 1 visits today)