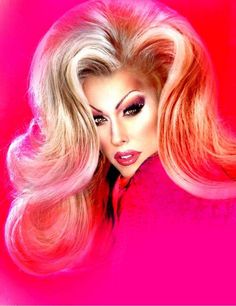 We're just a few months away from Seattle Pride 2015 and already we (allegedly) have the full roster of Seattle Pride parade announcers…and, expect a few shake-ups. Gone this year, unfortunately for a prior family engagement, is domestic goddess Sylvia O'Stayformore. Rumors are swirling that the fabulous DJ, Hostess, and gay adult film director/producer Chi Chi LaRue will be at the helm of the parade alongside our very own Skyscraper hostess, Mama Tits at the 4th & Pine/Westlake location.
Seattle Pride has yet to formally announce that LaRue will be this year's co-host with Mama Tits, a longtime friend of the legendary diva. Insiders also reveal that Mama Tits and her "Mimosas With Mama" cast will produce the pre-parade show at the Westlake stage this year.
No word on whether last year's Christian protesters will return to face Mama Tits' wrath and fury.
Down the street we have Cherry Sur Bete returning to host 4th & Bell for the second year. Her 2014 co-host, The Stranger's Sarah Rudinoff, will not be returning for 2015 and instead, DonnaTella Howe will be making her debut as an announcer at the parade. Miss Howe will also be the hostess of the Pride Picnic earlier in the month, AND, the hostess for the Youth Pride Dance for GLSEN Washington State and she had this to say:
"Pride 2014 was so amazing to be all over town and getting to open the day at Westlake Center. I was, and am so honored to be asked to emcee and perform for everyone as always. I cannot wait to take part in this year's fun! The picnic, youth dance, and announcing with Cherry Sur Bete are going to be BRILLIANT! I am very honored and thankful for Seattle Pride to have asked me to join in and I love Seattle so much. It's going to be another fabulous Pride!"
And finally, at the 4th & Denny location, Sarah Toce and Chris  Kauffman will be behind the mic at the stage supposedly sponsored/paid for by The Seattle Lesbian.
For more information like this as well as a slew of other forthcoming tidbits about Seattle Pride 2015, head on over to the Seattle Pride official website.
(Editor's Note: And, Seattle Gay Scene, for the real nitty gritty….like, how it should be noted that Ms Toce is the only woman announcing for Seattle Pride 2015 out of 6 announcers. There's also a certain "paleness" to the announcers as well…)

(Visited 1 times, 1 visits today)