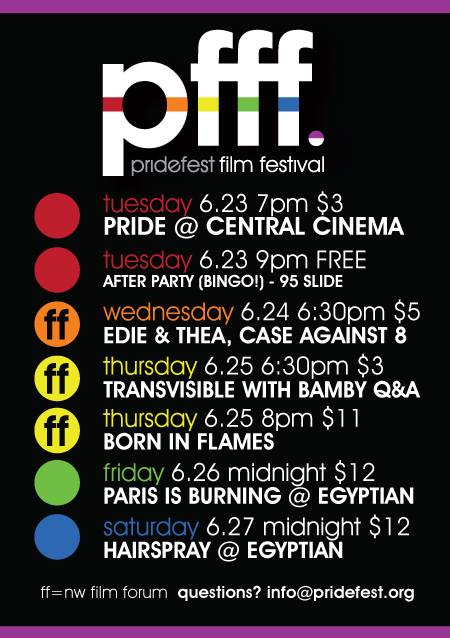 (Yes, I think it's odd to announce these things on a Saturday, too, but when you got to release, you got to RELEASE, baby!!!)
Seattle PrideFest, aka the talented/functioning folks who put on the festival at Seattle Center and not the dysfunctional folks who put on the messy parade, have just released the line-up for their first ever PrideFest Film Festival which will happen during Seattle Pride Week from Tuesday, June 23 through Saturday, June 27, 2015 in partnership with the fine folks at Three Dollar Bill Cinema. It's an attempt to add some arts and culture to Pride festivities….after all, it DOES seem like it sometimes gets to be too much about booze, go go sluts, disco and screaming drag queens (though we do love all those things, too!)
The series will kick off on Tuesday the 23rd with the very popular film, Pride, the 2014 film about LGBTQ activists and striking British miners, which will screen at Central Cinema and will be followed by an after party at 95 Slide.
Wednesday the 24th will feature a double feature of two Marriage Equality films; Edie & Thea, and The Case Against 8. Thursday, the 25th will feature Transvisible (in partnership with Trans* Pride) and Born in Flames. All these events take place at NW Film Forum.
The Festival then moves to The Egyptian for two midnight screenings on Friday, the 26th and Saturday, the 27th with Paris is Burning screening on Friday, and Hairspray on Saturday. (There doesn't seem to be any indication WHICH Hairspray is playing, the original John Waters film or the musical film….we're guessing it's the original. We hope…the John Travolta as Divine and the revoltingly untalented Nikki Blonsky as Ricki Lake make us queasy.)

A $30 film festival pass will go on sale on May 15th!
FESTIVAL SCHEDULE
Tuesday 6/23
PRIDE at Central Cinema – 7:30pm $3
(after party at 95 Slide for Bingo!)
Wednesday 6/24
Marriage Equality Documentary Night 6:30 $5
Double feature – Edie & Thea, Case Against 8

Thursday 6/25: Partner Night!
Transvisible: 6:30 with Q&A after $3 (with Trans* Pride)
Born in Flames: 8pm (Three Dollar Bill/NWFF) $11
Friday 6/26: Egyptian Midnight Movie
Paris is Burning – $12
Saturday 6/27: Egyptian Midnight Movie
Hairspray – $12
(Visited 2 times, 1 visits today)