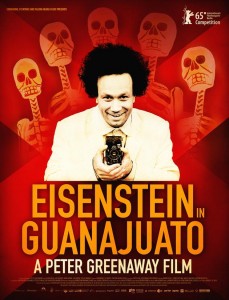 The Seattle International Film Festival began, for the press, on Wednesday April 29th, a fortnight before its May 14th public launch. At the Press Launch event, several films were previewed, and one in particular piqued my interest: Eisenstein In Guanajuato by Peter Greenaway. This is not a review of that film. I have not yet seen it, and when I do, a response will no doubt appear here. I'm writing now because the very idea of this film's existence is exciting enough to warrant preliminary comment. Why is it on my must-see list for SIFF 2015, and why should it be on yours?
First, the story is compelling. Eisenstein in Guanajuato is about Russian filmmaker Sergei Eisenstein's 1931 misadventures in Mexico. The brilliant early-cinema theorist and filmmaker shot miles of footage there for a project that eventually collapsed under financial and political pressure. He was then stopped at the U.S.-Mexico border, where his collection of homoerotic porn was discovered. Stalin, who already suspected that Eisenstein might abandon Russia for the West, recalled his tarnished star to Russia.
Eisenstein's Mexico footage was edited, without his participation, into various incarnations (one of which will also play at this year's festival and is definitely worth seeing). He was perhaps the world's premiere expert on cinematic montage, and yet he was not allowed to assemble, let alone finish filming, his own masterpiece.
Time passed. Eisenstein seems to have spent some time in a mental institution. He produced more work, here and there, but never with the freedom he cherished and once publicly argued for. He taught film theory. He married a woman. Eventually his heart gave out and he died at age 50.
Here is a story of individual brilliance crushed by the dull forces of bureaucracy, finance, politics, and control for control's sake. Sound familiar? It is a Wellesian downfall tale, long before the reaction to Citizen Kane snipped Orson's career in the rosebud. Eisenstein's case is less well known, no doubt in part because he was Russian and gay. As a gay man, his story is a part of our history, and so much of our history has been erased or ignored that it is crucial we recognize any telling of that history, lest it fade ever more completely into oblivion.
Eisenstein helped develop the language of cinema, especially in terms of editing, which is where, of course, a film is finally and definitively made. His theories and work remain core to any serious study of cinema and filmmaking. He was, and is, that seminal. Regardless of how he is ultimately portrayed in Greenaway's film, it is an event that he and his gayness is portrayed at all.
Another reason to add this film to your SIFF list is director Peter Greenaway's involvement. He has shown an interest in troubled, dynamic regions where sex and death collide, territories not unfamiliar to the gay experience. He also seems to embrace the Eisensteinian notion that ideas and emotions are born in the sparking collisions between images. His work plays with formalism and lyricism in such ways that should fit Eisenstein's Mexico endeavor quite well. A better match of director and subject matter could arguably not be hoped for here.
We shall see.
Eisenstein In Guanajuato makes its North American premiere at 7PM on June 6th at the Egyptian, and screens again at 5PM on June 7th at the Uptown.
Trailer for Eisenstein in Guanajuato on TrailerAddict.
(Visited 7 times, 1 visits today)