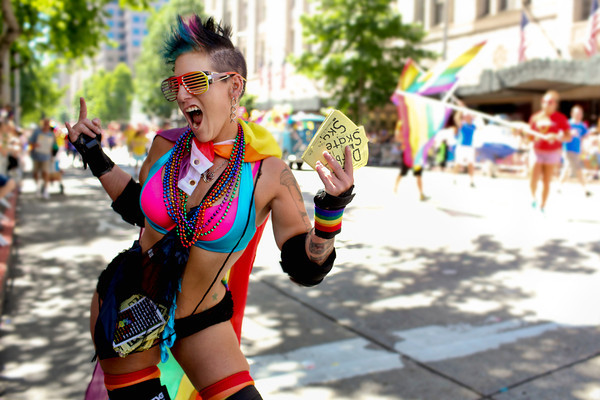 Hey, guess what, LBTQ XX-chromosomed or expressed outwardly as such! The Dyke March isn't the ONLY thing you get to do for Pride this year!
Fancy that! In case you're having trouble navigating our own Pride Guide or your Facebook calendar looking for women's events, here's a little rundown for you.
June 19, Friday: Julie Goldman headlines the second annual Women's Pride at Q Nightclub! From 6-10pm, getchyer drank on and celebrate everything you love about loving women. I can't tell you what to expect from Julie Goldman, as I've never seen her (I know, I know, bad lesbian…), but I can tell you that the tickets are dirt cheap! Best fun you can have after happy hour on a Friday, and the event ends early enough for you to spill over to the 'Rose or head home with the honey. VIPs get to meet-and-greet after the show, buy her a cocktail, or whathaveyou. Oh, and there's a fashion show too. Celebrate!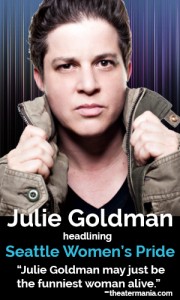 For those who don't want to be on the Hill, The Rendezvous' Jewelbox Theater is hosting Mash/Up! A Burlesque Exploration of Unique Pop Cultural and Musical Combinations! (That title long enough for you?) Hosted by Rebecca Mmm Davis, a plethora of local burlesque stars and starlets will tantalize your nerdlesque-ish brain. The show is pleased to announce that the Reigning Burlesque Queen in Vancouver, Burgundy Brixx, will be headlining! Watch Scarlett O'Hairdye, Bolt Action, Ms. Briq House, and others have fun on stage for your viewing pleasure. The super-cheap tickets are available through brownpaper. (Don't forget to pre-funk and post-funk at Wakefield, the fabulous bar next door!) Showtime at 7pm.
June 20, Saturday: Get your derby-loving ass over to The Rat's Nest for the Rat City Rollergirls' PRIDE Scrimmage at 11am! For a paltry minimum donation of $5 per spectator or skater, kick some ass for a cause. All proceeds will benefit the Lambert House, which, as we all know, does awesome things for QUILTBAG youth. Door prizes for the bestest, most fabulous PRIDEful, rainbow-y outfits! Ladies' skate 11-12:30, then co-ed 12:30-2pm.

Although not strictly for women, Pride ASIA is happening the same day at 12pm in the Chinatown/International District! WA State Supreme Court Justice (and local hero) Mary Yu will be the keynote speaker and the first speaker of the day. Remember that time she married a same-sex couple, and everyone was like, "HAHA that's an awesome pun!"? The event is FREE to ALL AGES. Hosted by Aleksa Manila, the event will feature music, performances, and more speakers. Bring me some foods from Uwajimaya, please!
The same night, head over to Maxim's for some love with women of color! SHE is Maxim's event for WOC who love other WOC. It provides a safe place to celebrate the Seattle Majestics Women's Tackle Football team! Doors open at 9:30, and will let in anyone 18 and over, just for Pride. After midnight, $100 will be dropping from the ceiling, so be there to grab it up! Raffles and prizes all night. SHE stands for "Sorry He is Excluded." Yay! No male gazes here, thank goodness.
June 21, Sunday: Once you're done calling your father, enjoy the Emerald City Softball Association's End of Season party at The WildRose! 3:30pm is when the players expect to stroll in for their $10 pitchers. The 'Rose has graciously donated two PRIDE BLOCK PARTY TICKETS for the raffle, so get there and drink up! Because softball, duh. I think it's ok to be a fair-weather softball fan for Pride Month, yeah?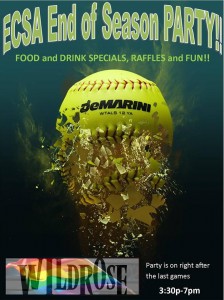 If you didn't get enough burlesque on Friday, head over to Dante's in the U District (on Roosevelt) for Morgue Ann's Super Villainous Cabaret of Evil! Dante's is 21+, and show time is at 8pm. Proceeds will go to Social Outreach Seattle. Not sure yet who'll make up the total cast besides Sugar Solara and Chaos X. Machina (yummy name), so go there and be surprised for a great cause!
Ok, now go back to work for a few days. Nothing to report for Monday 6/22 or Tuesday 6/23, at least for women only.
Wednesday, June 24: Return to Maxim's for the Pride Edition of the Newlywed Game! If you're one of those couples who couldn't wait to get your marriage license as soon as it was legal, test your knowledge of your Lady Love. Must be 21+ and bring $20 to participate. There's never a dull moment when *those* types of questions are asked. Have fun from 7pm-10pm! Get there early for happy hour beginning at 5pm. Plenty of time once you're done to rest up for the weekend…
Thursday, June 25: UGH. I'm TORN. At 7pm are TWO events I'd like to attend, but alas… transporters have not yet been invented. The first is over at Babeland on the Hill. Tomboy Exchange is holding a contest for who'll be their next top (or bottom) model! Cocktail party with free beverages hosted by the store's staff and the Babeland experts. Complete with prizes, all sizes and body types are encouraged to apply. Just wear and bring your most awesome TomboyX gear, show up, and strut your stuff! Well, I suppose in order to be two places at once, the store womyn *are* allowing people who can't make the event or aren't terribly local do a thing where they snap a selfie of themselves wearing their fave TomboyX clothes and send it to Instagram, Facebook, or Pinterest, using #TomboyPride and #TomboyXStyle. Win!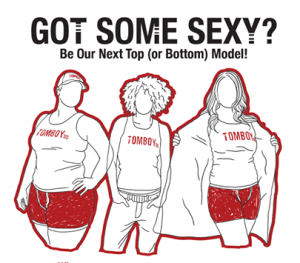 So that's what I might be doing if instead I go to the KeyArena for the Seattle Storm's Pride Night! Partnering with Equal Rights Washington, you can sit with ERW in the lower bowl for only $20. Recording artist Vicci Martinez will headline, and the Storm will take on the Minnesota Lynx. Fun for Seattle-ites and all you former Midwesterners! Get your tickets now, because it's the event of the season before the Storm marches in the Pride Parade!
Provided, of course, you don't already have tickets to the new Queen of Mean, Bianca DelRio…*insert jealous bitchface…now*
Friday, June 26: Start your fucking engines, ladies, because this is THE official start of PRIDE WEEKEND!!! Are you all squealing with glee yet? Or hiding in a corner with a bottle of wine and your dog?
At 6pm at Cal Anderson Park is our annual Trans* Pride! You can assemble at 5pm for the march at 6, in cooperation with the Gender Justice League (not to be confused with the DC Comics characters). The march will head right back to the park for booths, speakers, and performances from 7 to 10pm, all lead by the trans* people in our community. Go! Have fun! More info at transprideseattle.org. Remember, as Laverne Cox says, "Trans is beautiful."
So, so far we have derby/skating, basketball, and softball. Are we missing anything? Oh, yeah! Arm wrestling! At 7pm at Mobius Cycle (SODO area) you can show off your buff self at the Pride edition of the Seattle Women's Arm Wrestling tournament! Dress in your festive best and register early for discounts. Or, get your tickets now. Beer, dancing, hot DJs, and prizes—what more do you need? All women are welcome to compete, including nonbinary and transwomen.
[vimeo 130785420 w=500 h=281]
Of course, what the fuck would Pride Weekend be without the indomitable BUSH GARDENS at the WILDROSE?? Folks, the 'Rose is celebrating its 30th year, and this year's Garden is shaping up to be bigger than ever!!! 15,000 sq. ft. of WICKED AWESOME FUN. From what I've heard, the sectioning-off will extend farther down Pike. Every single day of the weekend will be loaded with music, booze, performances, Cafe Petti-Rosso, a photo booth, beer pong, dancers, a booty-shakin' contest, burlesque, and more! I look forward to the lady ice sculpture every year, but with so much going on, I dunno if I'll even be sober enough to do it. The party starts at 6pm for the low price of $12 at the door—even less when you show your Storm ticket or season pass! From their FB invite:
We open at 6 PM, Friday June 26th to start off Pride Weekend
w/ DJ Status Apparatus.
DJ JDub will take over the stage at 8 PM and keep you dancing till 2!!!
10 PM brings a Burlesque Act by Briq House and
the 2nd annual Booty Shakin' CONTEST!!!
Hosted by MC Wiggles with Prizes and Cash for the winners
The Wildrose Dancers then hit the stage with DJ JDub!
$12 at Door
$2 off when you present your June 25th SEATTLE STORM ticket
$4 off if you present your SEASON TICKET!!
Saturday, June 27: Keep the celebration going at Bush Gardens starting at 1pm. It's THE biggest party on the Hill, hands-down. Get your ticket early, then wander in and out all day! Let the ladies keep you licked and liquored! *wink* Saturday's Bush schedule:
The gates open Saturday, June 27th at 1 PM.
DJ Cryspy opens the stage at 2 PM to start the party!
DJ King Dee takes over from 5-7
Live performances begin at 7 pm with our MC Adra Boo, Garlic Man & Chikn, Gibraltar, and The Fame Riot!!!
To finish the night, DJ RickiLeigh takes the stage to
keep you and The Wildrose Dancers dancing until closing time (2 AM)!
Prize Drawing at 10 PM
$20 at the door

When you've had enough of that situation (or you're trying to avoid that ex who just showed up), go north a block to Seattle Central College (the plaza at the corner of Pine & Broadway) for the Dyke March and Rally. After you're sober enough at 5pm to listen to the Women's Studies majors remind us all why we march, get loud and proud for the walk at 7pm. The rally always features great speakers and poets and such, and after the march will be a live band at Cal Anderson to wind down (before partying again). Oh! And raffles! Yay! Everyone is welcome to march, because #HeForShe.
If you're among the lesbians who recall what it was like to have to hide your "friend," and you've seen enough queer history that you don't need the Rally to remind you, or maybe you just really, really identify with If These Walls Could Talk 2…For you, Hot Flash is back for the Pride party! Bring your longtime partners or your midlife crisis cupcake, and DANCE DANCE DANCE to awesome tunes! It'll be at Neighbors from 6 to 10pm like usual. Drag kings Caesar Hart from Seattle and Emilio from Portland will be tearing up the stage with performances! (Speaking of which, where have all the drag kings gone? Can we make that a thing again, please?)
ADDED!! We tragically/foolishly forgot KREMWERK'S special Pride edition of their very popular women's monthly party, KISS OFF: THE PINEAPPLE PARADISE which happens on Saturday the 27th with a pre-func starting at 4pm/main party at 9pm (at Kremwerk, 1809 Minor Avenue around the corner from Re-bar and amidst some annoying construction). DJ KIM ANH and burlesque superstar couple, KITTEN & LOU are special guests, with regular hostess Kitty Kitty Bang Band and djs Ozma Otacava and Julia PlanetDisco. It's a sliding scale cover of $1 to $10 before Midnight and a flat $10 after.
Sunday, June 28: Bush Gardens opens again at 1pm! This is the donation day, otherwise known as "cheap Pride date" day, as you can donate whatever possible to get in. Donations go to the 'Rose's favorite charities.
HAPPY PRIDE DAY!!!
It's Sunday Funday in BUSH GARDENS!!!
June 28th 1 PM-2AM

We kick off Sunday with DJ Mixxtress spinning all your favorites!
LadyJane DJ continues the party from 4-6.
DJ Little comes in from Bellingham , spinning until 8.
DJ Tony Burns takes the stage to finish out the
Best Pride you've ever had!!!
Of course, most of you will probably be getting your spot along the Parade route early (say, 9:30am, if you bring a sack brunch), because the Dykes on Bikes is seriously the best part. (Amirite?) BUT. 'Rose owners Shelley and Martha will be Grand Marshals this year!! Well deserved, and a long time in coming, ladies. Congratulations to them and all they do for the LGBTQ community. Without them, women-loving women wouldn't have nearly the presence, power, and prestige here in Seattle. And, knowing them, they'll probably be right back at the Gardens as soon as they've hopped off the car, slinging drinks and generally overseeing the festivities. We can only hope to be half as awesome when we grow up.
As always, dancing naked at the Seattle Center fountain is completely encouraged. 
Where will YOU be? Can you do ALL THE THINGS?? Will your body be completely confused with all the doses of caffeine and alcohol? Remember to drink water! Hydration is important; heat stroke is NOT sexy. HAPPY PRIDE, EVERYONE!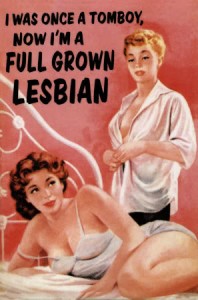 (Visited 17 times, 1 visits today)