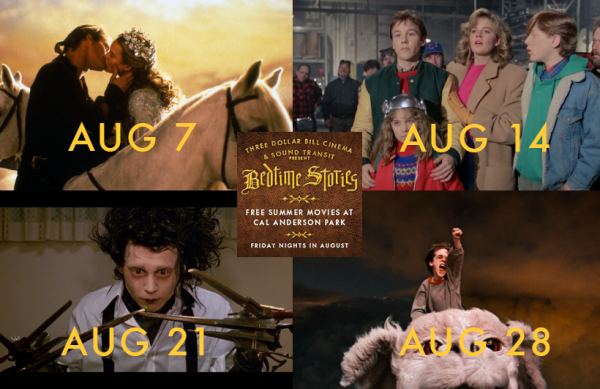 It's the first Friday in August….must mean it's time for Three Dollar Bill's annual Summer Outdoor Screening Series in Cal Anderson Park where 4 films are shown on a big blow up screen at dusk for the joy and amusement for EVERYONE in the LGBTQ and allies community!
This year's theme is "Bedtime Stories" and first up, for tonight, August 7, 2015 is Rob Reiner's film version of William Goldman's strangely beloved book, "The Princess Bride".
It's followed by Adventures in Babysitting next Friday, August 14, then Edward Scissorhands (Tim Burton's clever and original fairy tale and made before he decided to start concentrating on horrid remakes of other beloved, already filmed stories…) on August 21 and then the cheesy goodness of The Neverending Story wraps it up on the 28th.
You should also know there's a pre-show every week with a special DJ providing music (DJs supplied by Kendall's DJ & Events!!) plus a special fun host every week.
Screenings start at dusk (8:30 pm-ish to 9 pm-ish) but get there earlier than that to snag prime locations to spread out and enjoy the show.
Bring your own lawn chairs and blankets….a FEW chairs are available to rent (first come, first served!) plus snacks and drinks are available for sale! (Please Remember: No smoking or boozing allowed in the park!!)
Here's the full line-up with DJs and Hosts listed for each week!
FRIDAY, AUGUST 7 (THE PRINCESS BRIDE)

Gertie Loins will be your host for the evening with music provided by DJ Skiddle. Join us in your most fabulous PRINCESS BRIDE-themed attire and compete in a PRINCESS BRIDE trivia challenge before the screening. Contestants MUST have a costume to participate. This will not be your basic, average, everyday, ordinary, run-of-the-mill, ho-hum fairy tale game! You can count on that!

FRIDAY, AUGUST 14 (ADVENTURES IN BABYSITTING)

Mama Tits takes over as your glamorous host with music by DJ General Meow. Get ready to hear the blues! Following a special performance by our host, Mama Tits, a lucky few will compete in a soulful karaoke contest. Why? Because, like blues legend Albert Collins says in the film, "Nobody leaves here without singing the blues."

FRIDAY, AUGUST 21 (EDWARD SCISSORHANDS)

Host Ilvs Strauss will amaze and electrify you as you listen to tunes by DJ Tony Burns. Prepare for an epic Rock, Paper, Scissors battle in honor of our scissor-handed hero. In this contest, the entire audience gets the ball rolling, with each rounds' losers becoming the biggest fans of their respective victors…until the final two contestants are surrounded by a cheering crowd of supporters!

FRIDAY, AUGUST 28 (THE NEVERENDING STORY)

Elicia Sanchez is the host with the most with music by DJ Mixxtress. Jump into THE NEVERENDING STORY and embark on your own fantastical quest. Contestants will fly with Falkor, pedal & roll with The Rock Biter, and race past The Sphinx to be the first to retrieve "The Neverending Story" book and redeem Capitol Hill!
Tags: Cal Anderson Park, Outdoor Cinema Series, Three Dollar Bill Cinema