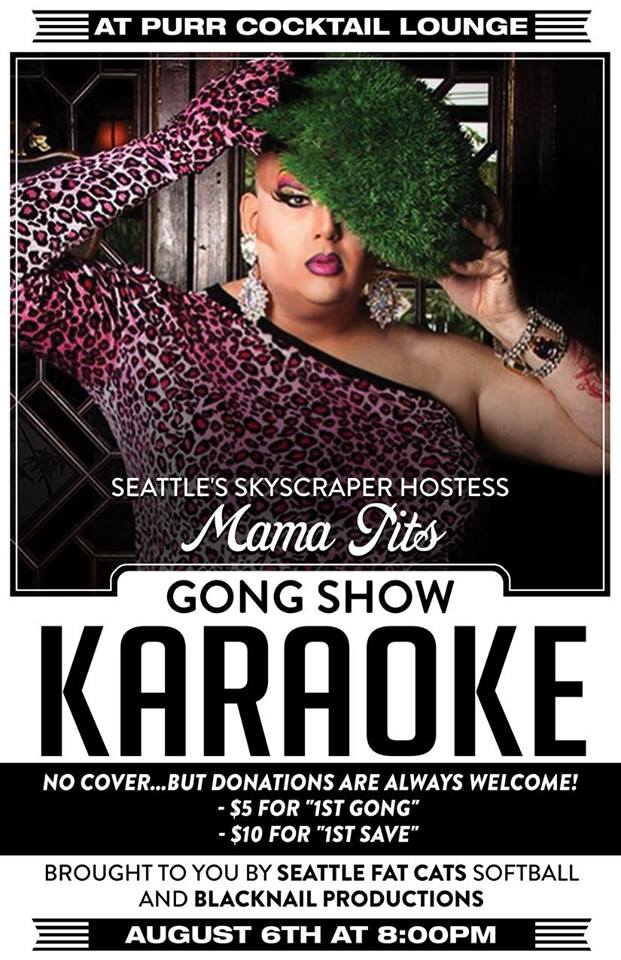 Seattle Straight Pride is now OVER! (Thank Goddess….it literally almost killed me!) The last two weeks of Capitol Hill Block Party and Seafair Hell are over and the geighs are flocking back to the city following vacations to anywhere but HERE!
And y'all have options….lots and lots of them for tonight and this weekend. All brimming with sodomy!
First up: the over publicized BATTLE OF THE BITCHES starring diva legends JACKIE BEAT and SHERRY VINE which has filled your social media walls for the last two weeks. You can still snatch a few tickets at the door for tonight's big show as the two Dowager Queens of Drag Comedy duke it out to be the filthiest/funniest bitch alive. It WILL be fun for the entire geigh family!
OR, you can head over to Purr for the 2nd Annual GONG SHOW KARAOKE benefiting the Seattle Fat Cats softball team so they can go to Columbus, Ohio to compete in the 2015 Gay Softball World Series. It's ridiculous amounts of fun and you not only can have a chance to sing, you can also gong your competitors or save your friends…of course, it costs $$$ to do all that. Mama Tits is the host, and that bitch is ALWAYS happy to "Take Yo Money"! She LIVES FOR IT!!!
It starts at 8pm tonight at Purr. No cover charge but you obviously need money to actively participate!

OR/OR: You can also support the Seattle Trans community by going to their clumsily marketed and scheduled GENDER JUSTICE AWARDS featuring host, comedian/actor Ian Harvie from the hit Amazon Prime TV show Transparent. It honors/celebrates leaders in the trans community and raises funds (hopefully) for Gender Justice League who put on Trans Pride every year. It's at Melrose Market with doors at 6pm and dinner/show starting at 7pm. Grab tickets here or at door.
Finally, there's something interesting of a theatrical nature going on over at Gay City's Calamus Auditorium tonight: WILD & PRECIOUS is a one man theater piece from actor/poet/activist/artist Steve Cadwell that explores his life and the changing world for the LGBTQ community through a variety of media.
More skinny:
My one-man show, Wild&Precious, is a multi-media performance in two acts (75 minutes) which includes original songs, photographs, costume, stories, and poems.  I tell my story: born in Vermont a sissy boy in the 50's, deep in the closet in the late 60's, part of the gay movement in the 70's, AIDS activist in the 80's and now psychotherapist, gay married-to-my-man family man with son in Massachusetts.  Come OUT to celebrate the social and psychological attachments that helped me and our first Gay Generation come out of the "straight" jacket into fullness of being men.  Please see the show's web site for my bio, and audience buzz.  www.wildandprecious.org.

The piece dramatically brings to life universal themes: gender, sexuality, shame, mental health, social change, stigma, resilience, parenting, aging, the therapeutic relationship, HIV, diverse family structure, family life cycle, and the healing power of love.  These are all themes from my life and my work as a group psychotherapist and group therapy educator (BU Graduate School of Social Workers, Harvard Psychiatric Residents) over these past 35 years. The show is great entertainment, builds community,  and affirms social change!  
Snatch tickets HERE or at door!
(Visited 1 times, 1 visits today)