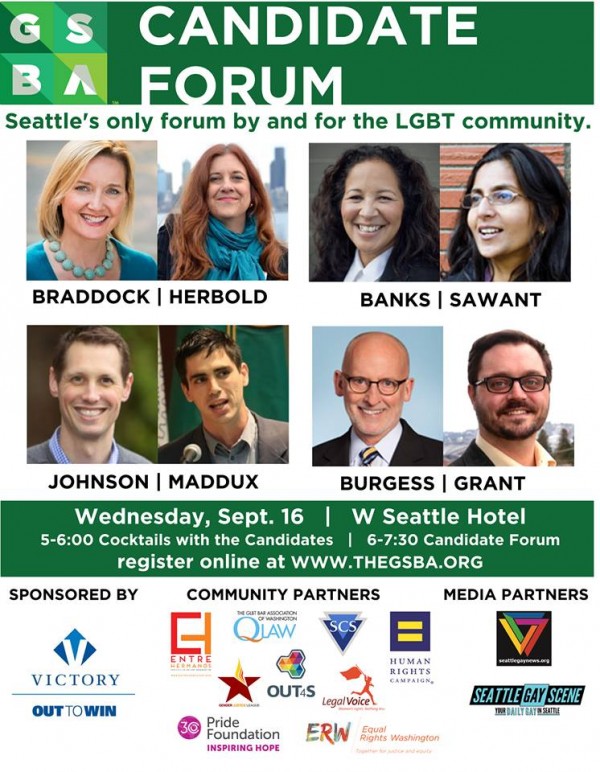 It's autumn in a Seattle election year which means the air is crisply cool and smelling of the sea….and, the airwaves are full of ads of local politicians hoping they come off as crisply cool and appealing to area voters.
(Psssst…..websites love those ad dollars, too, Candidates! And, our awesome cool cascading tile ads on SGS don't get blocked by AdBlocker type programs!!! Hint, hint and nudge, nudge….)
The GSBA (aka the Greater Seattle Business Association aka 2: the Gay Chamber of Commerce and Allies) want YOU, the local LGBTQA voter, to have an opportunity to get to know many of the candidates in local Seattle City Council races so they've organized a forum for this Wednesday, September 16, 2015 at the W Hotel. Register here for a lively evening of frank (hopefully) political discussion about the future of our city.
Hint: if you're pissed off about Gentrification/Amazonification of Seattle and/or Crime and/or Rent Control and/or Transportation and/or Everything Else That Concerns You, then it BEHOOVES you to attend and ASK QUESTIONS!!!!
Here's all the poo:
GSBA is proud to offer the only LGBT-focused candidate forum in our region. Come early to meet the candidates and to hear face-to-face hand how these candidates respond to issues of concern to our community. This is our time to have our voices heard around LGBT and small business issues.
We will be hosted by the chic W Seattle downtown. Join us for happy hour from 5:00-6:00 and then for the Forum from 6:00-7:30. The Forum will be moderated by Deborah Brandt. We have four of the most competitive and exciting Seattle City Council races this year:
DISTRICT 1: Lisa Herbold and Shannon Braddock
DISTRICT 3: Kshama Sawant and Pamela Banks
DISTRICT 4: Michael Maddux and Rob Johnson
DISTRICT 8: Jon Grant and Tim Burgess
DATE:
Wednesday, September 16, 2015
TIME:
5:00 – 7:30 pm
LOCATION:
W Seattle, Map This Location
ADDRESS:
1112 4th Ave
Seattle, WA 98101
EVENT CONTACT #:
(206) 363-9188
EVENT COST:
Individual Registration:
$15.00 – Members
$20.00 – Non Members
Walk-Ins are $5.00 more at the door
MORE INFO:
No additional information available at this time.
REGISTER:
Register Online Now, or call (206) 363-9188.
GSBA Event Cancellation Policy
GSBA requires at least 72 hour notice of cancellation of registration for an event to receive a refund; cancellations received 72 hours in advance, but fewer than five days prior to an event will be charged a $10 cancellation fee.
Tags: Forums, GSBA, Seattle City Council, Seattle Elections, W Hotel