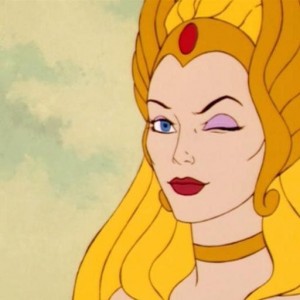 Sick of the '80s reboots? Need a nerdy release before next week's GeekGirlCon?
Never fear! The fabulous folks of burlesque fame are here!
"She-Ra: Stripper of Power" is a burlesque play produced by Scarlett O'Hairdye and Olatsa Assassin. Tickets are selling fast, so grab yours quick! Shows are Oct 1st and 2nd (Thursday and Friday) at 7:30pm. VIP is pretty cheap—$30 at the door.
For women and femmes growing up in the '80s, She-Ra represented everything a "strong female character" should have been…yanno, blond, white, a 20-inch waist, an extremely short dress, a pegasus to ride on, a sword, and some cool friends. Not to mention an uber-gay brother. And gold boots. Shut up, it was the '80s! Adults at the time were just getting over the acid-laced '70s and starting fields in animation with cocaine.
Anyway. The decade started some major fantasy fandoms, and the He-Man universe was no exception. "Stripper of Power" promises to be fun, sexy, and with a storyline to boot. Stars include Satira Sin, Al Lykya, Ruby Darling, Alexa Perplexa, Ms. Briq House, Miz Melancholy, Tout d'Lou, Redd Kryptonite, Maggie McMuffin, Scarlett O'Hairdye, and Olatsa Assassin. Says the Facebook event: "Magical powers! Daring deeds! Awesome ladies fighting the good fight in costumes entirely designed around a single theme!" Evilyn Sin Claire headlines as that damned Hordak.
In case you miss this show, Closer To Broads Productions in association with Theatre Off Jackson present: "Pretty Haute Machine: A Burlesque Tribute to NINE INCH NAILS". That'll be Friday at 8pm and Saturday at 10pm at the Theatre Off Jackson. Because nerds need gothy industrial musical light shows, with burlesque-ing eye candy. Iva Handfull heads this up, and tickets are on a scale depending on how big a fan of NIN you are. According to Facebook: "Performances by: Bella Bijoux, Bolt Action, Dahlia Fatale (Chicago, IL), Déjà Louve (Vancouver, BC), Iva Handfull, Lady Drew Blood, Maureen, Miss Elaine Yes, [and] Seraphina Fiero." Looks like your pre-weekend is booked!
October is a great month for women-loving women, folks. Between this show, the 'Rose's Marin8 on Friday, GeekGirlCon, upcoming nerdlesque, Coming Out Day, that cute Libra you've got your eye on, more stuff TBA, and topping it all off with a Halloween cherry, we're going to have a blast! Enjoy the shows! 
Just in case you forgot:
(Visited 1 times, 1 visits today)