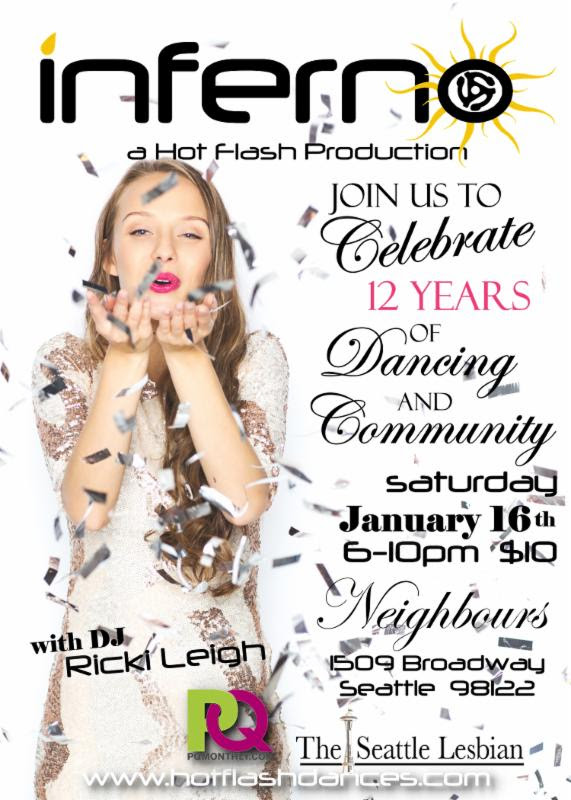 Seattle's longest running women's event that's not at The Wildrose, HOT FLASH INFERNO is celebrating a milestone this Saturday, January 16th.
They're turning 12!!!
The twice a month dance party at Neighbours exclusively for women and the trans community is celebrating from 6pm to 10pm with a $10 cover for the over 21 crowd. Inferno's original mission statement was to provide a fun environment for women of a "certain age" aka older than 35 or so, in order to provide them a fun, safe, comfortable space to meet other women of that age group but all women are welcome and women of all ages attend the dance party, as well as members of the trans community.
(And, don't forget the Inferno also visits Portland's Bossanova Ballroom at 722 East Burnside, twice a month as well!)
Here's a word from the Inferno:
Seattle INFERNO Celebrates 12 Years!

 

We are so excited to be able to celebrate 12 years of an event that was created to give the ladies of our community a safe place to dance and show your love for one another.

Over the years as our community has changed and grown, so has our dance. We still play Disco, Funk, Old School at the beginning of the dance and build the energy to those current favorite beatz that get you movin'.

We look forward to many more years of providing you a place to spice up your relationship, meet those available, dance, let loose and have fun.

With DJ Ricki Leigh!

Saturday, January 16th from 6-10pm

$10 Cover

 

Located at Neighbours

1509 Broadway

Seattle, WA 98122

 

Hot Flash Inferno is a private party exclusive to women and our Trans identified community.
And, delicious Birfday Wishes to the Inferno!
(Visited 1 times, 1 visits today)