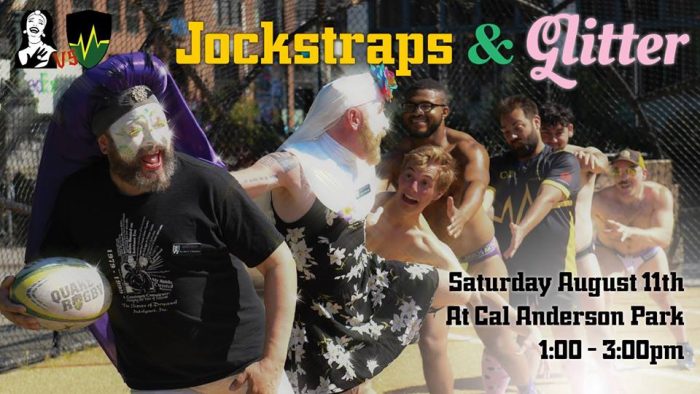 Just a reminder that there are TWO hugely popular community events/fundraisers happening this weekend…up first, on Saturday afternoon is the wildly popular JOCKSTRAPS & GLITTER rugby event where big burly Seattle Quake Rugby players face off against big burly Sisters of Perpetual Indulgence for a FIERCE match that raises money for sexy needy people! 
Come watch Quake rugby take on the Sisters of Perpetual Indulgence in the sexiest kickball game you'll ever see!

Don't forget those wallets, as you'll be able to pay for things like making anyone playing to strip down to their jockstrap or sunscreening a player!

And new this year, pay to make a rugger a Sister's Handmaid for a day! They'll be painted up and switch teams!

As is rugby tradition, we'll be drinking after the game, so join us for a beer or two at CC's at 3pm!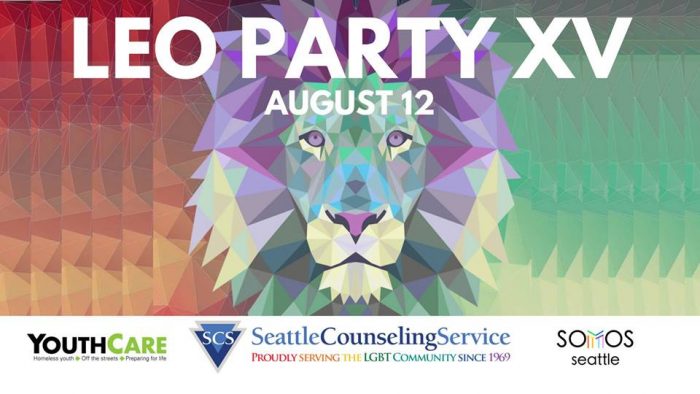 On Sunday, it's the also popular LEO PARTY at Neighbours that raises money for Seattle Counseling Services and other area non-profits. This year's party stars YARA SOFIA from Season 3 of RuPaul's Drag Race. More to know!
TICKETS AVAILABLE NOW: http://bit.ly/LEOPartyXV

Joe Torres & LEO Foundation present

15th Annual
LEO Party 2018

Sunday, August 12
Neighbours Nightclub & Lounge

Featuring Yara Sofia of RuPaul's Drag Race

Hosted by Aleksa Manila & Roxy Doll 
w/ Isabella De La Rosa

Special performances by the Northwest's best entertainers!
Gogo dancers all the way from Las Vegas & Seattle's own!
VIP includes buffet and more!

Proceeds benefit Seattle Counseling Service, YouthCare, and Somos Seattle.
For more info about these amazing organizations, please visit seattlecounseling.org; youthcare.org; and somosseattle.org.

Show Schedule:
6:00 Doors open
VIP Reception in Mezzanine
GA on Main Floor

7:00 Welcome
Go-go Dancers (Curtis, Jackson, Danivh, Urtreen, Von, Amanda)
Music set by DJ Ricki Leigh

8:00 Show #1
Casa de Manila (Atasha Manila, Jaquan Price)
Ruth Soto
Dominic Amora Black
Miss Gay Seattle Duchess Drew (Aloy Niles) + Eric Bonesteel
Aleksa Manila + Gaysha Starr
***YARA SOFIA of RUPAULS DRAG RACE***
Music set by DJ Richard J. Dalton of C89.5 Public Radio

10:00 Show #2
La Gaviota (Gabriela Scherrer)
Lucy Tealheart Paradisco
Ms. Gay Seattle Siren (Haily Hummel)
Honey Bucket
*** Yara Sofia of RuPaul's Drag Race All Stars ***
Music set by DJ BenTraxx

12:00 Show #3
Isabella De La Rosa
Avarice London
Maritza
El Vaquero
Axel Sämano
Thadayus Wilson
*** Yara Sofia of RuPaul's Drag Race ***
Music set by DJ Jorge Flow

21+ Event w/ valid ID

Video by Axel Sämano
https://www.youtube.com/watch?v=Z70wclYZGBE
(Visited 3 times, 1 visits today)