August 13, 2018

•
by
Michael Strangeways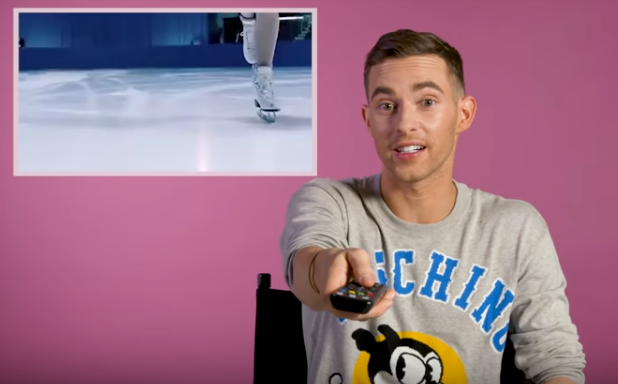 I'm pissed they didn't have him watch the classic, ICE CASTLES!!!!
Amirite, anyone older than 50 or so?
GQ's "Breakdown" webseries had Olympic medal winning gay skater Adam Rippon on their show to "breakdown" famed ice skating movies….including the romantic drama, The Cutting Edge, the silly comedy Blades of Glory and the recent Oscar winning true-ish story, I, Tonya.
Still haven't subscribed to GQ on YouTube? ►► http://bit.ly/2iij5wt
ABOUT GQ For more than 50 years, GQ has been the premier men's magazine, providing definitive coverage of style, culture, politics and more. In that tradition, GQ's video channel covers every part of a man's life, from entertainment and sports to fashion and grooming advice. So join celebrities from 2 Chainz, Stephen Curry and Channing Tatum to Amy Schumer, Kendall Jenner and Kate Upton for a look at the best in pop culture. Welcome to the modern man's guide to style advice, dating tips, celebrity videos, music, sports and more. https://www.youtube.com/user/GQVideos
Adam Rippon Breaks Down Figure Skating Movies | GQ
(Visited 8 times, 1 visits today)
As the Editorial Director/Co-Owner, Michael Strangeways writes, edits and does about a million other jobs for Seattle Gay Scene, Puget Sound's most visited LGBTQ news, arts and entertainment website now celebrating its 14th year as a media outlet. A semi-proud Midwesterner by birth, he's lived in Seattle since 2000. He's also a film producer who would like you to check out the Jinkx Monsoon documentary, "Drag Becomes Him" now available on Amazon.com. In his spare time, he gets slightly obsessive about his love for old movies, challenging theater, "otters", vodka, chocolate, "I,Claudius", Lizzie Borden, real books made out of paper, disaster films, show tunes, Weimar era Germany, flea markets, pop surrealistic art, the sex lives of Hollywood actors both living and dead, kitties, chicken fried steak, haute couture and David Bowie. But, not necessarily in that order.
Related Posts
The first out gay U.S. male athlete to win a
...