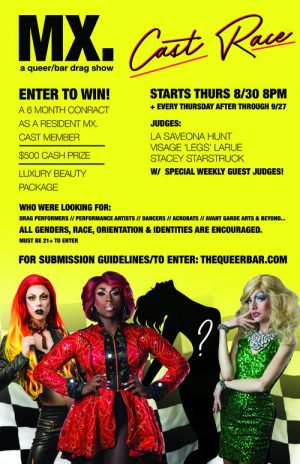 So, you wanna be the next Seattle Drag Superstar?
Or, for that matter, burlesque or cirque or cabaret or variety star.
Queer/Bar Seattle is on the hunt for new performers for their popular Friday/Saturday night cabaret show MX. Starting on Thursday, August 30, the bar will be hosting for the following 4 weeks, a talent search competition to award one talented and lucky performer, a 6 month contract to perform at the bar with the MX. cast headed by the show's new hostess, La Saveona Hunt. 
Long term gigs that pay are few and far between in nightlife land…here's a chance to snag a great gig!
More info on what Queer/Bar is looking for and how to enter this competition:
MX. CAST RACE

YOU WANNA BE AN MX. STAR? WE'RE LOOKING FOR YOU!

Compete against some of the best talent in Seattle over 5 weeks to win a 6 month contract as a resident mx. cast member, $500 cash prize and luxury beauty package. Judges will be our current cast member La Saveona Hunt, Stacey Starstruck and Visage 'Legs' Larue as well as special weekly guest judges.

The first competition will take place Thursday 8/30 and then every Thursday after through 9/27 (finale)

WHO WE'RE LOOKING FOR:

Drag performers, performance artists, acrobats, burlesque, dancers, avant-garde arts & beyond. All race, genders, orientations and identities are encouraged and welcomed.

REQUIREMENTS:

Must be 21+
• able to pick up & execute choreographed group numbers
• professionalism and punctuality
• business oriented & able to take constructive creative input
• bring consistent creative material to the stage

JUDGING CRITERIA:

1.) The whole look and package
2.) Crowd Participation
3.) Overall performance
4.) Ability to bring in a crowd
5.) Energy and creativity

SUBMISSIONS:

Must submit each of the following:
1.) Performance Resume
2.) 2-5 clips (or Youtube, Vimeo links) of performance under 5 min.
3.) Headshot or photo of your performance identity

PLEASE SEND ALL SUBMISSIONS TO HOUSEMANAGER@THEQUEERBAR.COM
(Visited 1 times, 1 visits today)