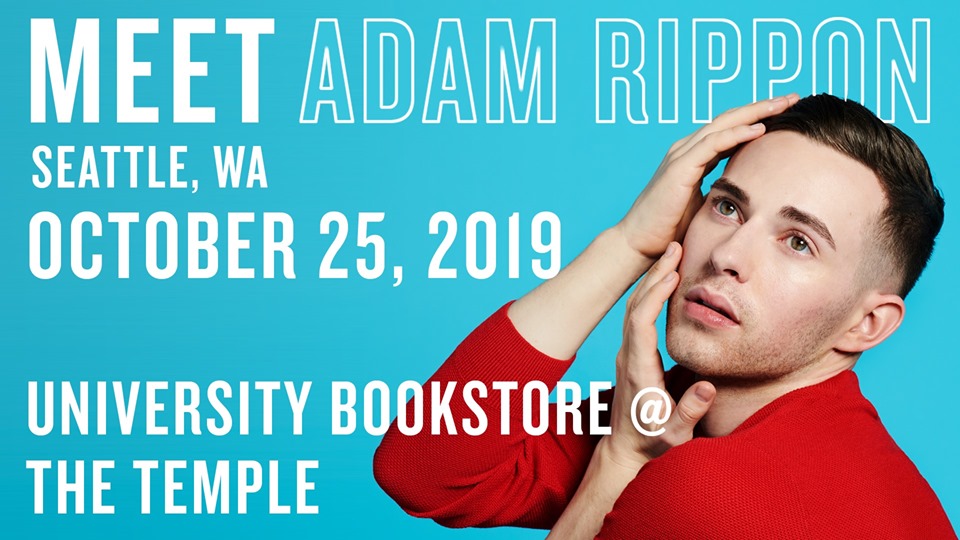 The first out gay U.S. male athlete to win a medal in a Winter Olympics, ADAM RIPPON skated our way into our hearts in the 2018 Winter Olympics in Pyeongchang, South Korea last year. (Well, along with medal winning skier GUS KENWORTHY who seems to be pursuing other endeavors like breaking up with his latest man fling on social media or acting in Ryan Murphy TV shows…)
Adam was a fresh, sassy voice in the world of figure skating (which despite all its apparent gayness is shockingly closet-y). He's now naturally written a memoir titled Beautiful on the Outside which he's naturally promoting all over the country including a stop up in the U-District on Friday, October 25th. It's sponsored by University Book Store but happening at University Temple United Methodist Church, 1415 NE 43rd (corner of NE 43rd and 15 Ave NE), in the Fireside Room.
I like Adam Rippon and if I had a chance to ask him only one question, it would be, "What is your skin regimen, because you have no pores and I hate you!?!
More about the event/Adam including a stupid line trying to compare him to that asshat, Andy Cohen, which if I were Adam Rippon, I would fire the copy writer who came up with that gross comparison because….ewwww.
Join us for an evening of snark and charm with Adam Rippon!
Former Olympic figure skater and self-professed America's Sweetheart Adam Rippon showcases his funny and inspiring personality in this entertaining memoir in the vein of Andy Cohen.
Your mom probably told you it's what on the inside that counts. Well, then she was never a competitive figure skater. Olympic medalist Adam Rippon has been making it pretty for the judges even when, just below the surface, everything was an absolute mess. From traveling to practices on the Greyhound bus next to ex convicts to being so poor he could only afford to eat the free apples at his gym, Rippon got through the toughest times with a smile on his face, a glint in his eye, and quip ready for anyone listening. Beautiful on the Outside looks at his journey from a homeschooled kid in Scranton, Pennsylvania, to a self-professed American sweetheart on the world stage and all the disasters and self-delusions it took to get him there. Yeah, it may be what's on the inside that counts, but life is so much better when it's beautiful on the outside.
Signing Guidelines
All books will be pre-signed, with a signature only. There will be no personalizing.
After the event, there will be a photo-op line!
About the Author
Adam Rippon is an Olympic athlete and medal-winning figure skater. He won the 2010 Four Continents Championships and the 2016 U.S. National Championships and was selected to represent the United States at the 2018 Winter Olympics in Pyeongchang, South Korea. He came out as gay in October 2015 and, at the 2018 Winter Olympics, won a bronze medal as part of the figure skating team event, thus becoming the first openly gay U.S. male athlete to win a medal in a Winter Olympics. Later that year, he was named to the TIME 100 List of Most Influential People, Forbes 30 Under 30; AdWeeks 100 Most Creative and OUT Magazines Power 50: The Most Influential Voices in LGBTQ America. He won season 26 of Dancing with the Stars: Athletes before going on to be a judge on the premiere season of Dancing with the Stars Juniors.
(Visited 1 times, 1 visits today)