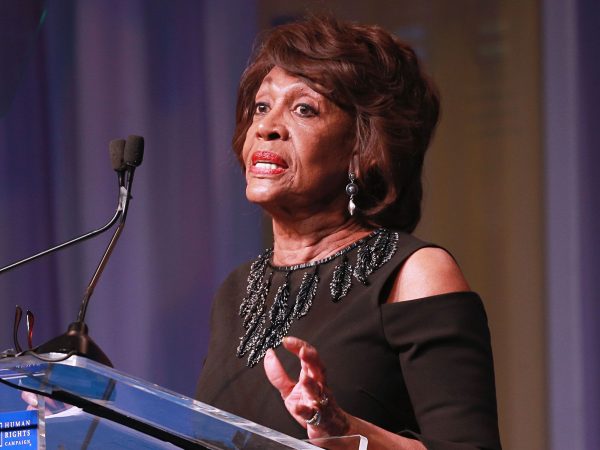 On March 10, 2018, more than a thousand of the Human Rights Campaigns biggest supporters gathered at the JW Marriott in Los Angeles for the 2018 HRC Los Angeles Dinner and Awards to raise money for LGBTQ equality fights nationwide. 
Fierce Trump Administration opponent, Representative Maxine Waters (Dem-CA) delivered the keynote where she responded to Trump's vicious remarks about her earlier in the week while urging liberal voters to get out and vote in the 2018 elections.
Waters is considered by many to be one of the most powerful women in American politics today. She has gained a reputation as a fearless and outspoken advocate for women, children, people of color, and the poor. Elected in November 2016 to her fourteenth term in the U.S. House of Representatives with more than 76 percent of the vote in the 43rd Congressional District of California, Congresswoman Waters represents a large part of South Central Los Angeles.

"We are counting on all of you to show up during the 2018 midterms and vote for people who will restore this democracy and uphold everything that we have fought for to advance #LGBTQ equality," Waters said.
Later in the ceremony, last year's recipient of the HRC Visibility Award, Olympic athlete Gus Kenworthy introduced the 2018 honoree of the award, his gay Olympian teammate for the 2018 Winter Olympics, skater Adam Rippon.
Adam Rippon made history as the first openly gay U.S. American male figure skater to compete in the Olympic games. Rippon publicly sparred with Mike Pence in the press and on social media, bringing a new focus on Pence's long anti-LGBTQ record. Rippon publicly voiced his concern over Pence leading the diverse U.S. delegation to the Olympics.

"To all the young kids out there: You are smarter than you think. You hold more strength than you may ever know. You are powerful," Rippon said.
(Visited 1 times, 1 visits today)