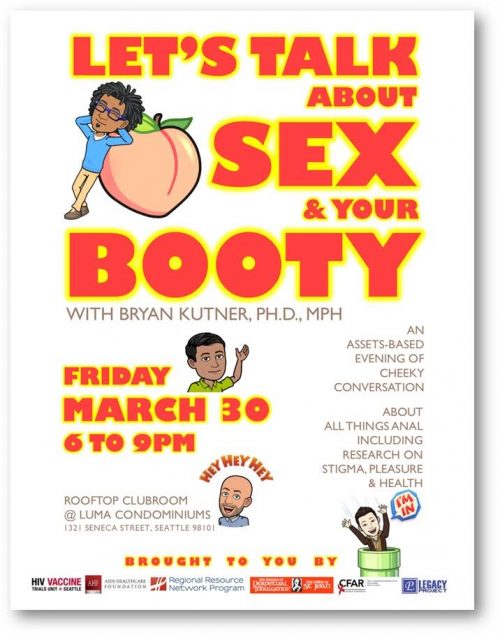 We've ALL had these questions…definitely when we were/are younger:
Is douching before anal sex safe?

And how exactly are you supposed to clean yourself out before butt sex anyway?

Is it true that muscle function can decrease as a result of anal sex?

Can having lots and lots of anal sex be dangerous?
There's a public health conversation happening Friday, March 30th which will help answer these and other burning questions about anal sexual health and wellness with discussions led by health professionals.
This is a FREE event but you need to register for it.
ALL the intimate details you need to check it out are down below via Michael Louella, Community Engagement Project Manager/Defeat HIV and Outreach Coordinator/UW ACTU as well as Community Liaison / UW Fred Hutch CFAR
Come get your questions about butt sex answered at our assets-based evening of cheeky conversation about all things anal, including pleasure and health, as well as some intriguing research on the stigma around butt sex with the fabulous Bryan Kutner, PhD, MPH and the ever-curious Louis Shackelford.

Our FREE event will be held from 6 to 9 PM at the Rooftop Clubroom @ Luma Condominiums (1321 Seneca Street, Seattle 98101).

You can easily RSVP for this evening's conversation on the Facebook event page:  http://bit.ly/2FJsPxq

This conversation with Bryan and Louis is brought to you by the Legacy Project, the Community Action Board of the UW/Fred Hutch Center for AIDS Research, the Seattle HIV Vaccine Trials Unit, the Regional Resource Network Program, AIDS Healthcare Foundation and the Sisters of Perpetual Indulgence -The Abbey of St. Joan.

We are planning a fun evening of lively talk about anal sex with a focus on gay & bi men (cisgender & transgender) to ask questions or discuss topics of concern, but the night is OPEN TO ALL who are interested in the topic.

After all, 'everyone has an ass, so everyone has the capacity to enjoy anal sex.'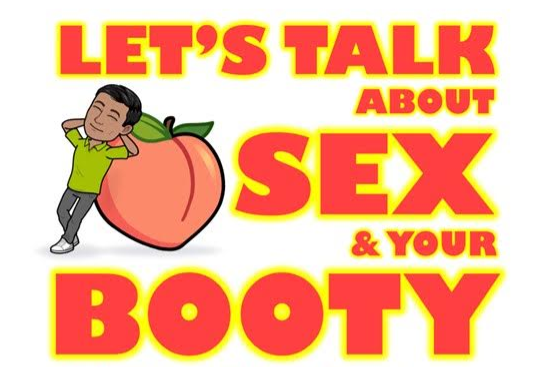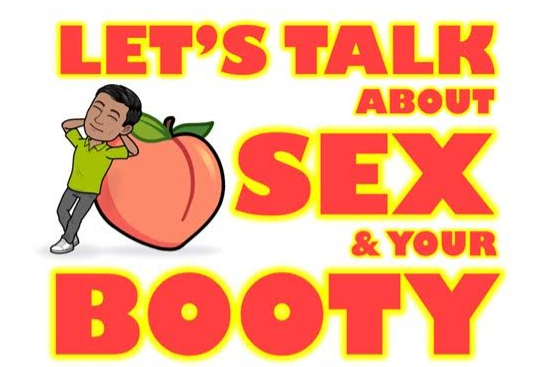 (Visited 117 times, 1 visits today)