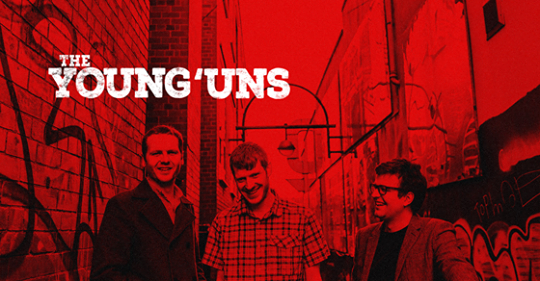 We love a good folk trio and we love Britain, even more so now they have a leader as stupid as ours, and we love a good folk singin' trio of UK lads who sing songs full of political and social commentary, so we're really pleased award winning group THE YOUNG'UNS are headed to the greater Seattle metroplex area next week for bunch of shows in Olympia, Seattle and Bellingham.
Named "Best Group" at the BBC Radio 2 Folk Awards two years in a row, The Young'uns are known not only for their trademark harmonies and wry humor, but also songs that touch the soul including the song "Be The Man" featured on their 2018 album, STRANGERS, which has become an anthem of sorts for the UK LGBTQ community. Inspired by the true story of activist Matthew Ogston, whose fiancé Naz committed suicide because of his family's religious and cultural objections to his homosexuality. Ogston, who created a foundation in his fiancé's honor (www.nazandmattfoundation.org) is also featured in the video for "Be The Man".
UK music magazine Mojo has said of The Young'uns: "Glorious….celebrating the uncelebrated with warmth, vigour and passion" while The Guardian has written: "The harmonies are glorious, the wit is waspish. The songs are powerful, the banter is relentless and the audience is happy. What's not to like?"
The Young'uns will be in Olympia on October 25th (here for tix/info) and in Seattle on Saturday, October 26th at Keystone Congregational Church, 5019 Keystone Place North, (Wallingford) for two events, an afternoon workshop and an evening concert. All the poo you need down below and ticket link HERE.
Concert: Saturday October 26, 2019 7:30 pm
Keystone Church 5019 Keystone Pl. N; Seattle 98103
$20 contribution requested
Workshop:Saturday October 26, 2019 1:00 – 3:15 PM
$25 contribution requested. (combo special – $35 for both)
Please make Reservations: rebelvoz@aol.com or 206.551.0818

The Young'uns are best known for their largely-unaccompanied story songs that are at once poignant and humorous, some of them ripped straight from news headlines. Their 2018 album STRANGERS, described as "a protest album that is pointed and forceful" by the popular folk blog brightyoungfolk.com, was voted 'Best Album' by listeners at the BBC Radio 2 Folk Awards and was widely acknowledged by critics as an antidote to the toxic divisiveness of Brexit and the rise of fear and racial tension in Britain.

The Young'uns most recent album release is a unique piece of modern folk theatre entitled THE BALLAD OF JOHNNY LONGSTAFF, a real-life folk hero from their northeast England hometown of Stockton on Tees, who went from begging on the streets to fighting against fascism in the Spanish Civil War. Louderthanwar.com called it: "Enthralling, moving and hilarious…simply the best thing they've done."
The Young'uns – Sean Cooney, Michael Hughes and David Eagle – are part of the rebirth of topical music and have been said to explore British values using songs and stories. In addition to touring, they have hosted harmony and singing workshops at hundreds of festivals around the world.

Saturday, Oct 26 1:00-3:15 Vocal Workshop Keystone Church Seattle, WA
Saturday, Oct 26 7:30 pm concert Keystone Church Seattle, WA
Tags: Be The Man (song), Folk Music, LGBTQ Anthems, Naz and Matt Foundation, The Young'uns