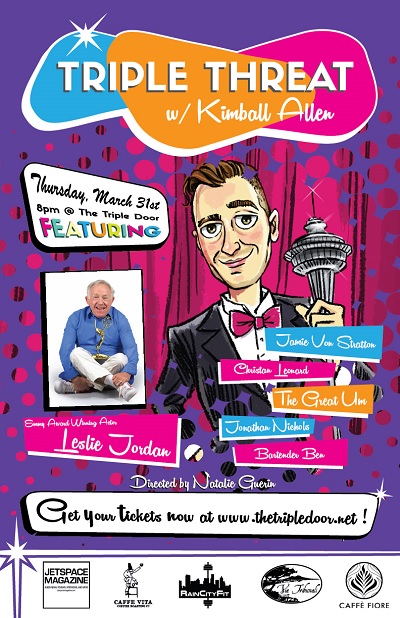 As usual, a contributor has let me down by NOT delivering a piece they promised to write so it's up to me (Mr. Strangeways) to quickly plug a fun show happening tonight…it's the return of Kimball Allen's TRIPLE THREAT at The Triple Door, his quarterly-esque interview/variety show featuring talented folks with…well, TRIPLE THREATS!
Up for tonight's edition: Several folks we've never heard of, plus fabulously talented burlesque star/costume designer JAMIE von STRATTON and from LOS ANGELES, CALIFORNIA, the one and only, LESLIE JORDAN!
For those of you living under rocks, the adorably funny Leslie Jordan is the Emmy Award winning actor/comedian/writer best known for his television work on "Will & Grace". He's a pint sized comedic dynamo and if you've seen him in other solo performances (he was at Re-bar a couple years back), he's a southern fried master of telling truthful tall tales. He's also candidly frank about his addiction to Rent Boys and Hustlers, too…
A few tickets remain…snatch them up at the door tonight!
The poo:
The Triple Door Presents

Thursday / March 31, 2016

8:00pm Show – 6:30pm Doors open and dinner service begins in the Theater {All Ages}

$43 Advance
$43 Front Row Seating

$48 Day of Show

After the show there will be a meet & greet with featured guest Leslie Jordan

Purchase tickets online or by calling our Box Office at 206.838.4333.

Suites are also available for private parties and special events. Call our Private Dining department at 206.838.4312 to reserve a private suite for the show.

The recurring 90-minute variety talk show,

Triple Threat w/ Kimball Allen

, is coming back to the Triple Door mainstage for another all-star lineup of performances including:

Stories from the guy that got Sir Mix-A-Lot's old phone number:

Jonathan Nichols
Tags: jamie von stratton, Leslie Jordan, The Triple Door, Triple Threat with Kimball Allen