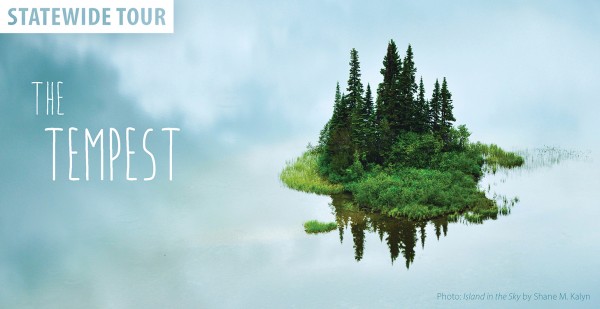 Wow. For being dead for over 400 years and many doubtful he even wrote all the work attributed to him, old Bill Shakespeare is in the news a lot lately in Seattle…part of it is due to the fact there are 32 productions of various iterations of "Romeo & Juliet" this winter/spring and another even bigger chunk is due to the fact a copy of "The First Folio" is on view at the Seattle Library right now, with tons of events associated with that bit of awesomeness. (More on that in an upcoming post…)
Our big news for today is the news that Seattle Shakespeare Company is offering an autism-friendly performance for their spring touring production of "The Tempest" on Sunday, April 17th at 2:00 pm in the Shakes' regular home base Center Theater in the Center House/Armory building at Seattle Center. Children (as well as adults on the autism spectrum) and their families will have a rare opportunity to experience life theater adapted to the sensory friendly needs of this audience.
This unique opportunity was the result of a conversation started by actor Mark Waldstein with Seattle Shakespeare's Artistic Director, George Mount who was delighted at the suggestion.  When reached for comment about this performance, Mount responded with this statement:
So, Seattle Shakespeare Company is, by far, not the first to be a part of this movement. But we are so pleased to add our contribution to its progression.

Our touring shows, which travel to schools across the state, often receive achingly moving letters from teachers working with students on the autism spectrum. The letters share that these students got engaged with live performance in ways they didn't engage with anything else. It's profoundly humbling.

A chance meeting with Mark Waldstein (a fellow artist and a friend) lead to a conversation about his work with autistic students at Bellevue College. He uses theatre techniques as a teaching tool for autistic students not necessarily pursuing the arts as a career.

He talked of pioneering theaters on the east coast, particularly the Autism Theater Initiative, to modify established Broadway shows for autistic friendly audiences, and how he wanted to advance their work here in Seattle.

I jumped.

It was a perfect fit for our state-wide touring shows. These are shows designed to welcome people into the performing arts experience, no matter economic, geographic, social or any another "so-called" obstacles to access.

I believe in the power of live theatre to connect us to the essential human experience: telling our stories to our succeeding generations. Sharing what it is about US, with those who will carry on, transform and elevate that story.  This is another part of that mission.
What can you expect at this performance?
Half level house lighting over the audience DURING the show. Sound and lighting effects have been modified for the performance (toned down) and other slight adjustments made to the production. The doors to the lobby will be kept open during the performance to allow parents easy exits in case children need to be taken out to quiet areas set up in the lobby (and, re-enter the auditorium when they wish). Trained support staff will also be on hand both in the lobby and in the theater itself.
One of Shakespeare's shorter works, this production of The Tempest is a very lean 90 minutes or so, with an intermission.
More information about this production:
Special pricing for this performance is $11 per person (all ages) in order to make this experience affordable and fun for families in the autism community. Go HERE for tickets!

In The Tempest, directed by Annie Lareau, Prospero and his daughter live as exiles on a remote island filled with enchanted creatures. Conjuring a spell, Prospero summons a storm to carry his brother's ship to his shores. He seeks revenge, but the island has other ideas. Foes become friends. Family reunites. And old wounds heal through forgiveness. Shakespeare's fantastical tale reveals magic and power of the human heart.

Seattle Shakespeare Company's production of The Tempest is part of the company's state-wide touring program that also includes Romeo and Juliet. These productions maintain the beauty of Shakespeare's language and introduce these dynamic stories in fresh, accessible productions for students across Washington State. Small-cast ensembles play multiple parts with quick changes and distinctive character choices that make for a showcase of great acting.
Seattle Shakespeare Company will also have standard public performances of The Tempest on April 15 and 16 at the Center Theatre. Go here for Tickets for those performances!
Tags: Autism Friendly Performances, Seattle Shakespeare Company, The Tempest