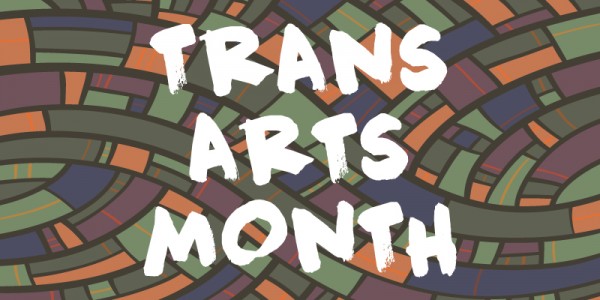 Three local queer non-profits have teamed up to showcase art made by, and for, Seattle's transgender community and their allies. Gay City Health Project, Gender Justice League, and Three Dollar Bill Cinema are proud to present Trans Arts Month, from May 5th through June 5th, 2016 which will include a number of events that celebrate multiple forms of artistic expression including film, visual art, performing art and combinations of all of the above.
"When it comes down to it, Trans Arts Month is an opportunity to humanize trans artists," said Gay City Youth Arts Coordinator Ebo Barton. "Art doesn't have to be high-minded, and sometimes it's just telling a story about yourself."
The month long celebration kicked off Friday night with the opening of  "The Enchanted Life and Temporary Death of Sadie December" a solo multi-media play by Dorothy Frances Kent. From the press release:
Part autobiography, part magical realism, it chronicles Sadie's spiritual childhood in the pacific northwest, the harsh realities of having to live as a boy, and finally, rediscovering herself through art, community and the natural world. "Trans art is essential, not only for our community to survive but to thrive," said Dorothy Frances Kent when asked about her semi-autobiographical one woman show, "By telling our unique stories we acknowledge our rich, if cruel past and learn about ourselves and each other."
"Sadie December" runs this weekend (May 5 – 8) and next weekend (May 19 -22) at 7 pm at Gay City's Calamus Auditorium.
Snag tickets HERE!
Debuting next week, the 11th edition of one of the world's first transgender film festivals, the Translations Film Festival produced by Three Dollar Bill Cinema.
The official start of the popular weekend festival  kicks off on Thursday, May 12th with the film documentary,
MAJOR!
which explores the life of black transgender elder and activist Miss Major Griffin-Gracy. The screening is at the Egyptian Cinema and the festival continues throughout the weekend until Sunday, May 15th.
Go HERE
for full schedule, tickets and passes.
"Film is such a powerful medium" said Sam Berliner,

Translations

Festival Director. "As gender-variant people, recognizing ourselves on-screen and being able to relate to the characters is unbelievably affirming."
Translations actually has a pre-festival screening in partnership with Pride ASIA and Seattle Public Library on Sunday, May 8th at 2pm at the Downtown Central Library, 1000 4th Avenue, of the documentary,
Deconstructing Zoe
directed by Rosa Fong, Admission is FREE but
go here
to reserve your seat.
Other events during the month include a family friendly children's book reading, an open mic night and a community performance showcase. For the complete list and ticketing info for all Trans Arts Month events check out the webpage at Gay City's site:
gaycity.org/transartsmonth
.
(Visited 1 times, 1 visits today)