August 26, 2016

•
by
Korra Q
COSPLAYING IS THE SHIT.
Well, ok. Most of you already know that. At least, the nerdier among you. Hell, SGS is full of reports on drag, so we're basically preaching to the choir here.
At the risk of sounding hopelessly "check me out," the following is a bit of my recent experiences cosplaying. Continuing my Nerd Year of Firsts, I spent two weekends getting into costume to fully enjoy some seminal moments in Nerd Realms. Note: This is not to be confused with LARPing.
Shut up, IT RULED.
For Anglicon, I attended on August 6 as Martha Jones from Doctor Who. Why? Because it was basically the cheapest outfit I could do. Just had to transport my fashion sense to, oh, say, 2008-ish. Leather jacket, heels with flared jeans, hair up in a business-casual spikey style, gold hoops, red tank top. Easy! Made all the better, of course, with my very own Tenth Doctor (a David Tennant ringer). As my outfit wasn't perfectly spot-on, it did take a bit before people recognized who I was. That, and I was *not* about to don a blond wig to play Rose Tyler.
The convention itself was an absolute blast! Highlight: the original Davros (Terry Molloy) offered to fix my companion's (get it?) tie! Squee! Amid photo-ops, panels, a rousing game of "Are You a Werewolf," playing with a life-sized TARDIS, and enjoying other cosplayers, we ran circles around the hotel floor loving every second. We met with the society that builds Daleks and Fe-9, a cat version of K-9. The dealer room (merch/vendors) was awesome, filled the space nicely, and featured everything from fantasy weaponry to clothing and accessories to art to EVERYTHING. I even got fitted for a spectacular corset, and cannot wait to purchase it!
Note: The fitting required shedding my leather jacket. Which was fine, because it was warm. But that meant losing a tiny bit of Martha Jones, therefore hindering the illusion. It wasn't for more than a couple of minutes, but in that brief time, I suddenly felt like I was doing the character a disservice. Anyone else know that feel?
A re-application of lip gloss and a mild hair fix later, I was back in action.
Everyone is so damned nice when they recognize your character! We walked the halls amid exclamations of, "You look great!" "Can I get your picture?" and "Oh. Em. Gee!" We returned the favors likewise to other cosplayers, and geeked out with a few of them. Personal favorites included a couple of Twelfth Doctors, because Peter Capaldi hasn't gotten as much love as his incarnation deserves. One even had an autographed guitar. So cool! For photos of the Anglicon cosplayers, check out the website!
* * * *
Fast forward to the following weekend, and it's the Rennaissance Faire. Held for three consecutive weekends in August, it's your chance to transport yourself back in time to the not-yet-unified European country of your choice…and dress as such! Being of Puerto Rican descent, I decided I needed something with more blacks and reds due to a Spanish heritage. Earlier in the week I had purchased white lacey things fit to make my tiny goth heart cringe, but on Saturday morning I found the perfect dress at a great price. The white clothes fit splendidly underneath the Elizabethan dress, and a sunhat completed the look. The major learning curve came when I looked around and realized every one of the re-enactors had a leather belt. On the belts were loops to carry period-appropriate mugs, along with satchels and other necessary accouterments.
Sure, it was incredibly tempting to buy gorgeous leather raiments, but with the hottest day topping out at 100 degrees and my wallet already yelling curses, I kept my impulses in check.
In full regalia, I joked and chatted with fellow vendors and volunteers at the Faire. As part of one of the companies putting on demonstrations, I walked the grounds enhancing patrons' day with "Good morrow!" "M'lady," "M'lord," and the like. The former Catholic in me couldn't resist doing the sign of the cross in Latin to a "bishop."
A veteran convention-goer by now, I had that mindset at Faire. But I didn't expect to see real cosplayers there! No lie, there was a Link (Legend of Zelda), Jack Sparrow (because pirates are awesome), an Elizabethan Deadpool couple, a Watcher on the Wall  Crow Jon Snow, and more than three Maleficents. One Maleficent was so good, I curtsied her and addressed her as "My Queen."
It's worth noting that on the Saturday night I attended was a Rocky Horror showing! The live actors were in period-correct clothing, but naturally sexied-up/stripped down for the occasion. Ain't no bawdy like Elizabethan bawdy, hunties! Ms. Indika Haze of Tacoma drag fame was simply the most divine Frank N. Furter I've ever beheld on stage.
* * * *
To wrap this up, I'll repeat the words of Jinkx Monsoon:  "I think there's a lot of power in wearing a costume. …And you see that with nerds and introverted people. You know, it's not just drag, there's cosplay…And it's cool to get dressed up, and it's cool to do whatever it takes to make yourself feel like the fierce beast that lives inside you. I'm fully sure that it's ok to change your appearance if that's what you want to do to project something from inside of yourself. And I think [this] is a perfect way to do it…in little bursts, and then go back to your real life."
Sometimes it's hard to get back to real life. It's easy to get caught up in the moment of becoming a character. I finally understand why some people choose to emulate fictional characters nearly 24/7.
The world is too full of harsh reality. Can you really blame someone for wanting to escape it with a touch of class and a costume?
(Visited 4 times, 1 visits today)
About the Author: Korra Q
Related Posts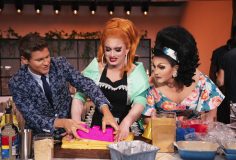 Arts & Entertainment • BenDeLaCreme Fan Appreciation Society • Drag O'Tainment • Jinkx Monsoon Fan Appreciation Society • Queer TV • RPDR • Television • TV Land
Who's watching Hulu's new "drag-tastical" reality series, DRAG ME TO
...