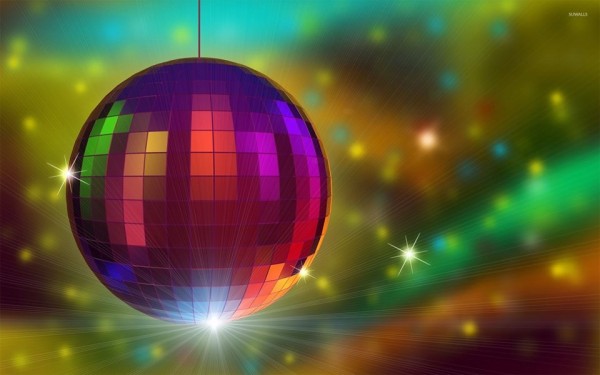 Stay home. Look up how to immigrate to New Zealand.
(Canada is too cold and too close to Herr Drumpf's minions of stupidity)
I keed, I keed.
Sorta.
If you're determined to hang around Seattle this weekend to celebrate the ending of this Annus Horriblis (which has nothing to do with dead celebrities; people die, even famous ones…it's sad but let's stop having conniptions every time it happens or weirdly implying it's some sort of odd conspiracy involving an anthropomorphic unit of time….I digress. As usual) then here's some suggestions for queer (or at least queer friendly) options to ring out this shitty year and ring in the new year which will probably be far more horrifying than the last thanks to The Illegitimate Regime of Donald Trump.
<Insert positive thinking grin image here>
New Year's Eve is a moneymaker for boozy party venues and pretty much every single one does something even if it's just the jacking up of cover fees. Expect drink specials, special guests, midnight toasts, etc at many venues. But, as far as we can tell, there really isn't any BIG FAHNCY star studded must do event going on…I don't think anyone has the heart for it but also most clubs in Seattle are hella cheap and they all have figured out you can make buttloads of money without shelling out anything extra to fly in some boring overpriced drag queen/disco diva. Thus, 32 events mostly populated by the usual suspects.
Gay Seattle's "Big Three" nightclubs all have special parties happening. NEIGHBOURS  has "Hostess Aleksa Manila, featuring Kaleena Markos and James Majesty with Mr Neighbours Apollo Dior Black and Miss Neighbours Deb Leigh Nightshade PLUS DJ RANDY SCHLAGER and a CHAMPAGNE toast along with Hats, and Party favors for the enjoyment of all…" It's 21+ until 2am then 18+ after. Advance tickets are $15.
The Cuff gets points for flying in a special DJ…
Come Ring In The New Year At The Cuff. On Saturday December 31, 2016 The Dance Floor Opens At 8pm To The Sounds Of Special Guest Resident DJ Tommy K. Then At 10pm PACIFICO Takes Over To Keep The Beats Pumping All Night Long. At The Stroke Of Midnight, There Will Be A champagne Toast To Say Goodbye To 2016 And Welcome in 2017. Limited Number Of Party Supplies Will Be Avaliable. It is $15 for This Event And The Cover Charge Starts At 8PM. So Get There Early To Avoid The Line. Expanded Security Screening So NO BACK PACKS PLEASE
R Place has a cash balloon drop, go go boys, djs and a champagne toast. They probably claim to have invented all these unique concepts. They don't have a FB invite or much info. As usual. 'Cause, you know, it's so difficult and time consuming to make a Facebook invite. As a result, no idea what the cover is. Maybe it's priceless.
Smaller venues have parties, too…
Pony has a some fun drag hosts, (BETTY WETTER + ARSON NICKI) to go along with the usual djs and champagne toasts, and are charging a small cover ($5).
The Seattle Eagle has the tastefully named "FuKR" Party involving bears, djs, champagne toasts, etc. It's a $7 cover.
For those of you on a budget, Barbie isn't charging a cover for her PURR NYE PARTY!!! It also includes a balloon drop.
For the lady loving ladies of Seattle, The Wildrose has….wait for it….a balloon drop, champagne toast and gogos! (And a $10 cover).
CC Attle's offers up….tv watching. But, no cover. We think…
Kremwerk/The Timbre Room have SHINE NYE but it's mostly sold out…they do have post 1:30 am ticket available for sale though.
Re-bar has…Dina Martina who is SOLD OUT (and only does a matinee that day) and queer friendly CEREMONY which has a $10 cover.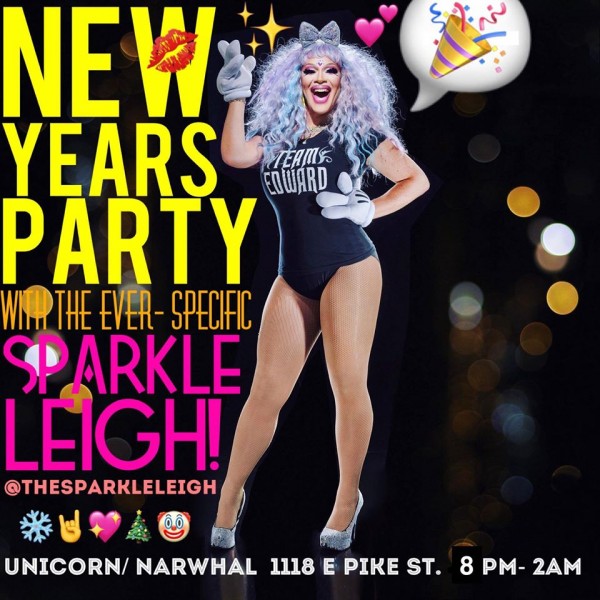 You can ring in the new year with a very mixed crowd at THE UNICORN/NARWHAL with hosts SPARKLE LEIGH AND COOKIE COUTURE for their NYE Party,
TOON TOWN COUNTDOWN
…it's a $10 cover. If you go, be extra nice to poor sad old clown Sparkle since she isn't in Gay Old Mexico with the rest of her Mimosas Cabaret Drag Family. Poor, sad old thing…
If you live WAAAAAAAY down south near Kent, there's always the option of their
NEW YEAR'S EVE ABBA DANCE PARTY
at Nashville's in Kent, 114 Railroad Ave N. It's hosted by
Momma Moan Alot and Kiki Furburger with special guests from the Haus of Paradisco: Drew, Jessica, and Lucy.
That's enough options for you…isn't it? I mean, it's not rocket science.
And, though you're apparently not supposed to suggest people be CAREFUL when out and about on celebratory nights like NYE or Halloween, I seldom do what I'm supposed to do and I'm gonna tell people: please be safe out there. Bad people like to prey on people who are drunk, high, not thinking clearly and doing things that could put them in danger of being attacked.  Some handy suggestions:
Travel in packs/pairs. Don't go wandering about by yourself down dark streets, especially if you're in any way impaired by too much booze/drugs. Have a Buddy System in place. If you're prone to making terrible decisions while fucked up ("Why, yes! I will go off with these strangers to a strange place to do strange things and ingest strange things into my body!!!! What could happen???") then a sober buddy to talk you out of dumb ideas might be a smart thing to do…just sayin'. You know who you are…
Keep an eye on your drinks. If you see strangers lurking around near drinks that aren't their own, say something! Report them to bar staff!
If you're forced to walk about on dark streets alone and late at night, (all your drunkass friends left you in the lurch) stay alert and don't have your nose glued to your phone as you walk! Walk with purpose down busier, better lighted main streets for as long as you can before switching to darker, less populated side streets to get home!
Take mass transit if you're gonna drink. Or have a designated TOTALLY sober driver. Take money/cards to pay for a ride home.
Traffic will be crazy tonight. Uber WILL be at VERY high surge pricing all night long. If you can afford to pay $100 for a ride that's normally $10, that's fine but be prepared. Take a cab (they can't surge/gouge).
Finally, it's not a fun topic to discuss but in this day and age it's important…please be aware of where the exits are! In case of emergency, you need to know how to quickly and safely exit a crowded building. Hopefully, if it's a venue you go to frequently, you're aware of ALL the exits. If you're in a venue you've never been in before, then while you're still sober, scope out at least two ways to exit. This is especially true if you're in a basement situation or on an upper floor.  If you're in a non-traditional venue at a private party, then be especially aware of the exits. If a place doesn't seem particularly safe or if unsafe things are happening (too many candles/fire performances/scary electrics/shaky and confusing structures) then get the hell out of there.
Be safe! We don't want 2017 starting off with any more tragedy! We need to be girded for life post January 20, 2017!!!
HAPPY FUKCING NEW YEAR!!!!
(Visited 1 times, 1 visits today)