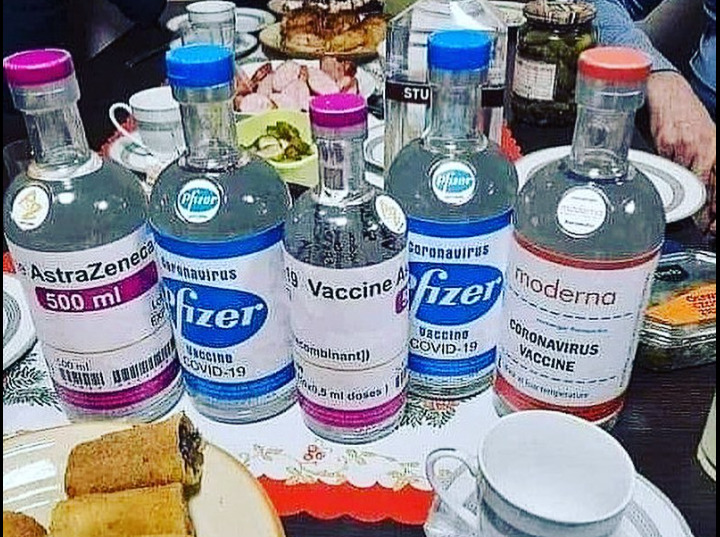 Along with snow and icy weather, the Omnicron Persei 8 strain of Covid-19 has caused havoc for area event planners and businesses. Over the last week in the Seattle area, the combo platter of a very contagious version of Covid, horrible winter weather and staff shortages has caused many night life entertainment events to be cancelled or postponed.

As late as just a few minutes ago, area bars and clubs have announced they would not go ahead with planned New Year's Eve events. The Unicorn, CC Attles, Olmstead, and The Clock-Out Lounge have all announced their special events for tonite are not happening. Earlier this week, drag queen host Sylvia O'Stayformore also issued a statement that her Bacon Strip show scheduled for Saturday, January 1st would also be postponed.

Check out the Seattle Gay Scene Calendar for all event info and it would also be a good idea to check the social media accounts/web pages for area bars, restaurants and night clubs before venturing out tonight/this weekend for the latest information on the status of events.

Also: if you DO plan on going out, exercise extra caution not only due to Covid but because of the icy weather conditions.

And, don't forget to bring your legal I.D. and proof of vaccination/recent negative Covid test results AND a mask!!! No venue is letting you in without any of those things!!!!

Have a Happy and Safe New Year's Eve/Day/Weekend!!!
6:30 PM
December 31 @ 6:30 pm – 8:30 pmSIFF Cinema Uptown, 511 Queen Anne Ave N
Seattle, WA 98109 United States + Google Map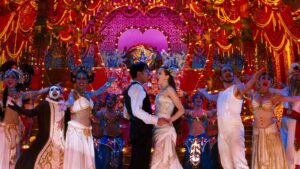 Sing in the new year with Baz Luhrmann's musical spectacular—complete with free bling rings and a Moulin-inspired music video countdown. The show ends in time to head over to the Space Needle and catch the New Year's fireworks while shouting "Rooooooxannnne!" at the sky. For more info and tickets, visit: https://siff.info/moulinrouge-fbeFind out more »
7:30 PM
December 31, 2021 @ 7:30 pm – 2:00 amQueer Bar, 1518 11th Ave
Seattle, 98122 United States + Google Map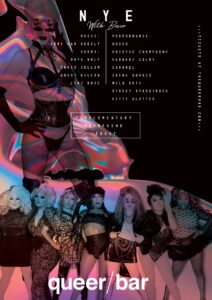 Don't miss your chance to ring in the New Year with queer/bar! With the announcement of our very own Bosco on the newest season of Rupaul's Drag Race, don't miss your chance to see a very special edition of the MX drag show with Bosco as our headliner! She'll be in high demand in 2022 […]Find out more »
8:00 PM
December 31, 2021 @ 8:00 pm – January 1, 2022 @ 4:00 amSupernova Seattle, 110 South Horton Street
Seattle, WA 98134 United States + Google Map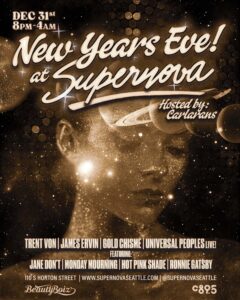 Supernova is where you want to be when the disco ball drops! Prepare to be dazzled by our aerialists, drag queens, costumed performers, DJs, and live musicians as we celebrate New Years Eve in the most spectacular way possible! Expect to be covered in glitter and confetti! Dress to impress and to express! In addition […]Find out more »
December 31, 2021 @ 8:00 pm – 1:00 amSouthgate Roller Rink, 9646 17th Ave SW
Seattle, 98106 United States + Google Map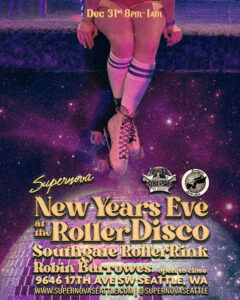 Celebrate New Years Eve at The Roller Disco with Supernova! Groove and glide as resident Supernova DJs spin Disco classics and NuDisco favorites live from the center of the rink! Tickets include skate rental and there is a combo ticket option to join us after back at at Supernova until 4am! Proof of Vaccination Requirement […]Find out more »
December 31, 2021 @ 8:00 pm – 2:00 amCc Attle's, 1701 E Olive Way
Seattle, 98102 United States + Google Map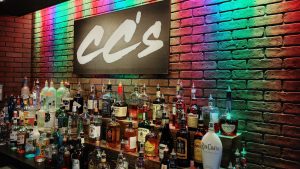 CXLED DUE TO COVID! Come join the Staff at CCs and ring in the New Year. We will have the highlights shown on all 35 screens and sound and closed caption when it's time to drop the ball on the Needle in Seattle. Never a cover charge!Find out more »
December 31, 2021 @ 8:00 pm – 2:00 amThe Crescent Lounge, 1413 E Olive Way
Seattle, 98122 United States + Google Map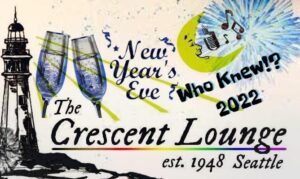 For good or bad 2021 is coming to a end! Let's celebrate together! Karaoke New Year's Eve party hosted by Casey Jones! Midnight Champagne toast! Please have your ID/Vaccination card. Masks required! Let's party!Find out more »
9:00 PM
December 31, 2021 @ 9:00 pm – 2:00 amClock-Out Lounge, 4864 Beacon Ave S
Seattle, 98108 United States + Google Map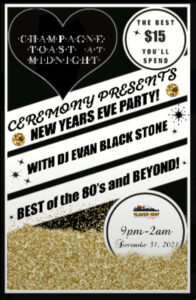 CANCELLED!!!!! Ceremony is happy to announce NEW YEARS EVE at the Clock-out~ Friday December 31st, 9pm-2am. DJ Evan Blackstone spins the best of the 80s and Beyond. Expect to hear a variety of music genres all night long. $15 cover including a Champagne Toast at Midnight!!!!! Proof of Vax and or neg test..please be kind […]Find out more »
December 31, 2021 @ 9:00 pm – January 1, 2022 @ 4:00 amNeighbours Nightclub & Lounge, 1509 Broadway
Seattle, WA 98122 United States + Google Map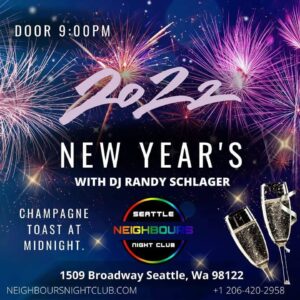 It's a very special New Year's Powermix with DJ Randy Schlager! Doors at 9pm 21+ before 2am 18+ 2am to 4am CoverFind out more »
December 31, 2021 @ 9:00 pm – 3:00 amThe Cuff Complex, 1533 13th Ave
Seattle, WA 98122 United States + Google Map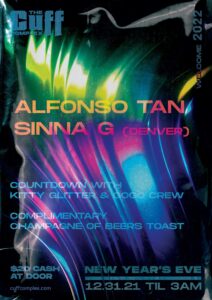 Join us at The Cuff for our New Year's Eve celebration! We'll have DJ Alfonso Tan and DJ Sinna G (coming in from Denver) spinning the best tunes all night! Watch the balls drop and countdown to the end of 2021 with Kitty Glitter and the Go-go crew. Complimentary Champagne of Beers toast at midnight! […]Find out more »
December 31, 2021 @ 9:00 pm – 12:30 amOlmstead Seattle, 314 Broadway E
Seattle, WA 98102 United States + Google Map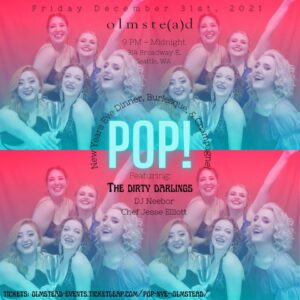 CXLED DUE TO COVID!!!! A very special intimate three course dinner and burlesque show featuring The Dirty Darlings & DJ Neebor.Find out more »
December 31, 2021 @ 9:00 pm – 1:00 amAdmiral Pub, 2306 California Ave SW
Seattle, WA 98116 United States + Google Map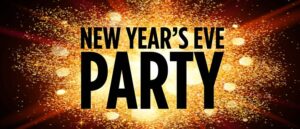 Ring in the New Year with friends at the Admiral Pub with VJ LaceFront. VJ LaceFront will be playing all your favorite music videos to dance the night away! **Please be prepared to show proof of vaccination for entryFind out more »
December 31, 2021 @ 9:00 pm – January 1, 2022 @ 5:00 amKremwerk / Timbre Room Complex, 1809 Minor Avenue
Seattle, WA 98101 United States + Google Map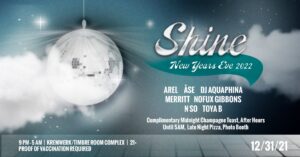 Join us for our 6th annual SHINE New Years Celebration at the Kremwerk + Timbre Room Complex! We're dedicating 2022 to all things that shine brightly. We encourage you to show up and show off your glitter, shimmer, and sequin! We're going from 9 PM – 5 AM! KREMWERK Arel N SO Toya B TIMBRE […]Find out more »
December 31, 2021 @ 9:00 pm – January 1, 2022 @ 4:00 amMonkey Loft, 2915 1st Ave S
Seattle, 98134 United States + Google Map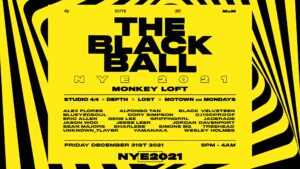 THE BLACK BALL LOST x DEPTH x MOTOWN on MONDAYS x STUDIO 4/4 NYE 2021 Four fabled crews are bringing their unique sounds and over twenty DJs to the entire space at Monkey Loft for an uncommonly bold project. From disco to house to funk to techno, you'll have some of the best selectors in […]Find out more »
December 31, 2021 @ 9:00 pm – 2:00 amThe Unicorn, 1118 E Pike St
Seattle, WA 98122 United States + Google Map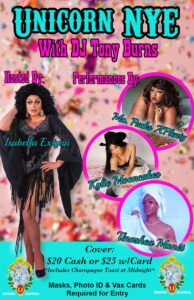 CXLED DUE TO COVID!!!! Hosted by Isabella Extynn w/DJ Tony Burns! Cover: $20 cash/$25 credit card includes champagne midnight toast! 21+ w/ID, proof of vaccination and masks!Find out more »
December 31, 2021 @ 9:00 pm – 2:00 amPony, 1221 E Madison St
Seattle, WA 98122 United States + Google Map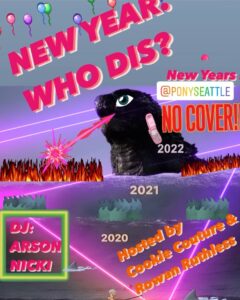 NEW YEAR, WHO DIS? Come party this NYE with your hosts @cookiecouturequeen and @therowanruthless. Music provided by @arsonnicki. As always, proof of vax required and masking. Let's celebrate safely. 9pm. No CoverFind out more »
10:00 PM
December 31, 2021 @ 10:00 pm – 2:00 amJulia's on Broadway, 300 Broadway E
Seattle, WA 98102 United States + Google Map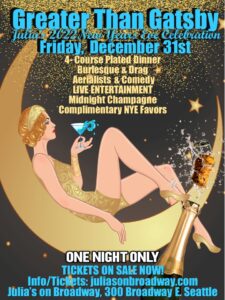 See poster for infoFind out more »
11:00 PM
December 31, 2021 @ 11:00 pm – January 1, 2022 @ 7:00 amSteamworks Seattle, 1520 Summit Avenue
Seattle, WA 98122 United States + Google Map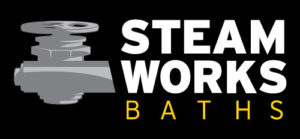 Ring in 2022 with us here at STEAMWORKS SEATTLE! History tells us a FLOOD of men will enter our doors starting at midnight and well into the New Year's Day morning. LIVE set from DJ Jimi Jaxon!Find out more »
2:00 AM
January 1, 2022 @ 2:00 am – 7:00 am1st & Bell, 2218 1st Avenue
Seattle,, WA 98121 United States + Google Map
Everyone has a purpose in life. Perhaps Verotica's is watching television- yours too? Nawww, she's already told everyone that that was "JUST 2020" (she might not know. It's fine.) and since it's the New Year, she's got big plans and gonna DO IT… "I can do anything, it's not my fault everyone else is just […]Find out more »
(Visited 5 times, 1 visits today)