All things Melissa Etheridge in this post. The popular out lesbian rocker has captivated her fans for decades and her many Seattle fans have already snapped up tickets to her May 7th show, Melissa Etheridge: This is MEmphis Rock & Soul, A Soul-ute to Stax Records happening at The Paramount in downtown Seattle. (Bargain hunting fans can find discount tickets to the show over at Goldstar….hint, hint)
BUT, that's not the only Melissa news to hit the stands. The Mac McGregor Campaign announced this week that Etheridge has given them the go-ahead to use her 2004 hit song "GIANT" as an anthem for their groundbreaking campaign. A former Seattle City LGBT Commissioner, McGregor is one of a large number of announced candidates vying for one of the at-large seats on the Seattle City Council in this year's municipal election. Mac McGregor is also one of four known LGBTQ candidates for the office as well as being one of the 11 transgender candidates seeking office nationally in 2017.
In an interview with Seattle Gay Scene earlier this week, McGregor told us he originally approached Etheridge through social media outlets by simply expressing admiration for the artist and her work and noting he was a longtime fan as well as an LGBTQ activist running for office. Amazingly, he made it through the numerous levels of management and staff that surround a major performing artist and was able to reach Etheridge herself who happily agreed to endorse the McGregor campaign and allow the use of "Giant" as part of the campaign.
You can look for McGregor to be at the May 7th show where he'll have a chance to personally thank Etheridge for her endorsement.
Here's the full press release from the McGregor campaign plus info about the Etheridge show at The Paramount.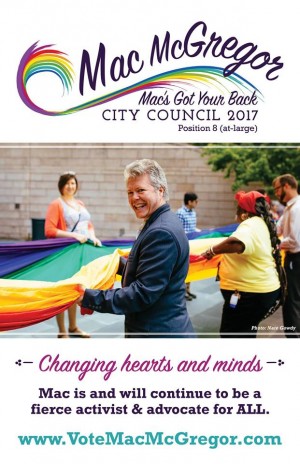 Rock legend Melissa Etheridge lends her powerful anthem "Giant" to the McGregor campaign

SEATTLE – Former Seattle City Commissioner Mac McGregor is one of 11 transgender candidates running for office in the U.S. in 2017. If elected, Mac would become the first transgender person to hold a seat on Seattle City Council and the first transgender person elected to office in Washington state.

McGregor is a former women's world martial arts champion and Seattle City Commissioner and LGBTQ activist for City Council. 

McGregor says his desire to run for Seattle City Council is a culmination of life experiences that have given him a better understanding of the importance of advocating for the marginalized populations in Seattle's community.


"I am running for the people of Seattle. This is an at-large seat and I intend to be a voice for the people," he says. "This is a campaign for all of us."

Melissa Etheridge has noted the importance of McGregor's campaign and has offered her hit song "Giant" as an offering. McGregor says of Melissa Etheridge's endorsement, "This song is the perfect theme for this groundbreaking campaign. We are so grateful for Melissa's endorsement and can't wait to share it with everyone."

McGregor adds, "Melissa is someone I admire, she was out and open about who she was long before there was more acceptance for gays and lesbians, and then she was very open about her battle with cancer. She did hide through her struggle with cancer, she is a fellow warrior. I appreciate that about her and the raw heartfelt passion in her writing has always spoken to me."

"Giant" came out in 2004 when George W. Bush was in the White House and the song's message could not be any more appropriate now with Donald J. Trump in charge of the country. The lyrics say:

You tried to make us small, you tried to make us crawl.
You tried to hold us down, you tried to hold us back.
You tried to make us wrong, you tried to make us crack.
But you did not count on the tide, you did not count on me
I am a GIANT, and you will not make me crawl.
And I'm not alone, winds of change have blown
And the walls come tumbling down.

We are standing side by side, we are determined now to win.
We have come to far, and we got the stars and we are NEVER going back into the shadows again!

McGregor adds, "It feels like we have a faction of people who would love to make marginalized communities hide in the shadows right now. Out of sight, out of mind. Many want LGBTQ people, Muslim people, women, Immigrants, Native Americans, and People of Color to to be silenced. I will not stand for that and I am not alone. That is the message of this song and that is the message of my campaign."
McGregor will get to personally thank Etheridge May 7 when she plays at the Paramount Theatre in Seattle.

"Melissa understands the importance of a campaign like mine at this time because she has been involved in the battle for civil rights for decades," McGregor says. "I am honored that she saw the significance of this movement for transgender rights and visibility."

McGregor's campaign slogan, "Mac's Got your Back," embodies his personal goal of empowering others, regardless of race, gender, religion, age, or sexual orientation through education and equal rights.

"I want to use my experiences, talents and skills to empower others, especially those who feel disenfranchised or marginalized," McGregor says. "If we move transgender rights forward, we move all marginalized communities' rights forward. Running for this seat is truly an honor and a responsibility I do not take lightly."

For more information on McGregor's campaign and to learn more about the groundbreaking Seattle City Council candidate, please visit www.votemacmcgregor.com.
STG Presents

Melissa Etheridge

This is MEmphis Rock & Soul
A Soul-ute to Stax Records

Sunday
May 7, 2017

Doors at 7:00 pm
Show at 8:00 pm

The Paramount Theatre
911 Pine Street
Seattle, WA 98101
STG Presents Melissa Etheridge: This is MEmphis Rock & Soul – A Soul-ute to Stax Records at The Paramount Theatre on May 7, 2017.

Melissa Etheridge stormed onto the American rock scene in 1988 with the release of her critically acclaimed self-titled debut album, which led to an appearance on the 1989 Grammy Awards show. For several years, her popularity grew around such memorable originals as "Bring Me Some Water," "No Souvenirs" and "Ain't It Heavy," for which she won a Grammy® in 1992. Etheridge hit her commercial and artistic stride with her fourth album, Yes I Am (1993). The collection featured the massive hits, "I'm the Only One" and "Come to My Window," a searing song of longing that brought Etheridge her second Grammy® Award for Best Female Rock Performance. In 1995, Etheridge issued her highest charting album, Your Little Secret, which was distinguished by the hit single, "I Want to Come Over." Her astounding success that year led to Etheridge receiving the Songwriter of the Year honor at the ASCAP Pop Awards in 1996.

Known for her confessional lyrics and raspy, smoky vocals, Etheridge has remained one of America's favorite female singer-songwriters for more than two decades. In February 2007, Melissa Etheridge celebrated a career milestone with a victory in the "Best Song" category at the Academy® Awards for "I Need to Wake Up," written for the Al Gore documentary on global warming, An Inconvenient Truth. As a performer and songwriter, Etheridge has shown herself to be an artist who has never allowed "inconvenient truths" to keep her down. Earlier in her recording career, Etheridge acknowledged her sexual orientation when it was considered less than prudent to do so. In October 2004, Etheridge was diagnosed with breast cancer, a health battle that, with her typical tenacity, she won. Despite losing her hair from chemotherapy, Etheridge appeared on the 2005 Grammy® telecast to sing "Piece of My Heart" in tribute to Janis Joplin. By doing so she gave hope to many women afflicted with the disease.

Melissa Etheridge has recently recorded her first album since 2014's critically lauded This Is M.E at Royal Studios in Memphis: MEmphis Rock & Soul. Along with original material, Etheridge's ambitious Concord release will feature interpretations of classic songs from the legendary Stax catalog, celebrating its artists and legacy and spotlighting the vital role Stax Records played in the Civil Rights Movement. Engineered by Lawrence "Boo" Mitchell, son of famed music producer Willie Mitchell, the album and tour includes a number of top Memphis musicians, including the Hodges Brothers.
(Visited 1 times, 1 visits today)