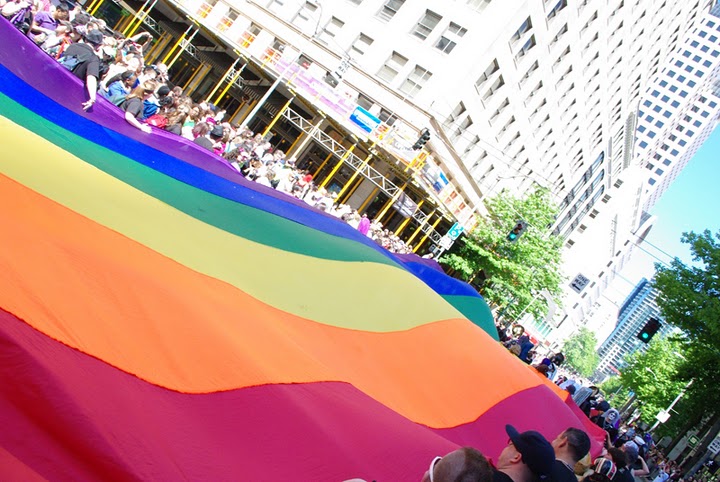 Despite promises that they would be more open and communicative about planning and logistics for their events, Seattle Pride the group formerly known as Seattle Out and Proud hasn't been very forth coming since a big community meeting held last June 3, 2016 at the Hotel Monaco. At that meeting,  the board of Seattle Pride met with community leaders angry over the group's leadership, direction and lack of communication after a scandal involving then President of Seattle Pride Eric Bennett and the decision to not allow Alaska Airline employees to march in last year's parade because Delta had purchased exclusive rights to branding in that parade for the airline category. That misfire enraged many in the community and the June meeting was meant to clear the air and pave the way for stronger communications between Seattle Pride and the community. Here is the final paragraph from last year's story about that meeting:
The meeting seemed to end on a note of positivity about the future with President Toovey stating the Board was open to discussing many of the ideas presented at the meeting and that more public meetings in the future could be beneficial into opening up lines of communication with all of Seattle's LGBTQ community. Afterwards, Board members and the public casually met and introduced one another and to further discuss the events of the evening. It ended with an air of hope for the future of Seattle Pride. Hopefully, the weeks and months ahead will show their commitment to follow through and make some drastically needed changes. The future of their organization depends on it.
But, Seattle Pride has seemingly dropped the ball on that vague comment about future public meetings and better communication. As far as SGS is aware, there have been no other public meetings scheduled by Seattle Pride since that date, over 10 months ago. And, until yesterday's press release, no further direct communication from them about any Seattle Pride events or the planning of those events.
Yesterday's release concerns announcing the announcers for Pride Parade 2017. It's certainly a diverse list of names but as usual the focus is on drag and burlesque performers…Seattle Pride continues to have issues with reaching out to talent in other fields, such as actors, singers, and comedians. But, it should be noted that several names on this year's list are either newer performers or lesser known fringe stars. The biggest name listed is longtime Seattle community queen DonnaTella Howe who just wrapped up her reign as Olympia XLV and has announced for the previous three years as well.
Here's the complete release from Seattle Pride:
Seattle Pride has released the lineup for announcers for the 2017 Pride Parade. With three stages located throughout the parade route, local talent was selected by the Seattle Pride Board of Directors.

Announcing from the Westlake Stage, Seattle Pride chose Abbey Roads, The Lady B and DonnaTella Howe. Abbey Roads, an up-and-coming Seattle performer, is becoming a local big-name after a PNW tour of Bob the Drag Queen and Peaches Christ's "Legally Black" show. The Lady B is a Seattle performer with a focus on community outreach to local marginalized people. DonnaTella Howe, who just finished her reign as Olympia XLV for the Imperial Sovereign Court of Seattle, will be returning to host the Westlake stage once again.

At the 4th and Bell Stage, the announcers will be TylahMayJackson, Violet DeVille, and Diva le Deviant. TylahMayJackson has grown her reputation in Seattle with her work fundraising for queer youth, through organizations such as Misfits Nightclub and Lambert House. Violet Deville has been a local burlesque performer in Seattle since 2010, with a career that has toured both coasts of the country. Diva le Deviant is a burlesque performer with Seattle's Sinner Saint Burlesque, a local burlesque troupe which has toured across the country, as well as internationally.

Wrapping up the parade route at the L Stage are the infamous Tricky D and D Dynasty of Dapper Down Productions. Tricky D is also the first Drag King Magician, as well as the founder of Dapper Down. It is a firm belief of Dapper Down that community support and elevation of local non-profits aiding the community is an important role, and exercise their beliefs by organizing fundraising events to provide aid to non-profits they work with.

The Seattle Pride Parade takes place annually on the last Sunday in June. The 2017 Parade will be held on Sunday, June 25th. Visit SeattlePride.org to register your group or find out how you can participate in creating a memorable day by becoming a Pride volunteer.

About Seattle Pride Seattle Pride is a non-profit organization based in Seattle, WA, whose purpose is to create unity, honor diversity, and achieve equal human rights throughout our region and the world. Seattle Pride is focused on informing and educating the community on LGBT issues through community outreach and produced events, including the Seattle Pride Parade and the Volunteer Park Pride Festival.
(Visited 1 times, 1 visits today)