A bombshell lawsuit was filed in King County Superior Court on Thursday, April 6, 2017 that alleges that current Seattle Mayor Ed Murray sexually abused a 15 year old male over a period of several years beginning in 1986. The plaintiff, identified as "D.H." in the filing seeks unspecified monetary damages for "Child Sex Abuse and Illegal Child Prostitution". Washington State law prohibits sex with minors under the age of 16 but the statute of limitations for any criminal charges against Murray have long since expired. Victims of sex abuse cases can file civil law suits past that statue of limitations.
The accuser is now a 46 year old man living in Kent, Washington. At the time of the alleged abuse, he was a 15 year old high school drop out dealing with drug addictions and coping with a dysfunctional home life that included parents with addiction issues. "D.H." claims he met Murray on a Metro bus where the two struck up a conversation and Murray invited the teen back to his apartment on Capitol Hill. He alleges that Murray propositioned him for sex and the two argued over a price for payment of sexual services. The two had sex and that sexual relationship continued for the next 4 to 5 years with Murray paying the man for sexual services.
In the lawsuit, "D.H." gives detailed descriptions of not only the layout of Murray's apartment but also explicit details about Murray's physical appearance including descriptions of body marks and genitals. The full lawsuit in King County Superior Court is available to view to the public.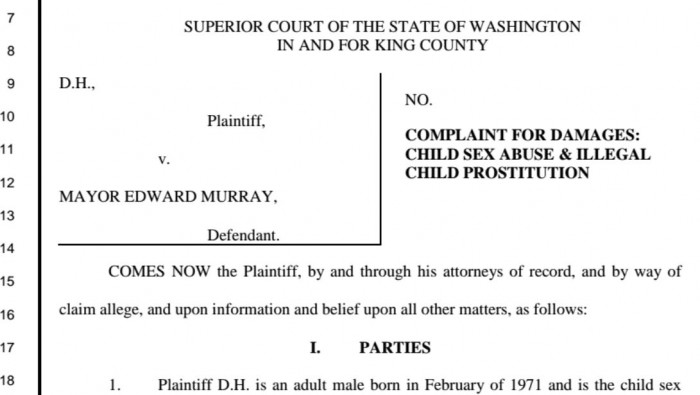 Mayor Ed Murray, the first openly gay mayor of Seattle first elected 4 years ago and currently running for re-election in this year's municipal elections has denied all allegations of abuse from the accuser. His personal spokesperson Jeff Reading issued this statement on behalf of Murray:
"These false accusations are intended to damage a prominent elected official who has been a defender of vulnerable populations for decades. It is not a coincidence that this shakedown effort comes within weeks of the campaign filing deadline. These unsubstantiated assertions, dating back three decades, are categorically false. Mayor Murray has never engaged in an inappropriate relationship with any minor. … Mayor Murray will vigorously fight these allegations in court."
The Seattle Times also reports that this is not the first time Murray has been accused of sexual abuse of minors. Similar claims were raised a decade ago from two Portland Oregon area men. No charges or lawsuits were ever filed but with Thursday's filing of this accusation, the Times went to Oregon to interview both those men about their claims that Murray abused them in the early 1980s when Murray lived in the Portland area.
More as this story develops.
More links to stories from the Seattle Times

UPDATE: Mayor Ed Murray held a press conference today to respond to the lawsuit filed against him. The mayor vowed that the charges "are simply not true".
"To be on the receiving end of such untrue allegations is very painful for me; it is painful for my husband and for those who are close to us..I understand the individual making these accusations is troubled, and that makes me sad as well."
Murray also stated he is not going to resign his post as Seattle mayor and will continue to seek reelection in this year's mayoral election in November.
(Visited 1 times, 1 visits today)