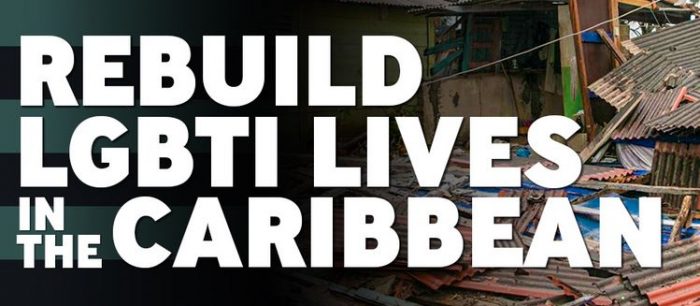 Are you looking for ways to help out thousands of people in communities in the Caribbean that have been ravaged by multiple hurricanes this season including Hurricanes Irma and Maria? And, more specifically, to aid LGBTQ individuals who can be shut out of vital relief services due to homophobia and prejudice? Both storms caused numerous deaths and millions of dollars in damage on their similar paths through the Caribbean including the Virgin Islands, Puerto Rico, Cuba and dozens of smaller islands.

After doing some research, we have discovered there is a way to specifically donate money to aid LGBTQ communities in areas affected by Irma and Maria. Several non-profit groups have banded together to establish a fund to get needed services to the people who need them.
The Caribbean Vulnerable Communities Coalition (CVC) is a Jamaican based "coalition of community leaders and non-governmental agencies that are advocates and service providers, working with and on behalf of Caribbean populations who are especially vulnerable to HIV infection or often forgotten in access to treatment and healthcare programs". They have partnered with the US based Rustin Fund for Global Equality  whose mission statement states that the group "galvanizes financial and political support for LGBTI individuals, organizations and movements in low-and-middle income countries through innovative, direct fundraising efforts in the United States" and Alturi, "an organization that seeks to promote further engagement on global LGBT and intersex issues".
We've done some research and all these groups APPEAR to be legitimate non-profits. The CVC is headed by a very prominent and respected human rights activist, Dr. Carolyn Gomes. But, we haven't been able to determine if the majority of donated funds will actually GET to where they need to go and not get eaten up by bureaucratic overhead which can be the case for many non-profit charities. None of these groups are large enough to show up on Charity Watch. But they seem to be on the up and up.
Here's some more info on what your contribution can do:
In the Caribbean it can be extremely difficult to reach members of the LGBTI community, but in the wake of Irma's destruction, reach them we must. Alturi is raising funds for CVC: Caribbean Vulnerable Communities. CVC has worked for 12 years to better the lives of the Caribbean's most vulnerable communities, who in this case are even more vulnerable than before.

Emergencies often exacerbate prejudices and make marginalized people more vulnerable. In the 2008 Haiti earthquake, CVC witnessed first-hand the challenges faced by gay men who were blamed for the disaster by fundamentalist religious groups, and were denied food and water aid due to a ration plan that excluded households without females.

CVC and The Rustin Fund are offering support through their Emergency Relief Fund to people who have suffered from hurricane Irma. This Fund will help CVC's partner organizations provide desperately needed vital services that address immediate basic needs for people who suffer discrimination. Please donate today, your help will help those who most need it after the destruction of hurricane Irma.

How Your Donation Helps

$15 – Provides Emergency Food and Water
$25 – Provides Emergency Clothing for Dislocated Folks
$50 – Helps Locate Long-Term Shelter
$100 – Supports On-the-Ground Organizers Assist Those in Need
$250 – Helps Rebuild the Homes of Dislocated Folks
In the Caribbean, disaster relief typically revolves around the family unit and is delivered by the local authorities and the community, often spearheaded by Christian faith-based groups. Repeatedly, LGBTI individuals have been left out.

Your tax-deductible donation will directly help LGBTI communities via the Caribbean Vulnerable Communities (CVC) Coalition's support of local grassroots LGBTI organization making a difference on the ground.  Thanks for your support!
(Visited 1 times, 1 visits today)