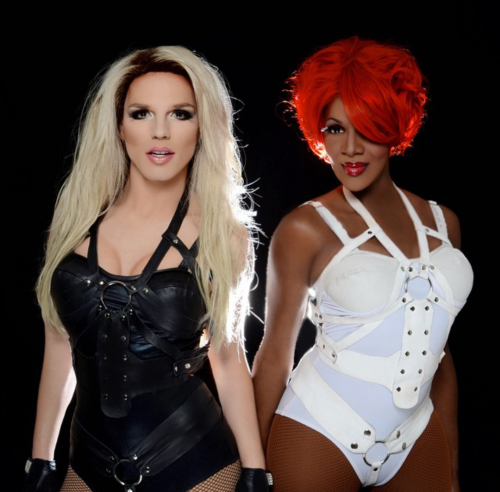 Well, 2017 slipped by quickly, for the most part despite the horrors of the Twitler Administration and it's already time to celebrate the end of the year and welcome the arrival of a new one….which will hopefully feature plenty of indictments in the other Washington…
Happily, Seattle's newest LGBTQ bar is celebrating the season with a weekend of special guests. QUEER/BAR will have three stars from RuPaul's Drag Race bopping around at various times over the weekend including, obviously, resident diva ROBBIE TURNER on hand as chief hostess with her Friday/Saturday nights MX show crew consisting of Lucy Paradisco, Stacy Starstruck and Abbey Roads.
But, they also have some VERY special guests bopping in. Starting on Friday, December 29th, RPDR Season Five top 5 finalist COCO MONTRESE will be on hand for performances at MX. on Friday and Saturday nights at the usual start time (9:30pm) PLUS she'll be a star attraction for the big New Year's Eve show, SIN CITY NYE happening Sunday night, the 31st.
Joining Robbie, the MX. performers and Coco for the big show on Sunday will be Robbie's RPDR Season 8 co-star DERRICK BARRY as well as acclaimed performer, NEBRASKA THUNDERF*CK.
The special Sunday night/New Year's Eve live show featuring all these stars will start at 8 pm and go until 10 pm. You can buy tickets at various tier levels HERE and the special show tickets will get you this performance plus re-entry all night to Queer/Bar.
If you're not able to attend the show from 8 to 10pm, you can also buy tickets to enter Queer/Bar AFTER the show ends at 10pm for the New Year's Eve Dance Party that will go until 4 am. These tickets are $20 (plus tax/fees) and includes a champagne toast…which is a pretty good deal for NYE events!
More info on the various ticket options for the Sunday, December 31st shows are HERE!
__________________________________________________________________
For the special MX. shows on Friday and Saturday, Dec 29/30 with special guest Coco Montrese, go here to purchase.
$15 Pre-Sale General Admission
$25 Pre-Sale GA + Meet & Greet 
Limited tickets also available at the door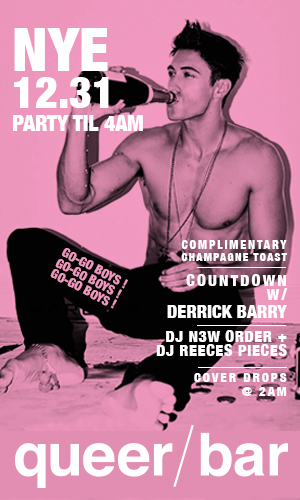 (Visited 1 times, 1 visits today)