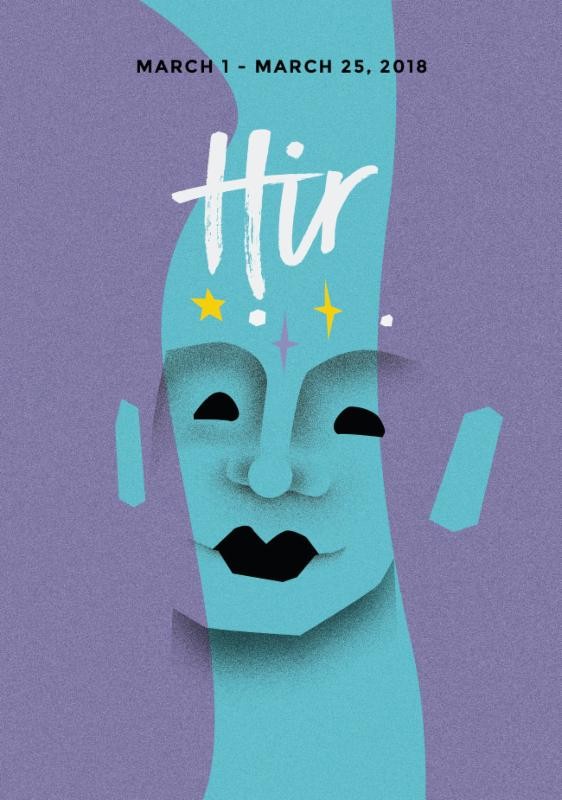 Their first production of the year opens this week but Intiman has just announced all three of their mainstage shows for 2018 in the following press release. HIR, a play by Taylor Mac, is Intiman's co-production with ArtsWest being staged at the ArtsWest playhouse in West Seattle and it opens Wednesday, February 28th for a four week run. Snag tickets HERE for this comedy that features transgender themes as it explores an American family coming to terms with all sorts of Hot Topic Issues.
Seattle, WA (February 26, 2018) — With a new mission statement declaring Intiman Theatre wrestles with American inequities, Intiman has announced its 2018 Season with the theme: WILD, WICKED, WOKE.

"In 2018, we will lean into our mission more intensely than ever," said Intiman's Artistic Director Jennifer Zeyl. "We will hold underrepresented stories to the light, look at issues of identity, race, visibility, gender, coming-of-age, microaggression and colonization. All of this while centering new artists, unlikely combinations and lived true stories, reminding our audiences and artists alike that we are what makes America great."

Intiman's Wild, Wicked, Woke 2018 Season will begin with HIR (pronounced 'here') by MacArthur "Genius" award-winning writer Taylor Mac. This co-production with ArtsWest is directed by Intiman's very own Artistic Director Jennifer Zeyl. HIR, the riotous tale of a family in revolt, opens on February 28 and plays through March 25, 2018 at ArtsWest Playhouse and Gallery.

Following HIR is WILD HORSES by Allison Gregory, a savagely-­funny play about a threshold summer that forever alters an adolescent girl, as portrayed by her grown­up self. WILD HORSES, directed by Sheila Daniels, is playing at 12th Avenue Arts from May 31-June 24, 2018.

Closing out the Wild, Wicked, Woke 2018 Season is NATIVE GARDENS by Karen Zacarías. In this brilliant new comedy, cultures and gardens clash, turning well-intentioned neighbors into feuding enemies. NATIVE GARDENS, directed by KJ Sanchez, is playing at the Jones Playhouse from September 6-September 30, 2018.

In addition to producing three major productions that wrestle with American inequities, Intiman is working to champion diversity onstage and off by creating new learning opportunities for theatre artists with a variety of backgrounds, identities and abilities.

For the fourth year, Intiman will produce the Intiman Emerging Artists Program (IEAP), a no-cost to participant program that brings up-and-coming diverse local artists together during the summer for professional training and development that prepares them to work professionally in the region.

The Seattle community will also have the opportunity to help support Intiman's 2018 goals during its #SHOWTHELOVE campaign, which launches on March 22. #SHOWTHELOVE is a fun, online giving campaign that builds a vibrant community to empower a lot of people to give a little and make a huge difference.

Since its founding in 1972, Intiman Theatre has presented over 225 productions to Seattle audiences. Intiman produces classic American stories, world masterpieces, contemporary plays and new writing — exceptional theater created by artists who make their homes in Seattle and artists from across the country, recognized masters of their craft and exciting new voices. These great stories encourage civic dialogue and personal reflections about the issues we face as a community, in our country and on the planet. Intiman believes there is a connection between what we choose as entertainment and the questions we ask about what it means to be human; that connection is the foundation of every play in Intiman's season.

Since the Intiman Theatre Festival emerged in 2012, Intiman has produced plays that wrestled with American inequities and celebrated untold stories. These include Sara Porkalob's DRAGON LADY in 2017, 20 plays by Black women in 2016; Robert O'Hara's uproarious satire BOOTYCANDY in 2015; Tony Kushner's epic ANGELS IN AMERICA in 2014; the premiere of STU FOR SILVERTON, a new musical about the first openly transgender mayor in America in 2013; and MIRACLE!, created and directed by Dan Savage, in 2012. Intiman produces in various venues throughout Seattle, which include the Langston Hughes Performing Arts Institute in Central District, 12th Avenue Arts, Velocity, UW Jones Playhouse, Seattle Center Theatre, Seattle Repertory Theatre and Cornish Playhouse at Seattle Center.

Today, guided by the vision of Artistic Director Jennifer Zeyl and Executive Director Phillip Chavira, Intiman is one of the preeminent theaters in the country, recognized for its work and commitment to the community and its audiences.

Chavira said, "I am so fortunate to work with Jennifer Zeyl as my business partner. Together we bring over 30 years of professional experience with theatre companies across the US, advanced degrees in arts, business, and languages, multiple awards, and a genuine visionary alignment to make great work happen."

Intiman's 2018 Season is also led by Co-Curator KJ Sanchez, acclaimed playwright and director. "Jennifer and I dove head-first into thinking about programing for all of Intiman's audiences – past, present and future," said Sanchez. "I have been a huge fan of Intiman's bold, inclusive and high-spirited work for years and to be a part of the 2018 Season is an honor and absolute delight."

A leader in the Seattle community, Intiman has received national recognition and many honors, including the 2006 Tony Award for Outstanding Regional Theatre.

Intiman will have additional programming and special events throughout the year, stay tuned for more announcements to come.

 

INTIMAN THEATRE
WILD, WICKED, WOKE 2018 SEASON

PRESENTS

 

HIR

Co-produced by Intiman and ArtsWest

February 28-March 25, 2018

Written by Taylor Mac

Directed by Jennifer Zeyl

At ArtsWest, 4711 California Avenue SW, Seattle

Somewhere in the suburbs, Isaac has returned from the wars to help take care of his ailing father, only to enter a different warzone: a household in revolt. His mother, liberated from an oppressive marriage – with Isaac's newly out transgender sibling as her ally – is on a crusade to dismantle the patriarchy. But in Taylor Mac's sly, subversive comedy HIR, annihilating the past doesn't always free you from it.

"Gloriously skewed vision of the toxins fouling the American family" -The New York Times

 

WILD HORSES

May 31-June 24, 2018

Written by Allison Gregory

Directed by Sheila Daniels

At 12th Avenue Arts, 1620 12th Avenue, Seattle

WILD HORSES is a savagely-­funny play about a threshold summer that forever alters an adolescent girl, as portrayed by her grown­up self. Complex and timeless, it is a coming ­of­ age story for all generations. The pathos and hubris of her teenage years, the struggle for identity, independence, and authenticity, and the desire to find her place in a complicated world — it all comes rushing at us as she takes us on the ride of her life.

"Feels like being released from the pen to run wild into the night" -Austin Chronicle

 

NATIVE GARDENS

September 6-September 30, 2018

Written by Karen Zacarías

Directed by KJ Sanchez

At the Jones Playhouse, 4045 University Way NE, Seattle

You can't choose your neighbors. In this brilliant new comedy, cultures and gardens clash, turning well-intentioned neighbors into feuding enemies. Pablo, a rising attorney, and doctoral candidate Tania, his very pregnant wife, have just purchased a home next to Frank and Virginia, a well-established D.C. couple with a prize-worthy English garden. But an impending barbeque for Pablo's colleagues and a delicate disagreement over a long-standing fence line soon spirals into an all-out border dispute, exposing both couples' notions of race, taste, class and privilege.

"Challenges audiences to look beyond petty differences and rediscover our shared decency" -DC Theatre Scene

 

TICKETS
Season subscriptions go on sale today, Monday, February 26 at intiman.org. Single tickets for WILD HORSES and NATIVE GARDENS will be offered on March 19.

 

ABOUT INTIMAN THEATRE

Intiman Theatre is a professional theater company in Seattle, Washington that wrestles with American inequities. Intiman won a Tony Award in 2006 for Outstanding Regional Theatre and has presented over 225 productions to Seattle audiences. For more information, visit www.intiman.org.
(Visited 1 times, 1 visits today)